My colleague Rob Dauster has his nominee for the best Twitter follow in college hoops. Based on new information, I have my own tweeter to champion.
Those of us who live in CAA country know that Blaine Taylor is one of the nation's most quotable coaches; pre-game, post-game, in-game, you name it. Any scribe who covers the league tournament knows that if you miss a Taylor press conference, your editor will only be satisfied with a note from the coroner's office.
Taylor's a Montana fella, and he has numerous genius folk aphorisms he likes to slip into his speech. He gave us "all hat, no cattle" to describe BCS also-rans glutting the NCAA tournament, and the immortal, but semi-unprintable "ti**y-bumping" (asterisks=pasties) as an analogy for rough interior play. Now, to the delight of many, Taylor has finally brought his comedy stylings to Twitter, where he should immediately become a fan favorite.
The mostly-mustachioed one has only ventured about ten tweets so far, but you can already see how fun it's going to be: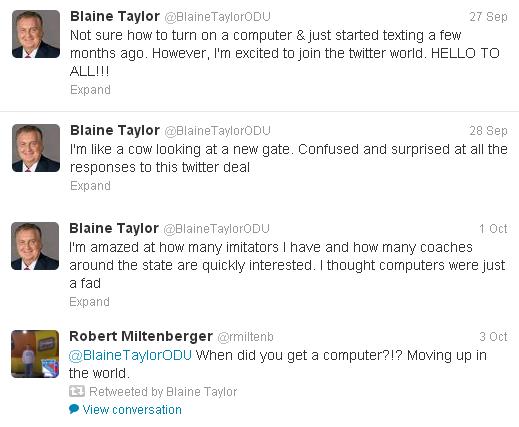 The last one's my favorite. An ODU IT guy gives Taylor a little stick, and rather than get irritated, Taylor re-tweets it. The guy's got a great sense of humor.
Taylor's got a tough rebuilding job ahead of him this season, with a mostly brand-new roster, but the league has banished the Monarchs from post-season play anyway, due to their decision to disembark for C-USA, so there may be no better time for a teaching year. The only thing left to learn is whether Taylor will be even more hilarious if his team struggles.