Kentucky fans have (rightfully) earned the reputation for being a little bit crazy.
While there are times where the 'crazy' manifests itself as angry tweets targeted at recruits that spurned John Calipari's advances, for the most part, Big Blue Nation's passionate, unconditional love affair with the 'Cayts' is what defines them.
And if you ever questioned how blue their blood runs, all you need to do is take a look at this photo and realize that you are not surprised it exists: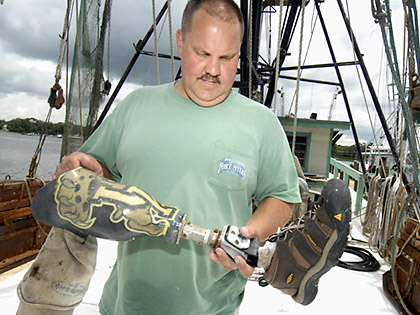 Yes, that is a prosthetic leg with a Kentucky logo on it. The story is even more interesting:
A local shrimp boat captain pulling up his nets early Thursday morning had a startling catch.

First he saw a foot and thought it was a body. Then he realized that the foot was part of a prosthetic limb.

"We've caught (portable toilets), boat trailers and crab traps," said Matt Willingham, who owns the Michele Dawn shrimp boat and Willingham Seafood. "This was the first to catch a prosthetic leg."

Willingham said that if the limb had been in the water longer, it would have been covered with barnacles. He speculated that someone lost the limb at Crab Island the past weekend.
Kentucky's fan base drives college basketball traffic on the internet, and it seems like every single one of those fans has a twitter account. This picture will go viral on the college hoops blogosphere. The owner of the lost leg will be found.
I cannot wait for that to happen.
UPDATE: They found him! His name is Fred Robinson and he is a former Kentucky football player that currently lives in Crestview, FL. When notified about the finding, Robinson said, "Ain't nobody dead.  Just give me back my leg."
(Thanks, KSR)
Rob Dauster is the editor of the college basketball website Ballin' is a Habit. You can find him on twitter @robdauster.