Earlier today, Adam Zagoria tweeted out that Anthony Bennett, the Findlay Prep star and the most-highly regarded member of the Class of 2012 that has yet to decide on a destination for the 2012-2013 season, was leaning "90 percent" towards UNLV over Oregon.
It makes some sense. Findlay Prep is in Las Vegas. UNLV is a much better program than Oregon, even if the Ducks will forever be on the cutting edge of swag thanks to Phil Knight's connection to the university. Playing for a team in the top ten — where UNLV will be — is much more appealing than playing in a program that can be described as middle-of-the-pack Pac-12.
Perhaps what sets UNLV apart, however, is that they have the support of Jimmy Kimmel, who found time to tweet at Anthony Bennett about becoming a member of the Rebels in between running a late-night TV show and speaking at the White House Correspondent's Dinner: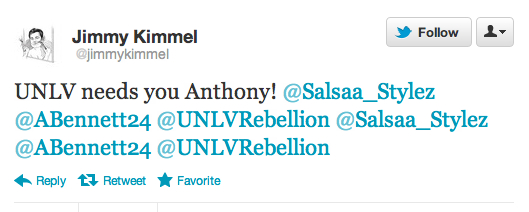 Kimmel spent a year at UNLV before transferring to Arizona State, according his wikipedia page.
I guess this means that Kimmel is the most famous person to commit a recruiting violation.
Since we all like youtube videos, here's some of Anthony Bennett's best:
[youtube http://www.youtube.com/watch?v=iEfevuMV_Dk%5D
Rob Dauster is the editor of the college basketball website Ballin' is a Habit. You can find him on twitter @robdauster.