See the rest of our posts on the Consensus 2012 Recruiting Rankings here.
A number of players took a pretty significant drop in our Consensus Recruiting Rankings since the end of July's recruiting period, but no one fell quite as far as Nino Jackson.
Jackson was a consensus top 100 recruit after last July's recruiting period, but as of this spring, 247 was the only site that had him in their top 100, checking in at 97th. So what happened? Well, simply put, Jackson was no where to be found.
"No one saw him play," Jeff Borzello, CBSSports.com's recruiting expert, said. "When kids go to schools where people don't see them, it's tough to evaluate them. When you're other kids kids get better and better, and you're not seeing certain kids at all, they drop."
Evan Daniels of Scout.com agrees.
"It's hard for me to rank a guy like Nino Jackson because it has been a year since I've seen him play," Daniels said. "No one knows his academic situation, no one seems to have any idea what he's going to do next year, where he's going."
The tricky part of evaluating prospects at the high school level — and at any level, for that matter — is not only determining who excels at a 16 year old, but judging ceiling of that player and their likelihood of reaching that ceiling. Part of the reason evaluation of a prospect starts at such a young age is to determine how much the kid's game develops over the years. Players improve as they get older, and tracking that improvement is an integral part of the evaluation process.
Here's a list of the 25 players that fell the furthest from their ranking in the spring (you can find the full spreadsheet here):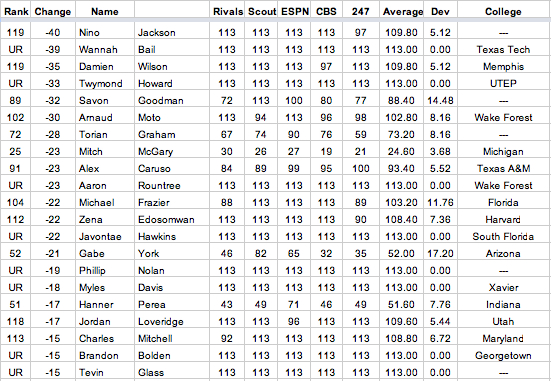 Easily, the most intriguing prospect on this list in Mitch McGary.
Last summer, McGary's stock soared. After tearing through the AAU circuit, the Michigan-commit climbed as high as No. 2 in the Consensus Recruiting Rankings. (It should be noted that those rankings came after Andre Drummond reclassified into the Class of 2011 and before Nerlens Noel officially became a member of the Class of 2012.) But after a relatively disappointing high school season, McGary has fallen to No. 25 in our updated Consensus Recruiting Rankings.
"Some of it may have been a misevaluation on my end," Daniels said. "I think in the up-and-down AAU setting he looked great in transition. He had a run in July where he just looked awesome, but as the high school season went on, he just wasn't putting up the same kind of production and he wasn't quite as good as we originally thought."
McGary did attend Brewster Academy as a senior, meaning that he was on a team with a number of other top 100 recruits. But according to Daniels, that wasn't a factor in McGary's drop. "At Brewster he still had plenty of shot opportunities. I saw him play a handful of times up there. We made sure that we got that evaluation correct."
Now, being a top 25 recruit is nothing to shake a stick at. His lowest ranking was 30th by Rivals, which means that — at worst — there are only 29 high school seniors in the country that are better basketball players than McGary. That's high praise, and both Daniels and Borzello emphasized the fact that McGary's ascent last July should be taken as a compliment. Climbing that high in the rankings is not an easy thing to do, and his performances that summer are likely a reason that McGary "only" fell to 25th overall.
The message to take out of all of this?
For recruits at any level, don't become satisfied with a performance. Whether it's a series of letters from DIII programs or a spot as the No. 2 player in the country, individual success as a high school junior does not mean that one should rest of their laurels.
There is always room to improve, because there will always be people watching.
Rob Dauster is the editor of the college basketball website Ballin' is a Habit. You can find him on twitter @robdauster.