See the rest of our posts on the Consensus 2012 Recruiting Rankings here.
The recruiting class of 2012 is just about complete, as there are only a handful of elite recruits that have yet to determine where they will be spending their collegiate years.
And with the recruiting cycle coming to a close, we get the final rankings of the top 100 high schoolers in the country from each and every outlet that evaluates talent. The problem? Each and every one of those evaluators will have a different opinion when dealing with the top 100 high school basketball players in the country.
What's the best way to balance out biases? With spreadsheets!
We took the final top 10 rankings from Rivals, Scout, ESPN, CBS and 247 and had some fun with the numbers. To try and get a snapshot of how the experts view these prospects, we put together the Consensus 2012 Recruiting Rankings. (The full list, which contains 143 players, can be found here.) Here's a look at the top 25: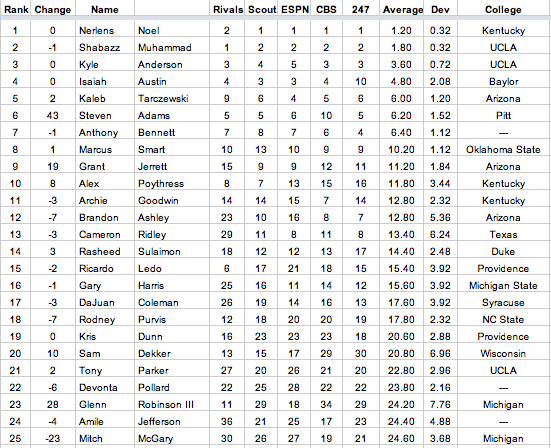 What do all of these numbers mean?
Most of them are pretty straight-forward. The column all the way to the left is where these players rank based on the average of their five rankings by each of the respective outlets. The column title 'change' is the movement these players have made since the last time we compiled Consensus Recruiting Rankings after last July's live period.
Personally, I think the most interesting column in the one title 'Dev'. That value determines the average variance of each individual ranking from their average ranking. For example, the No. 23 prospect in our rankings is Glenn Robinson III, whose average ranking is just .4 points behind Devonta Pollard's. But Big Dog Jr. is ranked as high as 11th by Rivals and as low as 34th by CBS, while Pollard isn't ranked any higher than 22nd and no lower than 28th.
One disclaimer: The biggest issue that we ran into was with the kids that made one outlet's top 100, but didn't make the others. The goal is to manipulate the exact numbers, but with the variations between the three outlets, there were quite a few players that had at least one missing value. There are 125 players that got at least one top 100 ranking, so if we assume that these are the consensus top 125 recruits nationwide, then we can assume that anyone with a missing value is ranked somewhere between 101st and 125th. Since we don't have exact numbers, we said each missing value was 113, the average of 101 and 125.
We'll be rolling out more analysis over the coming days.
Rob Dauster is the editor of the college basketball website Ballin' is a Habit. You can find him on twitter @robdauster.