It's official — Thomas Robinson will forego his final year of eligibility at Kansas and enter his name into the NBA Draft.
And while it would be easy to assume that Kansas fans would be upset over the fact that yet another talented big man has left the program with eligibility remaining — Julian Wright, Darrell Arthur, Cole Aldrich, the Morris twins — Robinson's decision, according to Bill Self, is a cause for celebration.
"This is as happy a moment as there is," Self said. "Really, when you really think about what this young man has been through for 15 months and think about the sacrifices he has made, the long nights, the sleepless nights and to remain focus, do well in school and represent our school in a way that almost brought us a national championship, it's pretty amazing."
"Now to see him live out his dream … what's happening now with him is just as cool as last Monday night, playing in that (championship) game. This is as good as it gets for an individual, but also a program and a fan base that's supported him so much."
We all know his story by now.
Both of his grandparents and his mother passed away within the span of five weeks last January, leaving Robinson and his younger sister Jayla. The reason that Robinson returned to school was to improve enough that he could enter the draft and become his sister's caretaker. The constant effort on the floor and the tireless work ethic off of it was all a result of that single-mindedness.
"I tried to come up with a thank-you note, or something to show my appreciation," said Robinson, "but I couldn't get anything. I think it's beyond words what this program meant to me and how much support I felt coming from my situation."
Robinson, the first unanimous AP All-American since Blake Griffin, deserves everything that will be coming his way, and it will be a lot. He's projected to be a top five pick.
To get an idea of the kind of person that Robinson is, think about this: he brought Jayla, who turned nine on Monday, up with him during his press conference to announce he was turning pro: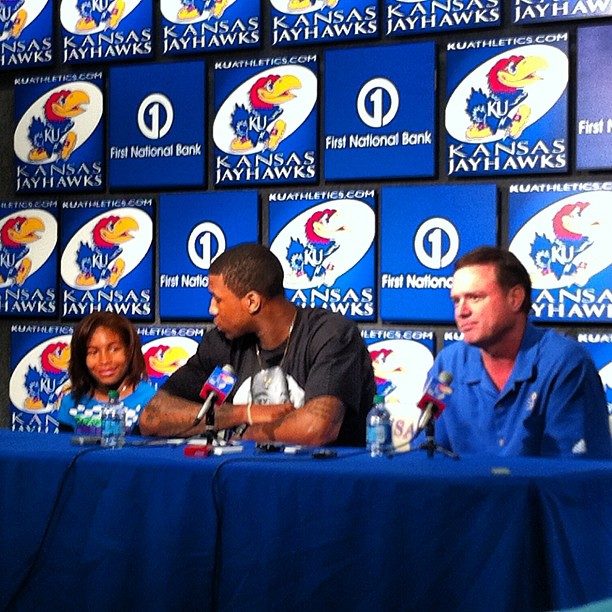 (Photo via the KUAthletics twitter feed)
Rob Dauster is the editor of the college basketball website Ballin' is a Habit. You can find him on twitter @robdauster.