Kentucky delighted its fans on Monday night with its eighth NCAA tournament title. Tuesday afternoon, those fans showered the champions with cheers in Lexington.
Roughly 5,000 fans greeted UK at the airport, then a packed Rupp Arena (seating capacity 23,500) applauded their efforts. Players were introduced and revelry ensued. Coach John Calipari gave a speech and senior Darius Miller toted the trophy around.
There was no word on the players' NBA draft future, but I don't think any of the fans cared. Not when they could celebrate the first Kentucky team to win a national title since 1998.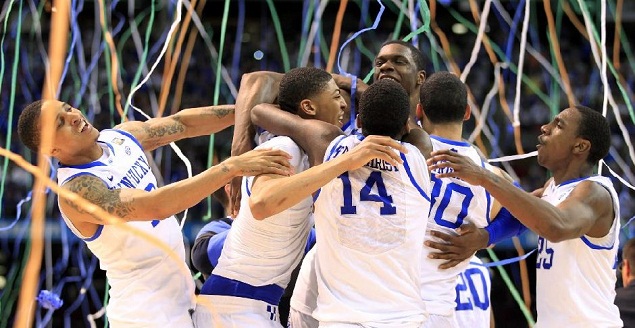 It came on a day when President Barack Obama called Kentucky to congratulate the 'Cats, saying they played with class and dignity in the championship game, according to a news release.  The release also called him coach "Capilari." Maybe he can lead Kentucky to the Final Four in Alanta next year.
ANYWAY, last but not least, Kentucky Gov. Steve Beshear proclaimed Tuesday was Championship Day in honor of the 'Cats.
I'm no member of BBN, but I'm guessing that'll extend well past one day.
You also can follow me on Twitter @MikeMillerNBC.