Connecticut and Butler put up so many bricks in last year's national title game, it made one wonder if the environment – playing in a stadium setting – was to blame.
But an analysis by Sporting News last spring showed there wasn't much difference between arenas, stadiums and domes. (Though it's a small sample size.)
Arenas (nine games): 42.8 percent, 455-of-1,064.
Traditional domes (nine games): 43.1 percent, 444-of-1,030
Stadium setup (six games): 42.4 percent, 290-of-684.
But what do the players think? As long as they have some confidence, the shots will fall no matter the defense or the setting.
"It's like our third time playing in a football arena," said Kentucky's Doron Lamb, a guy who makes 47 percent of his 3-pointers. "It doesn't really bother me, though."
OK, what about a guy who's an average shooter from deep, but good from inside the arc? Ohio State sophomore Deshaun Thomas has made 35 percent of his 3s this season and a whopping 61 percent of his 2s.
"It hasn't been an adjustment for me," Buford said.  "They usually say all that space in the backboard can mess up a shooter, but I was knocking them down. I don't think anything has changed.  I was just looking at the rim and everything was falling."
Perhaps it's the court that changes things. Kansas senior Tyshawn Taylor
"The court out there similar to the one I played on in the Sweet 16 my freshman year against Michigan State. It was a little bit elevated. It was in a big stadium, the Lucas Oil stadium, I believe, in Indianapolis. It was similar," he said. "But I think this court, with it being in the Superdome, it seems a little bit big, the lights seem a little bit brighter."
How big? He's what Taylor sees.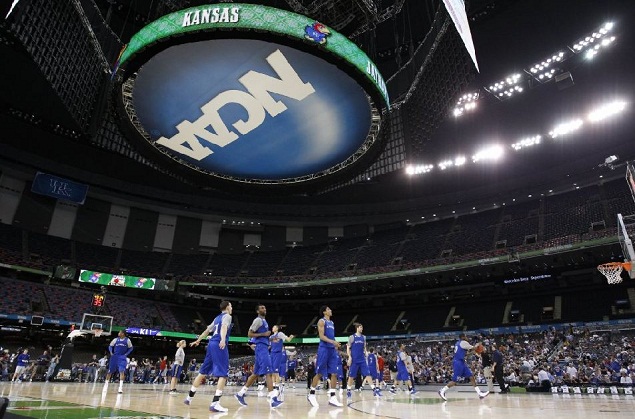 You also can follow me on Twitter @MikeMillerNBC.