Those shopping for Final Four tickets this week hailed from all over the country, but the biggest percentage were from – no surprise – Kentucky. The state that placed two teams in the Final Four had 29 percent of all shoppers by state, according to SeatGeek.com. Ten percent of all shoppers were from Louisville.
That's more than twice as many shoppers from the entire state of Kansas.
What to make of that? Nothing more than they love their basketball in Kentucky.
More interesting was this infographic the guys from SeatGeek produced. If you wanted a premium seat, the cost actually fell from Selection Sunday to this week by about $500 (last year it dropped by half). Or if you want a seat in the 300 level? It'll cost about $750
Compare that to Final Four ticket prices (face value) through the years.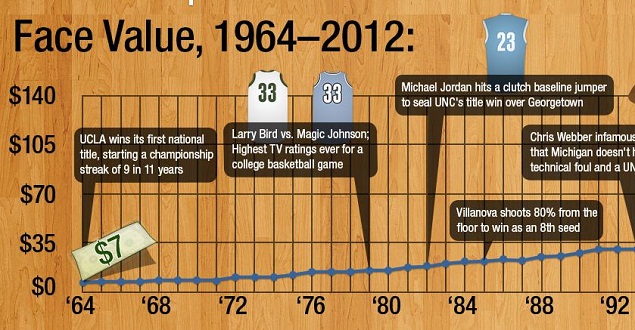 (The entire graphic can be seen here)
Just think, when Michael Jordan sunk Georgetown 30 years ago in New Orleans, it woulda cost you about $20.
You also can follow me on Twitter @MikeMillerNBC.