Two may not make a trend, but it could be an indication of a change to come.
A few days after Frank Martin stood in direct opposition to the NCAA when he talked about financially supporting some former players during his time as a high school coach, Indiana coach Tom Crean took to Twitter to talk about what he found to be the absurdity of current NCAA rules.
Bylaw makes it a violation for Crean to be at the game, to which he tweeted the objection below: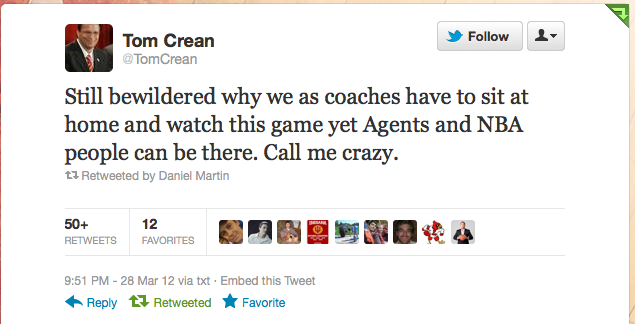 We don't have to look far for instances of an NCAA crackdown that the general public might object to, including the suspension of Kansas State's Jamar Samuels and the NCAA's explanation that the violation occurred because a wire transfer receipt was found in a garbage can at a grocery store.
Crean may have a point about his particular situation, though.
The objection is, presumably, over Yogi Ferrell, a point guard signed to play for Indiana from the Class of 2012, who Crean was looking to see. Though Ferrell has signed a letter of intent to player for Indiana, the NCAA bars coaches from attending and watching him.
Crean and Indiana had a problem with those pesky NCAA rules earlier in the season, as a mix-up on his staff about the specific dates of the recruiting calendar led to an unlawful visit with now-Michigan State signee Gary Harris.
There have been some changes to that recruiting schedule recently, which perhaps indicates a shift in the thinking by the NCAA.
Daniel Martin is a writer and editor at JohnnyJungle.com, covering St. John's. You can find him on Twitter:@DanielJMartin_