Few players heard more criticism this weekend than North Carolina's Harrison Barnes.
The Heels' sophomore wing entered the season as a preseason All-American – for the second consecutive year – and a likely NBA lottery pick, but he was decidedly average after point guard Kendall Marshall went down with a wrist injury.
Against Sunday's Midwest Regional Final loss to Kansas, Barnes was just 5 of 14 from the field, missed all five from beyond the arc, had three turnovers and four fouls. It was better than his day against Ohio, but wasn't nearly enough to prevent the Heels' season from ending.
Maybe that's why this Photo of the Day is so compelling. Barnes, alone in the locker room, sitting with a towel over his head for 20 minutes.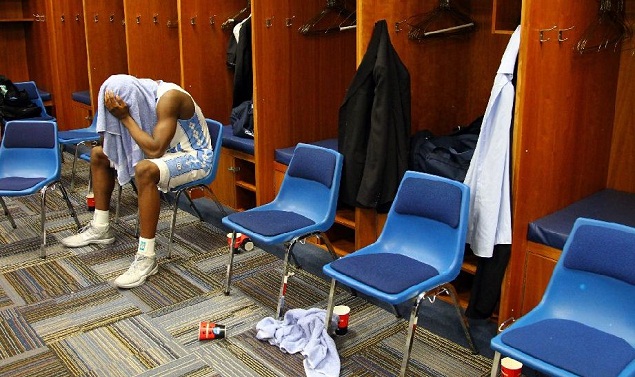 (Photo credit: Dilip Vishwanat/Getty)
March can be the cruelest month.
You also can follow me on Twitter @MikeMillerNBC.