Ed Isaacson of NBADraftBlog.com contributed to this post.
Jae Crowder is Marquette's most important player, and based on the fact that he won Big East Player of the Year of Kevin Jones, the West Virginia power forward that led the conference in scoring and rebounding, I don't think it's a stretch to say that he was the most important player in the league.
The problem is that most people don't understand that. They don't see what he provides this team beyond the box score. (And he gives the box score plenty, averaging 17.4 ppg, 8.1 rpg, 2.1 apg, 2.5 spg and 1.0 bpg while shooting 35.3% from three.) They don't see why he is going to be the most difficult matchup when No. 7 Florida takes the against the third-seeded Golden Eagles on Thursday night.
What makes Crowder so dangerous is his ability to play multiple positions on the floor. He's big and strong enough to finish around the rim and make a move in the post when he has a smaller defender on him, but his quickness, mobility and skill with the ball allows him to play on the perimeter when he has a power forward (which is the norm, he plays the four for Marquette) guarding him.
It goes beyond the simple ability to make a play on the perimeter. Take a look at this example from the Golden Eagle's opening round game with BYU. You'll see Junior Cadougan running off of a high ball-screen set by Jamil Wilson. Crowder is in the far corner:
Cadougan is able to turn the corner on the screen and get all the way to the rim in large part because Noah Hartsock, BYU's power forward that was guarding Crowder, was late to help. He couldn't leave Crowder open:
Erik Murphy is likely going to be given the task of guarding Crowder, at last early in the game. It will be interesting to see if he can keep up with Crowder 20 feet from the basket.
That is far from the only area that Crowder contributes to Marquette's offensive attack. The Golden Eagles love to get out an run. They are 16th nationally in pace, according to Kenpom, with 21.3% of their possessions coming in transition. Only two teams in the country (Iona and Alabama A&M) have a higher percentage of possessions in transition.
There are a couple of ways Crowder adds to Marquette's ability to run. The first is, well, his ability to run. In this example, you'll see Crowder guarding Tyler Olander of UConn, who is setting a ball-screen for Jeremy Lamb: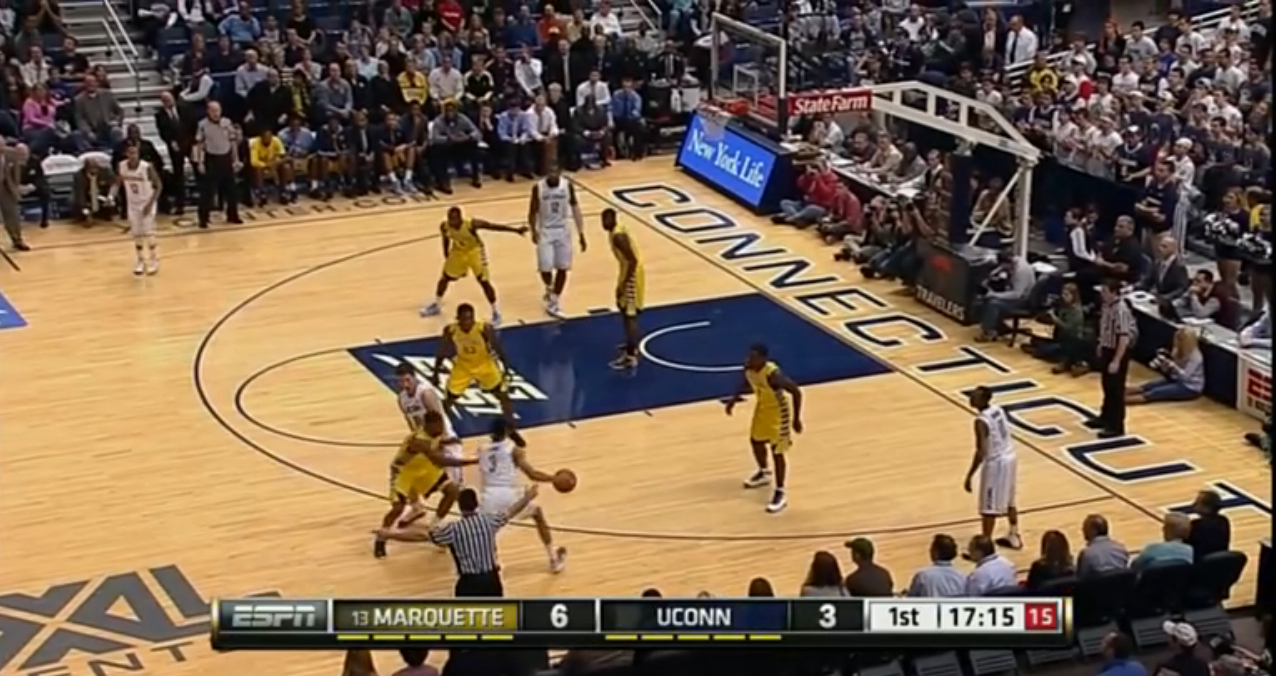 Lamb ends up driving and finishing a layup, but notice the clock and look at where Crowder (No. 32) is located is relation to Olander (No. 10 in white) and Andre Drummond (No. 12 in white):
Crowder beat them both down the floor for a layup and an immediate answer to Lamb's basket:
Marquette's ability to score quickly can be demoralizing for an opponent. When their transition game is working well, a misstep defensively and you get burned. Here, you see Crowder — who was playing safety in Marquette's press — grab a rebound in traffic at one end of the floor. Notice the time on the clock: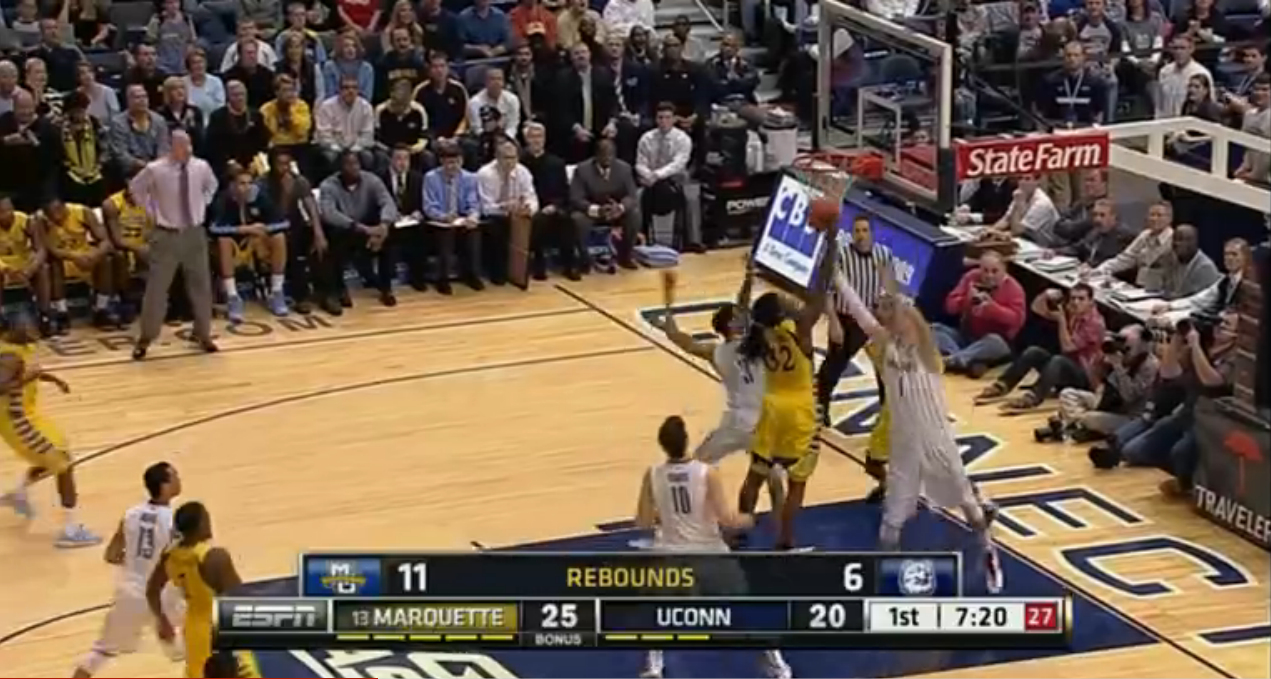 Crowder throws a picture-perfect outlet pass to Cadougan — in stride as he heads the other direction: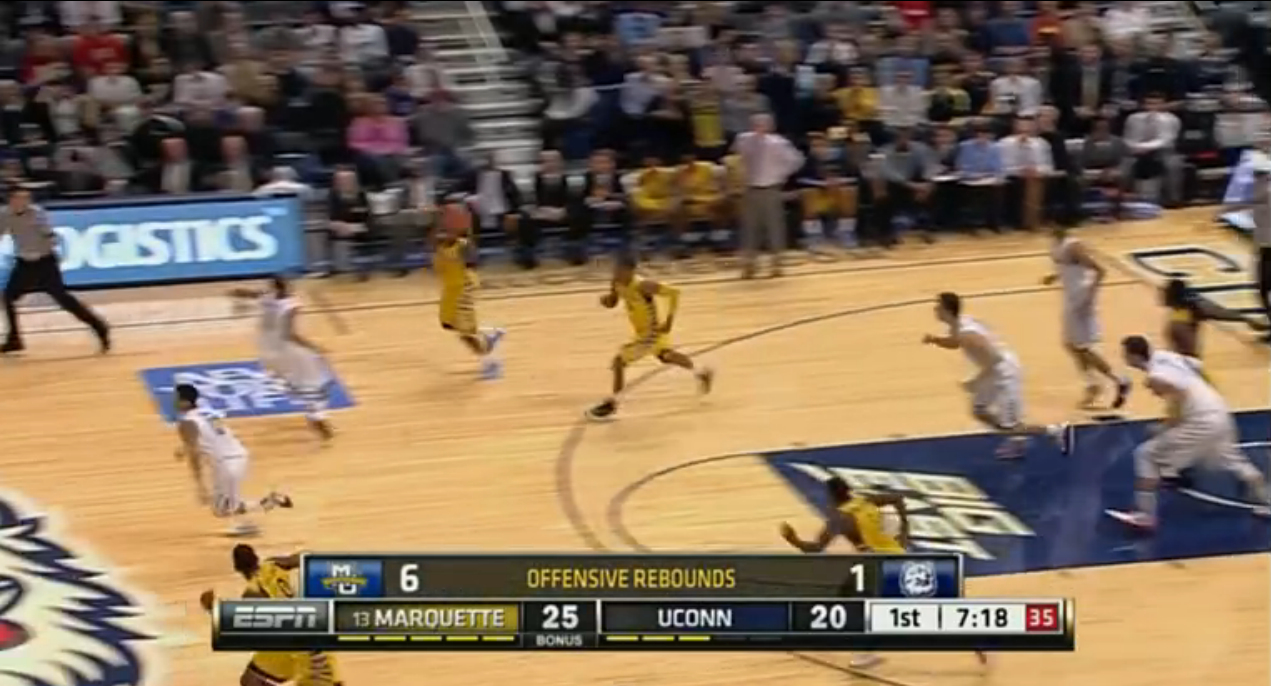 And in just five seconds, Wilson is finishing a lob at the other end of the floor: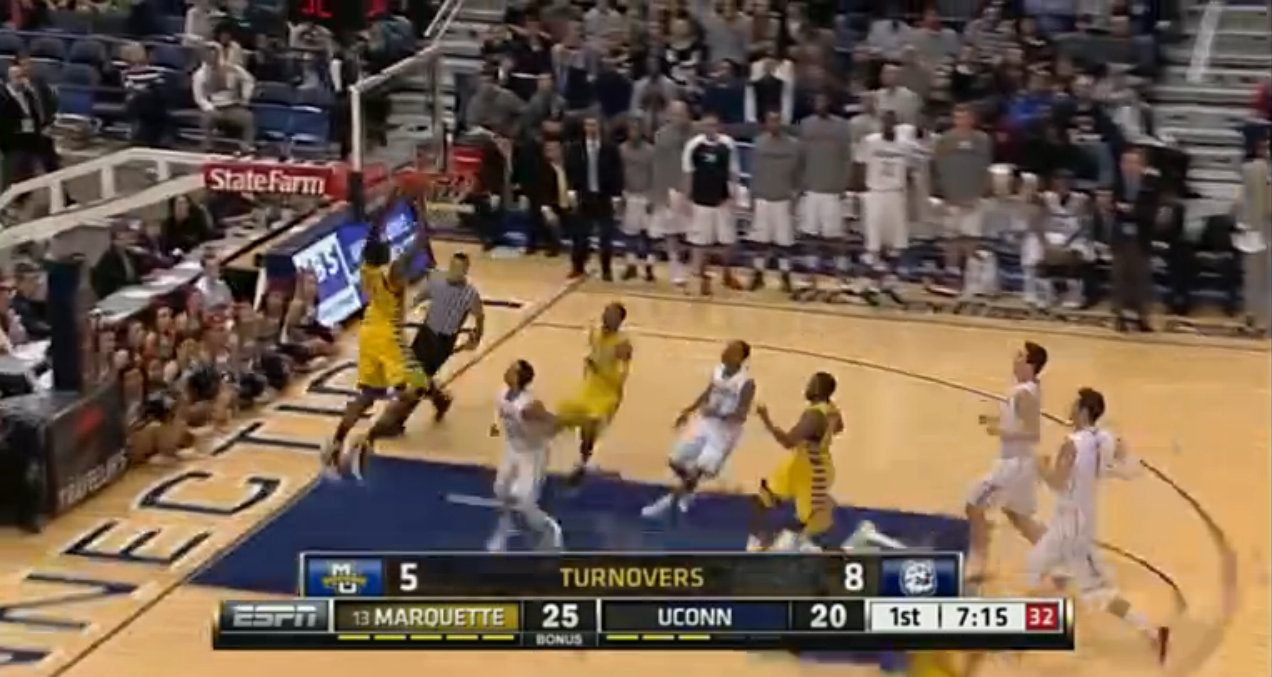 It happens that quickly. Even when he's barely involved in the play, Crowder plays a huge role in Marquette's ability to get up and down the floor.
The other part of Crowder's game and deserves to be noted is his versatility defensively. He can defend in the paint and he can guard on the perimeter. In this example, you'll see Crowder win the battle for position with BYU's Brandon Davies on one side of the court: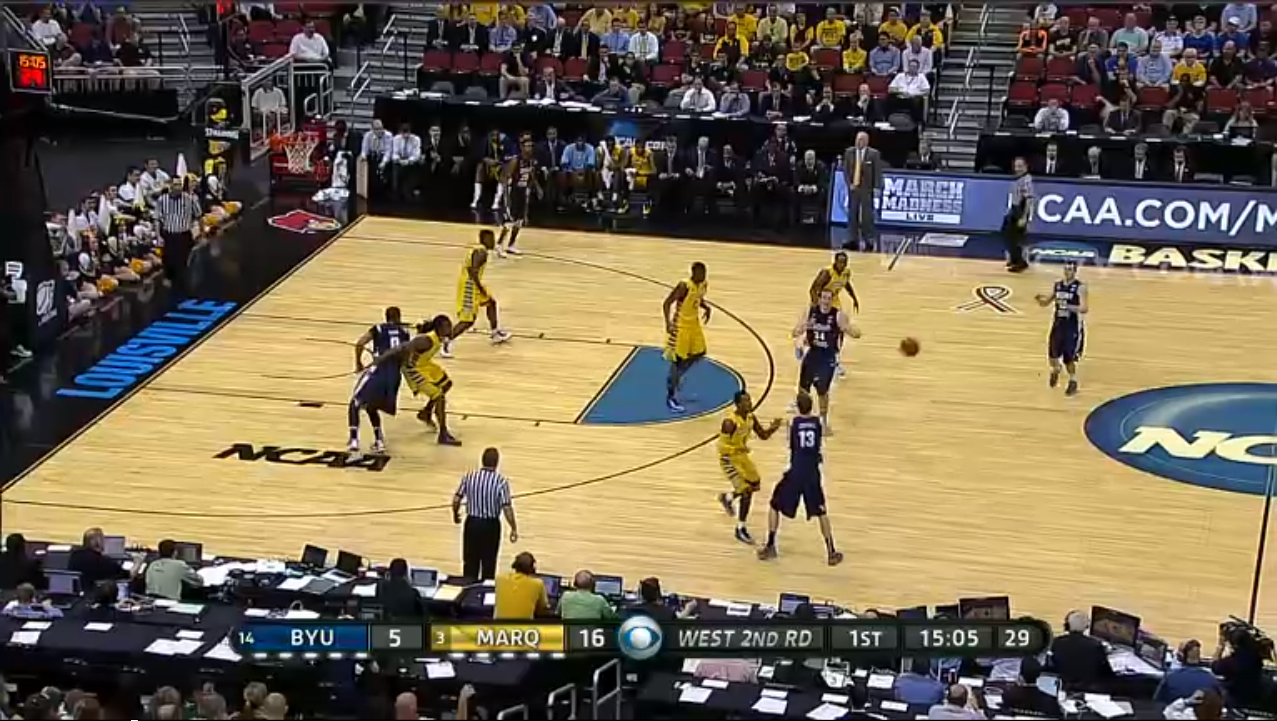 He then wins the battle again on the other side of the floor, forcing BYU's star center to catch the ball 18 feet from the rim: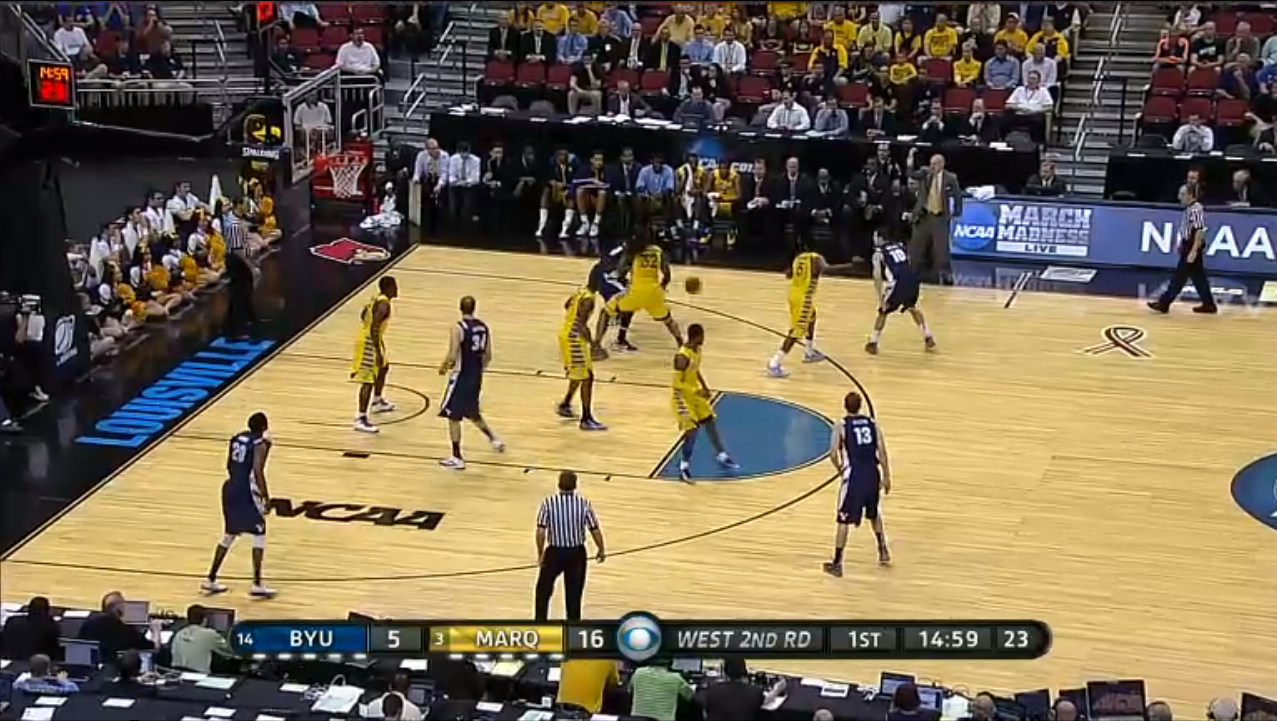 When Davies tries to back Crowder down, he "pulls the chair" — he steps back so Davies momentum makes him fall — and creates a turnover: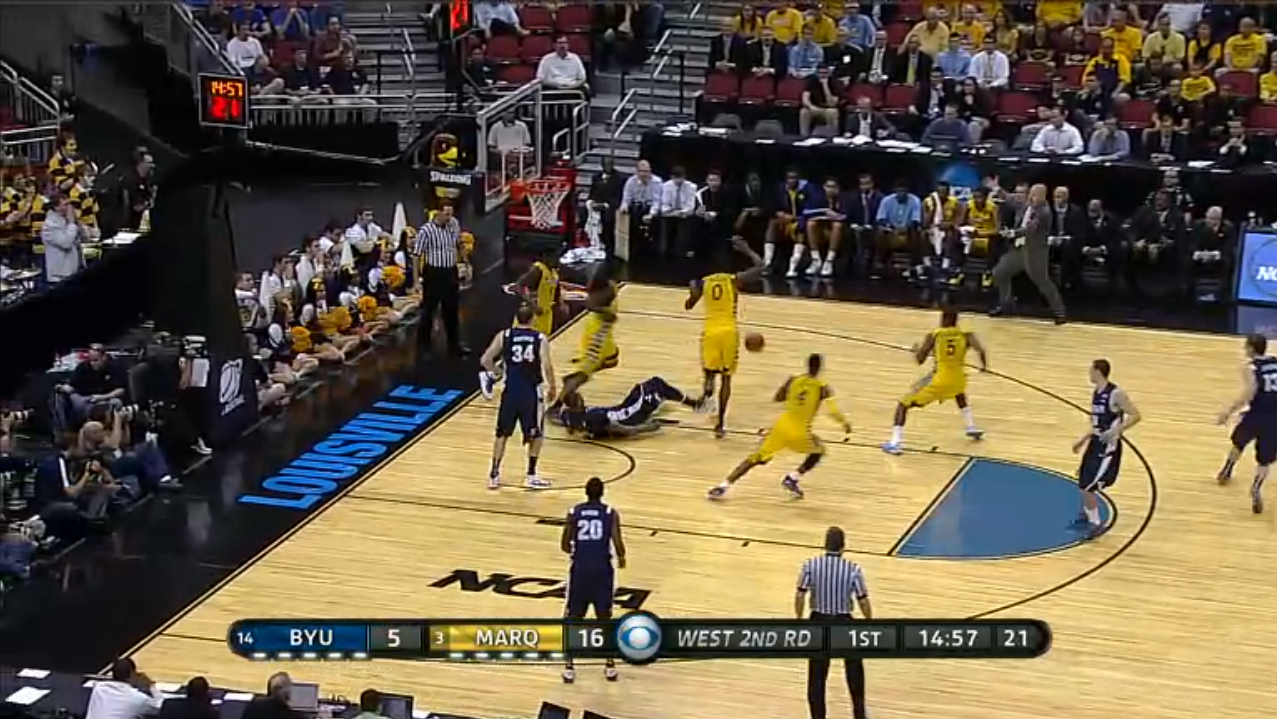 But as you can see in this example, Crowder can keep the quickest guards in the country in front of him as well. Here, you see Crowder step up and stop the head of steam that UConn's Ryan Boatright had in transition: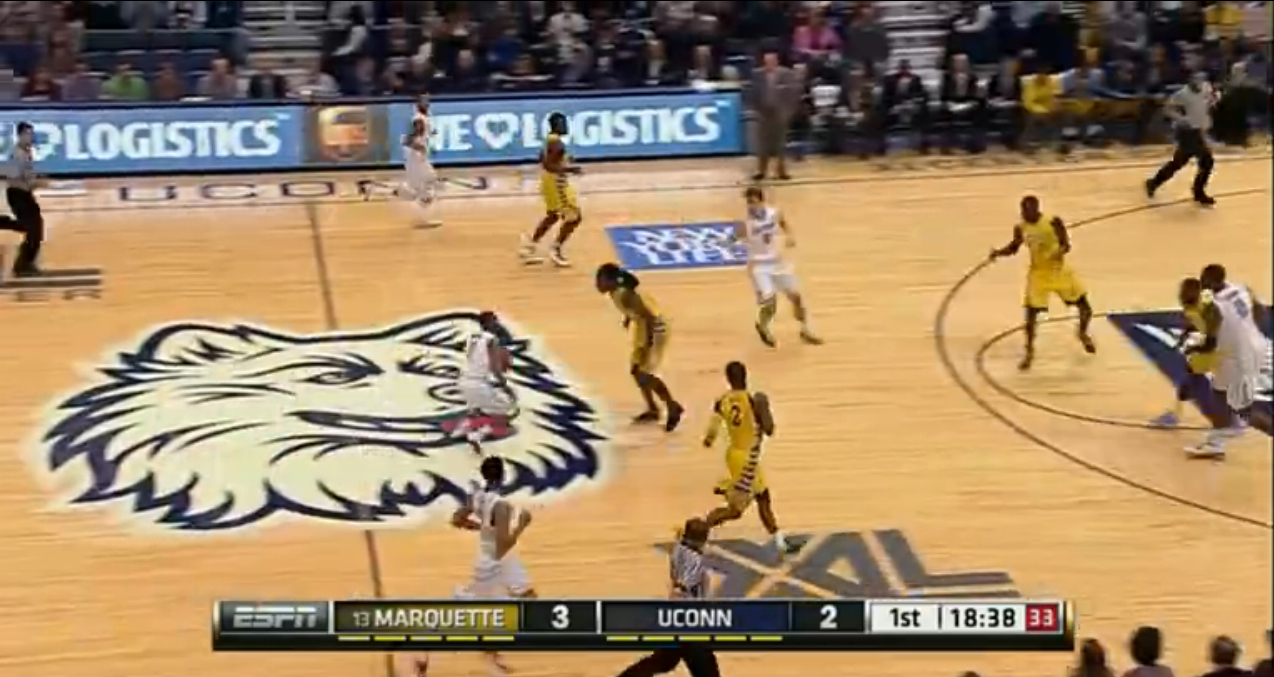 Boatright realizes he has a power forward on him, so he pulls the ball out and tries to dribble by Crowder: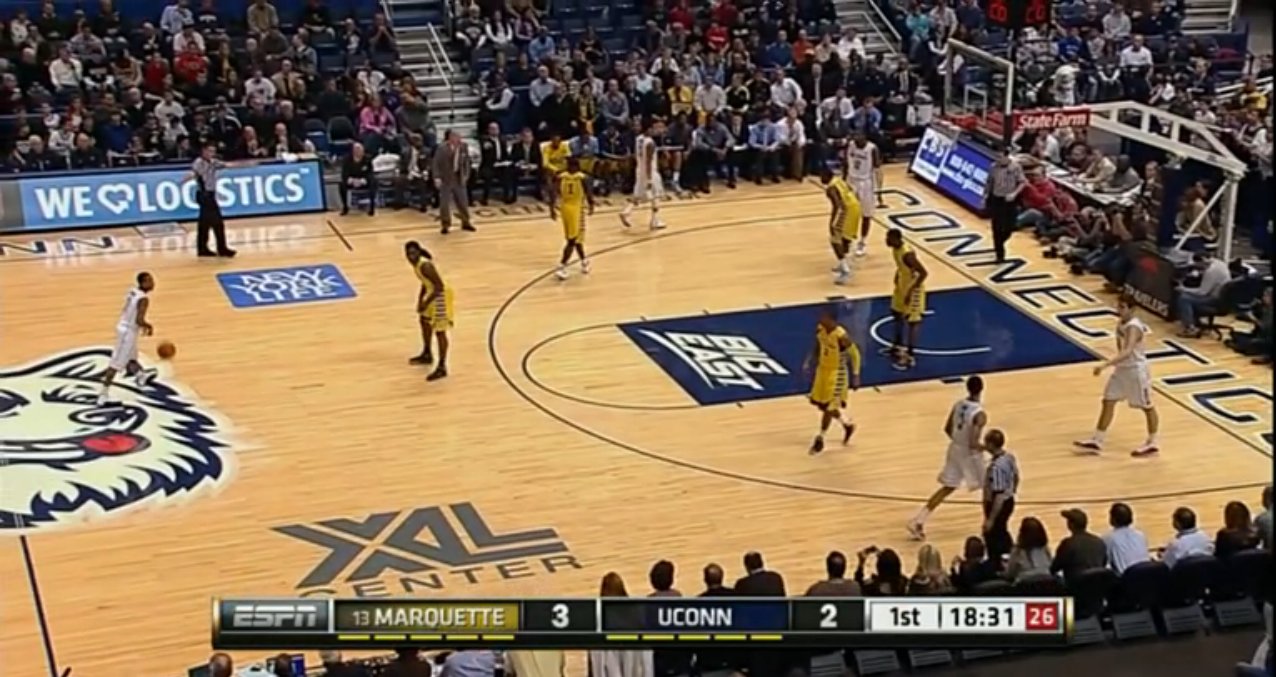 But Crowder is quick enough laterally that Boatright is forced to take, and miss, a tough, step-back jumper: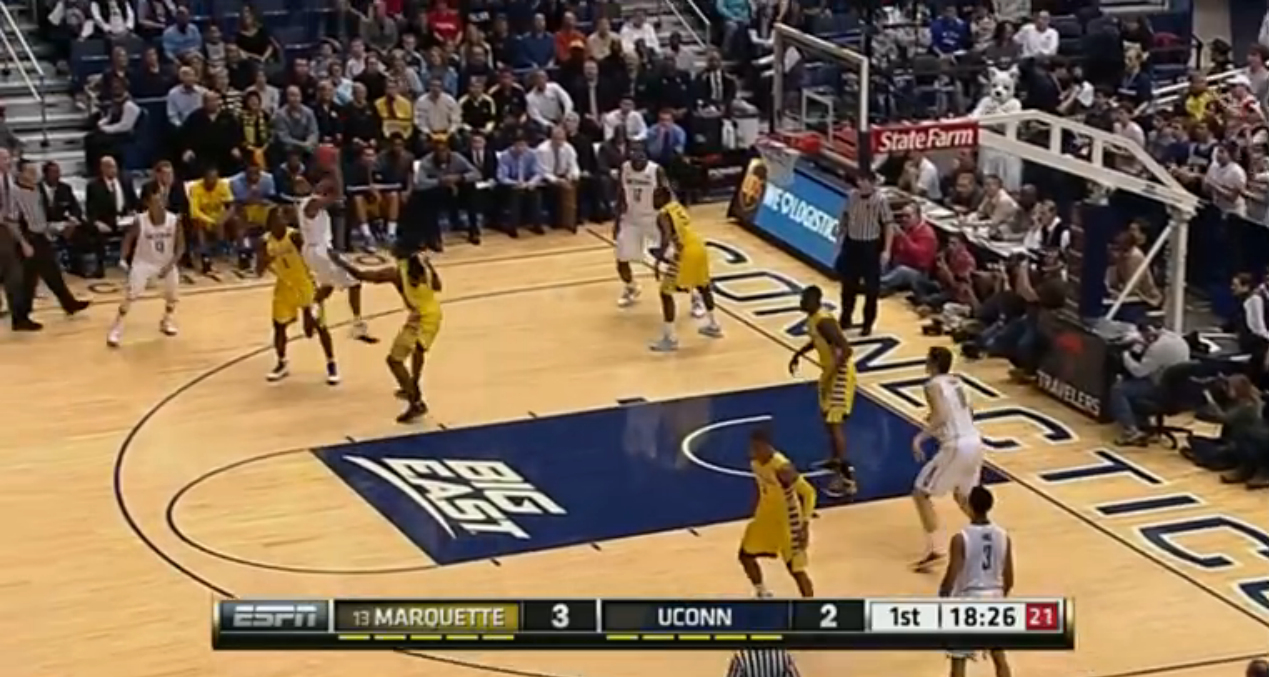 Florida is going to have to pick their poison when it comes to Crowder. He will be able to defend anyone that they can throw at him at the four spot. Crowder is also the reason that Florida's mismatch — Murphy, who is a 6'10" sharpshooter at the power forward spot — will be nullified. Crowder can help and recover onto Murphy like he's guard, but Murphy won't be able to take advantage of the matchup in the paint. Using freshman Bradley Beal likely won't be all that much better. Beal will be overwhelmed by Crowder in the paint without being able to blow-by him on the perimeter.
It's amazing. Crowder can single-handedly ruin the way that Florida's offensive attack creates matchup problems.
And you wonder why he's so valuable?
Rob Dauster is the editor of the college basketball website Ballin' is a Habit. You can find him on twitter @robdauster.