Ed Isaacson of NBADraftBlog.com contributed to this post.
Louisville's bread and butter offensively in the high-ball screen, as they use it on 12.4% of their possessions offensively, 27th most in Division I. Peyton Siva alone uses 41.7% of his possessions in the pick-and-roll, which in the second-highest total in the country behind Xavier Thames of San Diego State.
Based on the entire season, you wouldn't think that this would be a smart decision by Louisville head coach Rick Pitino. Louisville only scores 0.728 points-per-possession (PPP) in pick-and-roll situations while Siva is even worse, at 0.701 PPP in pick-and-roll situations.
The problem with those numbers, however, is that Louisville is a different — a much better — team over the course of the last three weeks than they were for much of the season. That's why they were able to run through the Big East tournament and have now moved their way onto the Sweet 16. Siva is the catalyst for that change. His season averages are 9.2 ppg and 5.5 apg, but in the five games prior to the Cardinal's win over New Mexico in the round of 32, he averaged 14.4 ppg, 6.0 rpg, 6.3 apg and 2.6 spg.
Siva didn't play his best game against New Mexico — he only had six points and five assists — but he was the difference-maker down the stretch, as New Mexico was completely unable to defend Siva coming off of that high-ball screen.
What makes Siva so dangerous is his explosiveness. He may be the quickest player in the country, which makes him a nightmare to try and stay in front of. But he's equally capable of using the screen to get into the lane and score as he is at creating an opportunity for a teammate.
Here are two examples of what I mean.
In the first one, you'll see Gorgui Dieng setting the screen for Siva: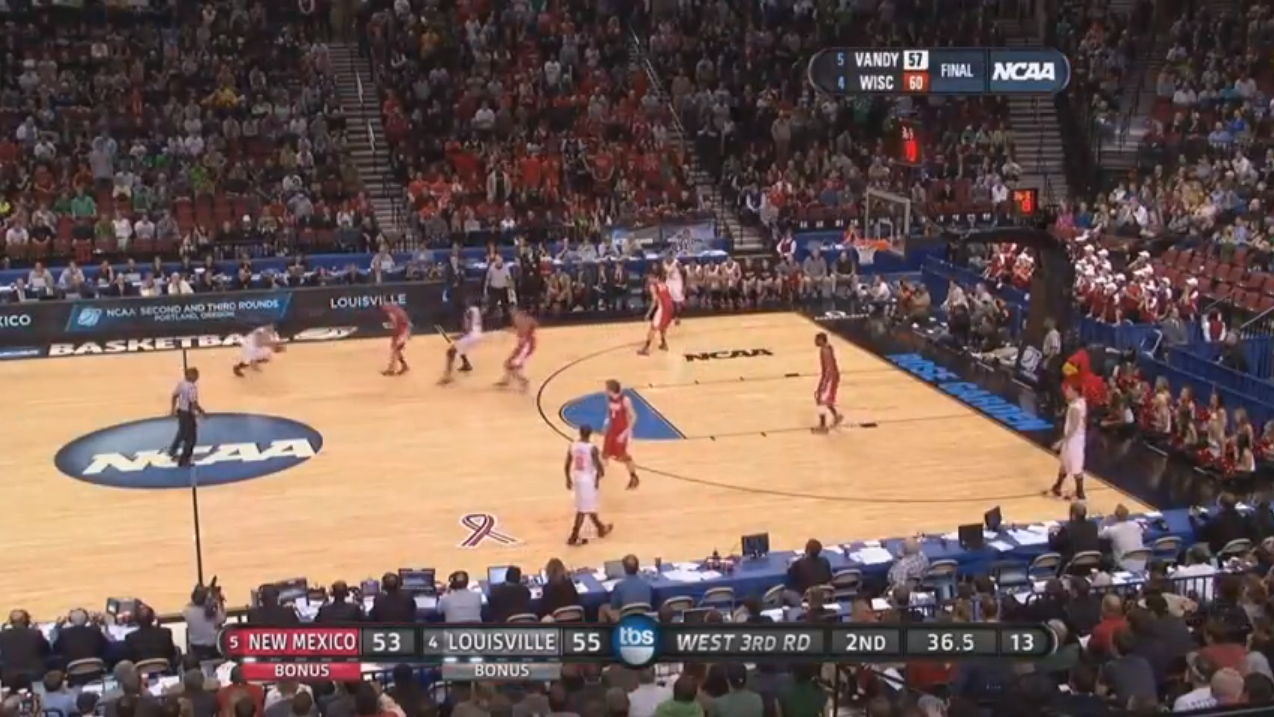 Drew Gordon tries to step out and hedge, but Siva goes right around him: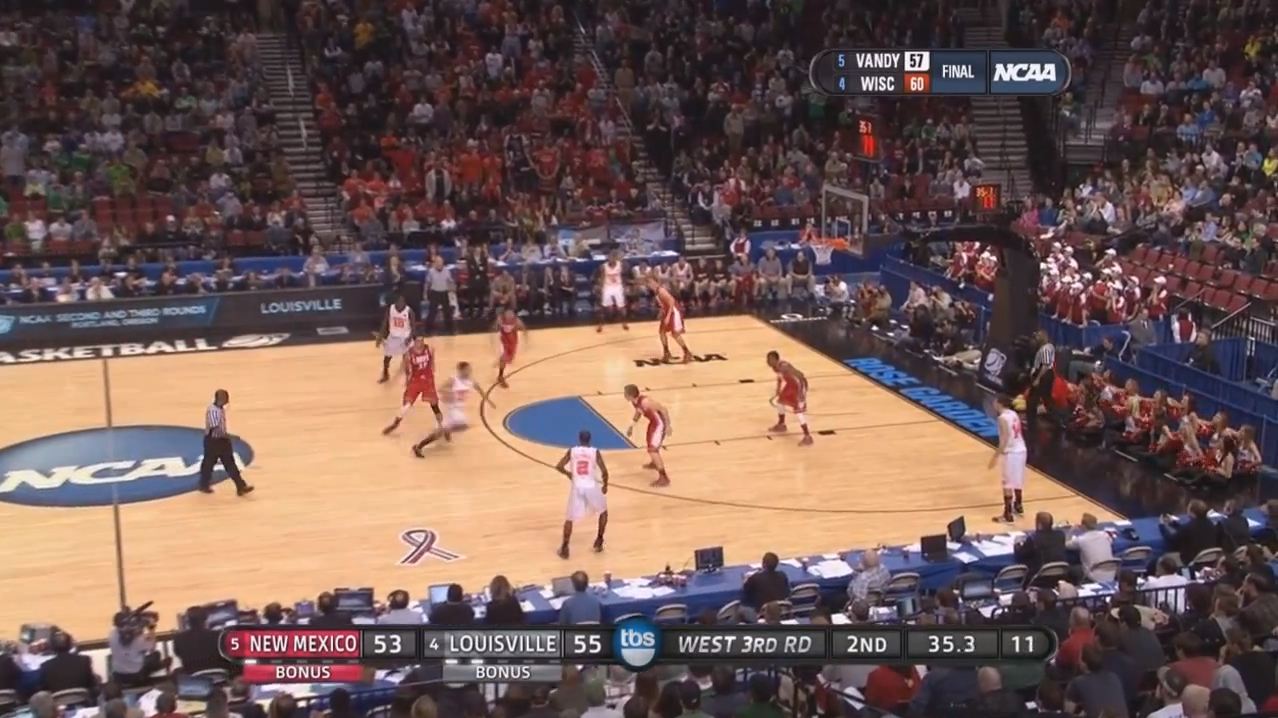 He gets into the teeth of the New Mexico defense, where he is under control and able to jump-stop, finding Dieng rolling down the lane for a dunk: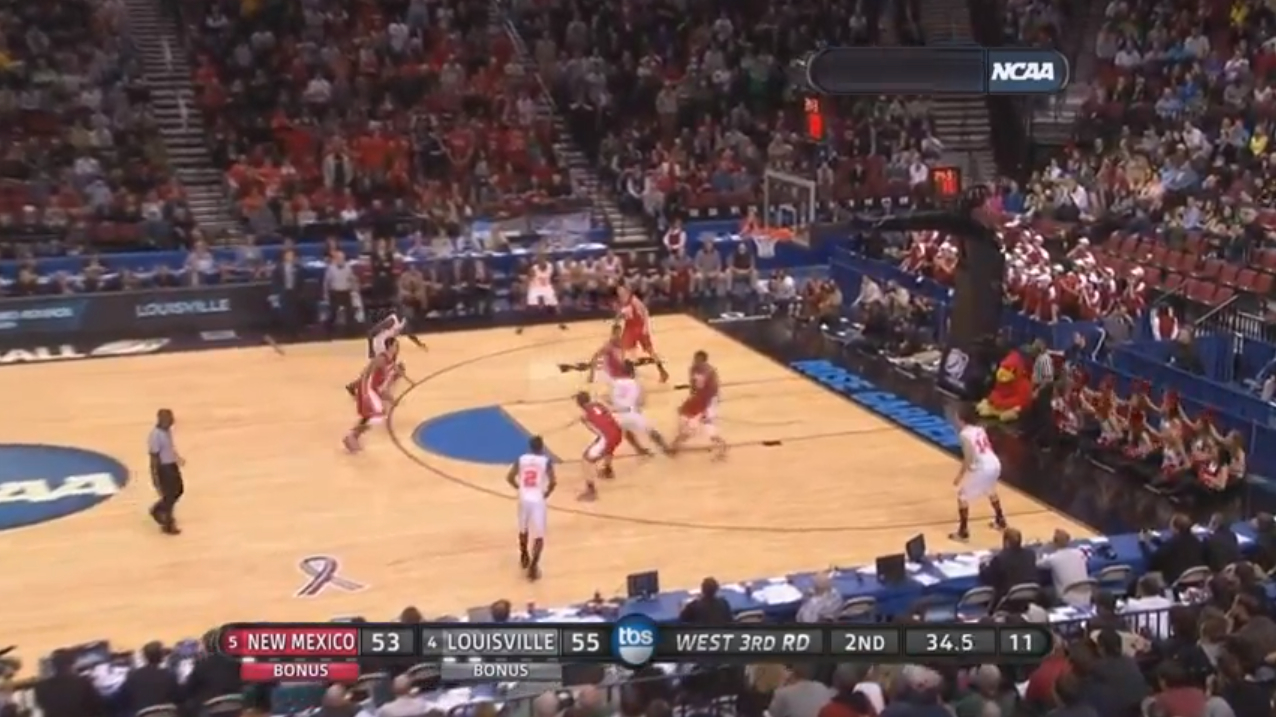 Two possessions earlier in the same game, Siva once again came off of a high-ball screen from Dieng: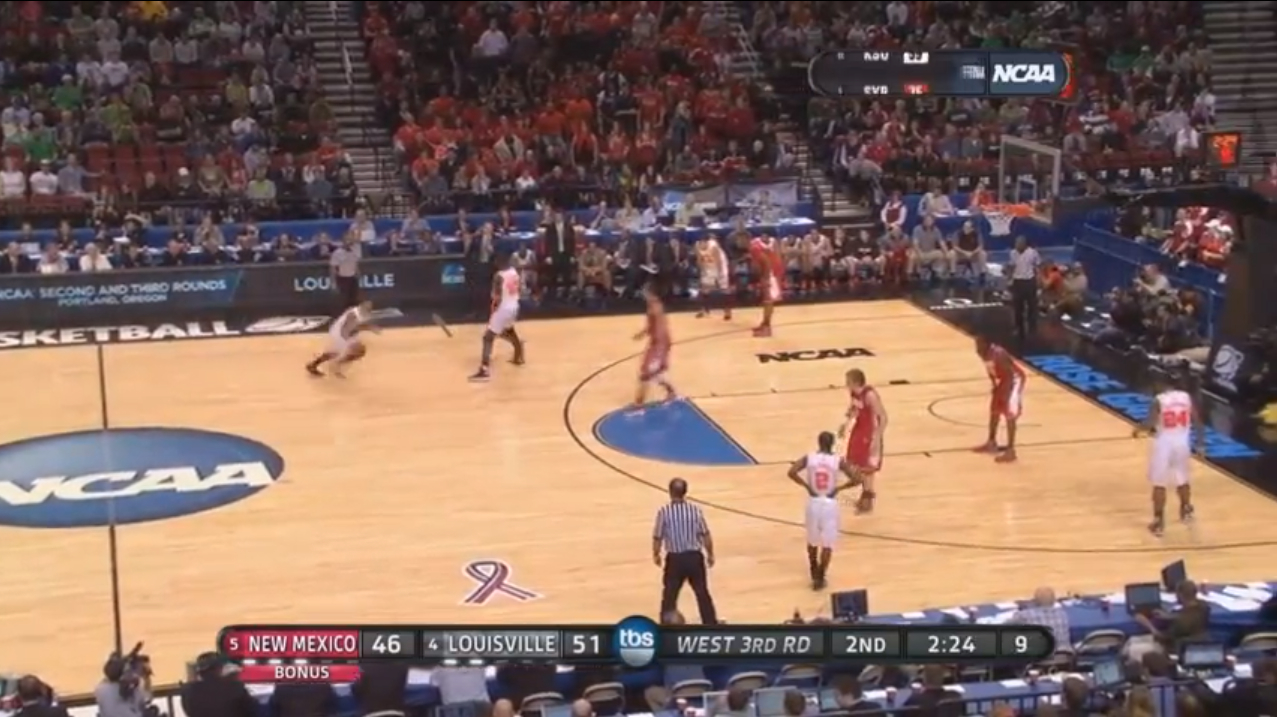 Only this time, Gordon hedged out too hard, and Siva was able to split the defenders: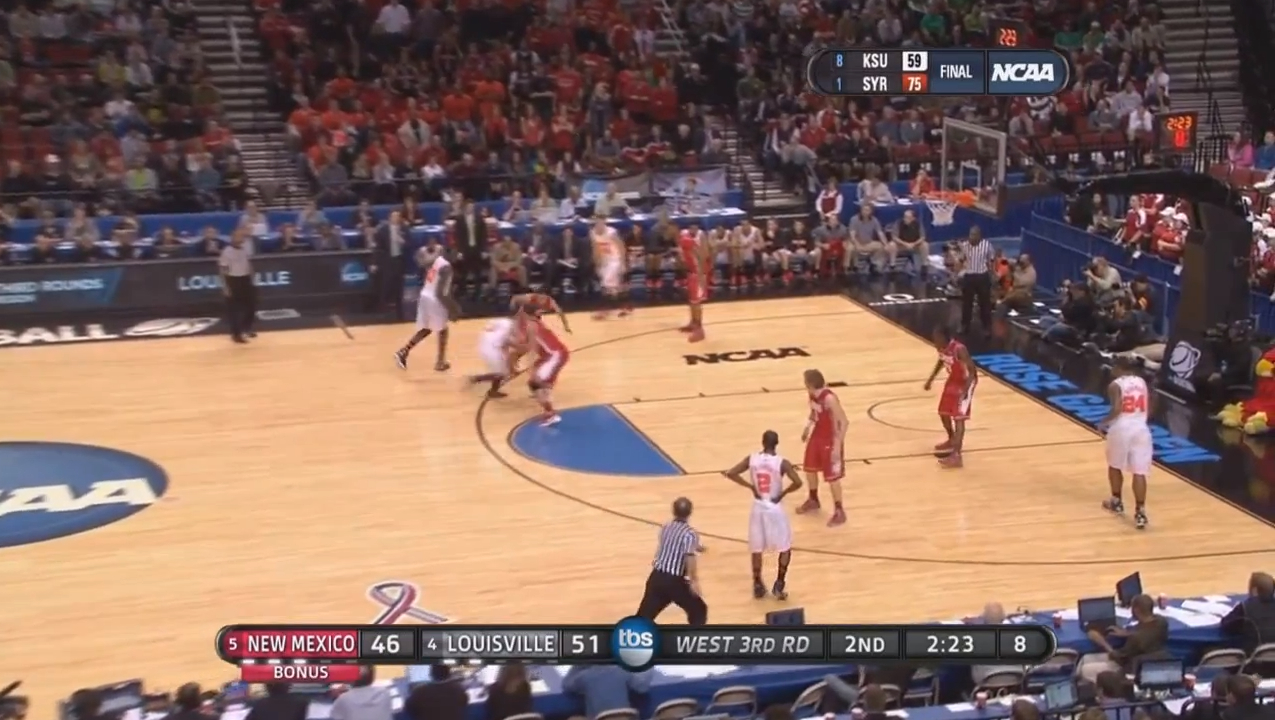 He made it all the way through New Mexico's defense, elevating and finishing at the rim:
Given No. 4 seed Louisville's reliance on ball-screens, particularly late in the game, this is where the matchup with No. 1 seed Michigan State on Thursday gets really interesting. The Spartans are one of the best teams in the country at defending the the pick-and-roll. They allow just 0.709 PPP in these situations, good for 11th in Division I.
How?
For starters, they have terrific individual defenders on their roster. Keith Appling is one of the better on-ball defenders in the country while Draymond Green's versatility allows him to step out and hedge hard — a technical term for, essentially, trying to make the ball-handler dribble away from the basket — and recover to his man very effectively.
Michigan State also has a system to defend ball-screens, and this is the perfect example. In the first picture, you'll see Wisconsin's Mike Breusewitz setting a ball-screen for Jordan Taylor. Green steps out and doesn't allow Taylor to turn the corner: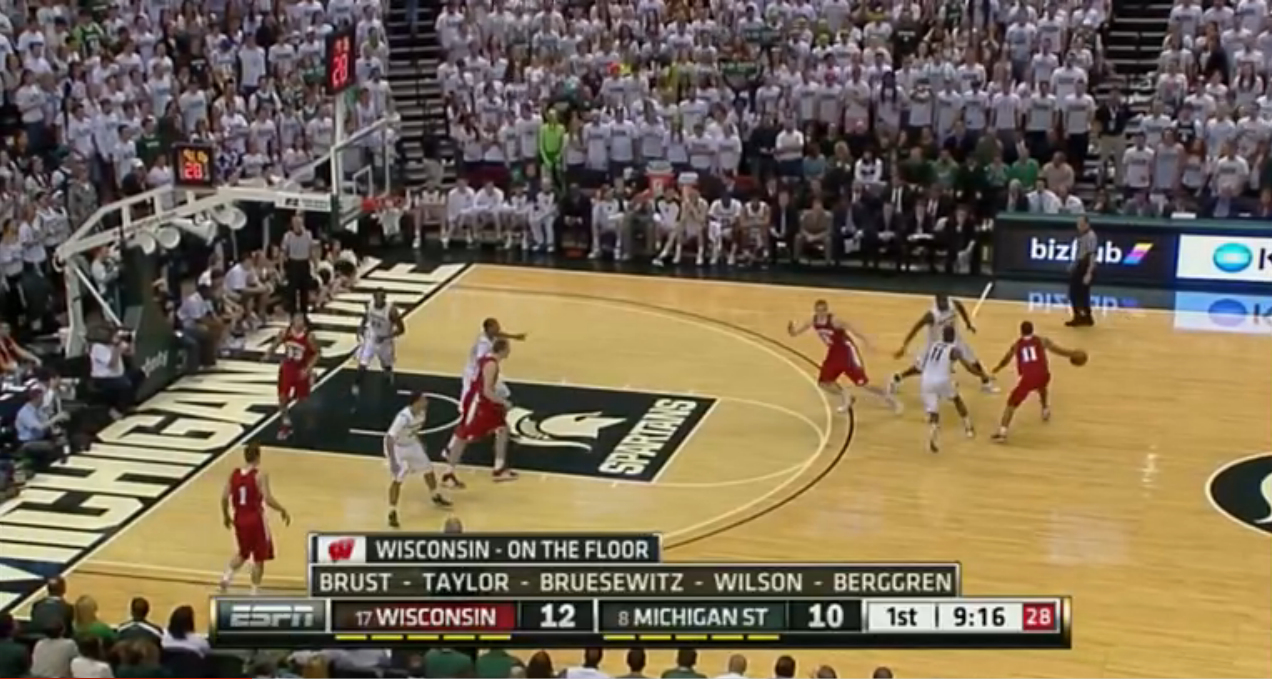 Center Adreian Payne, while the ball-screen action is happening, has slid into the middle of the paint to help protect the basket on Breusewitz's roll: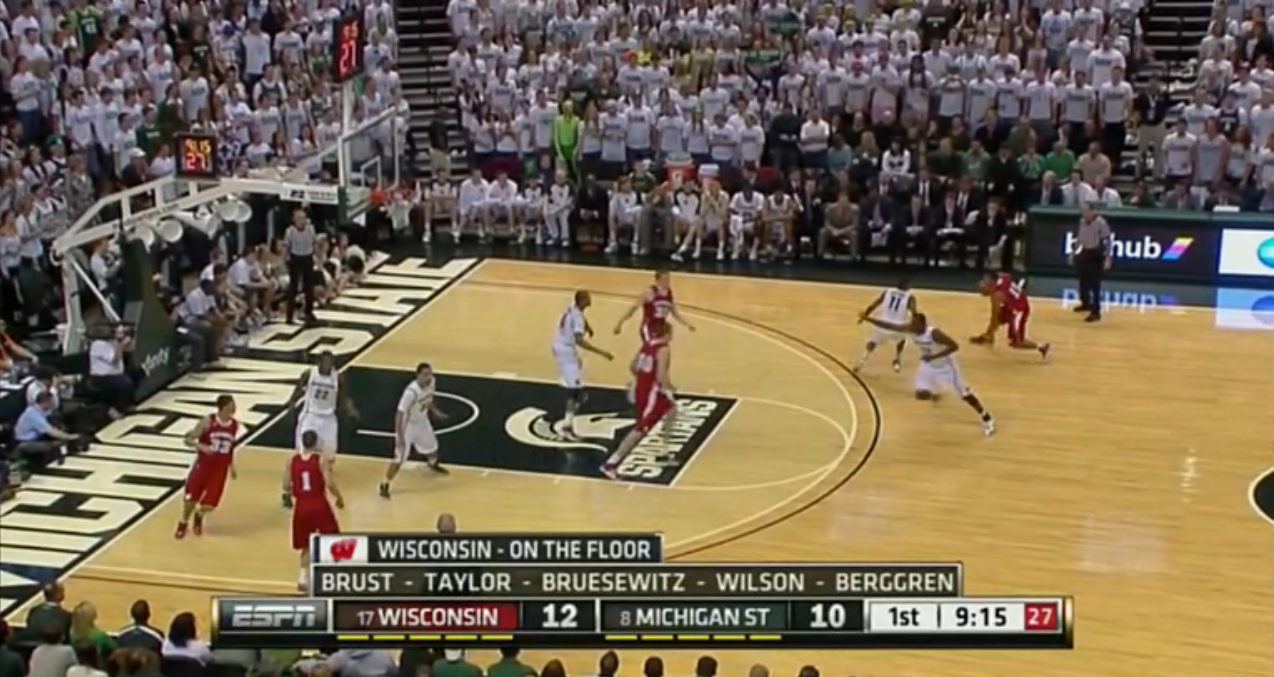 Payne was guarding Jared Berggren, and as Breusewitz rolled, Berggren rotated to the top of the key. Michigan State's big men are versatile enough that they can switch here. With Green now guarding Berggren, you'll once again see Green hedging hard on a ball-screen to keep Taylor from finding a driving lane: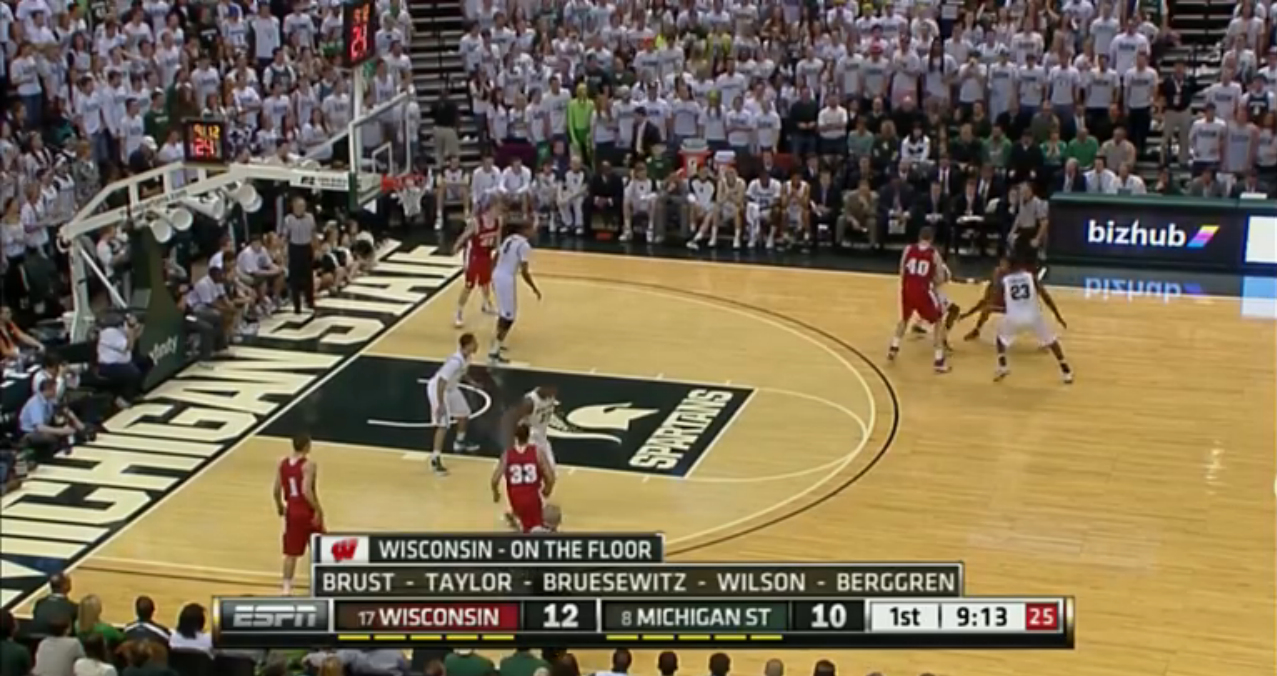 The Spartans stop Taylor's momentum, and Green is able to recover and get back to Berggren without allowing him a chance to spot-up for an open look. All the while, Payne is still is perfect help position: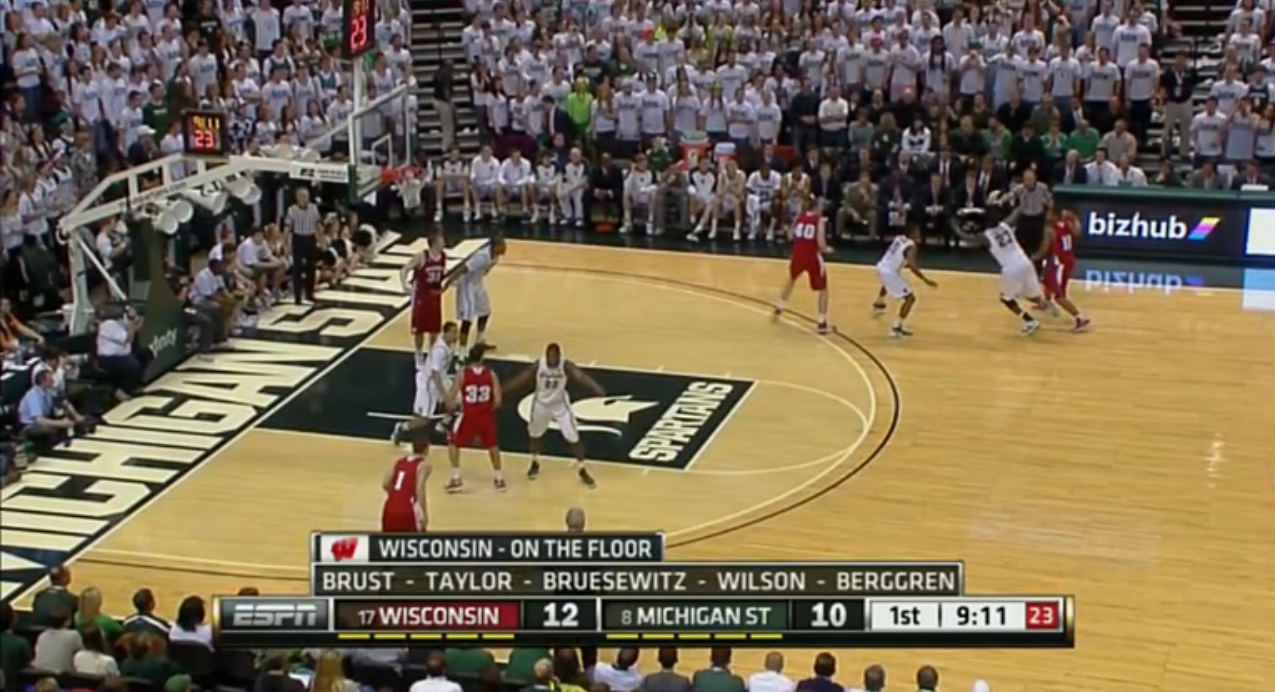 Payne and Derrick Nix are both better than you would think at defending ball-screens as well, and that is why the Spartans are so good at defending it. Their bigs can cut off driving lanes and the rest of the team is always in perfect help-side and executes their defensive rotations.
So how to you beat it?
Michigan offered up a good example. Here, you'll see Stu Douglass setting a down-screen for Jordan Morgan, who is being guarded by Nix:
Morgan goes and sets a ball-screen for Burke. Nix got hung up trying to fight through the Douglass screen, meaning he is late hedging: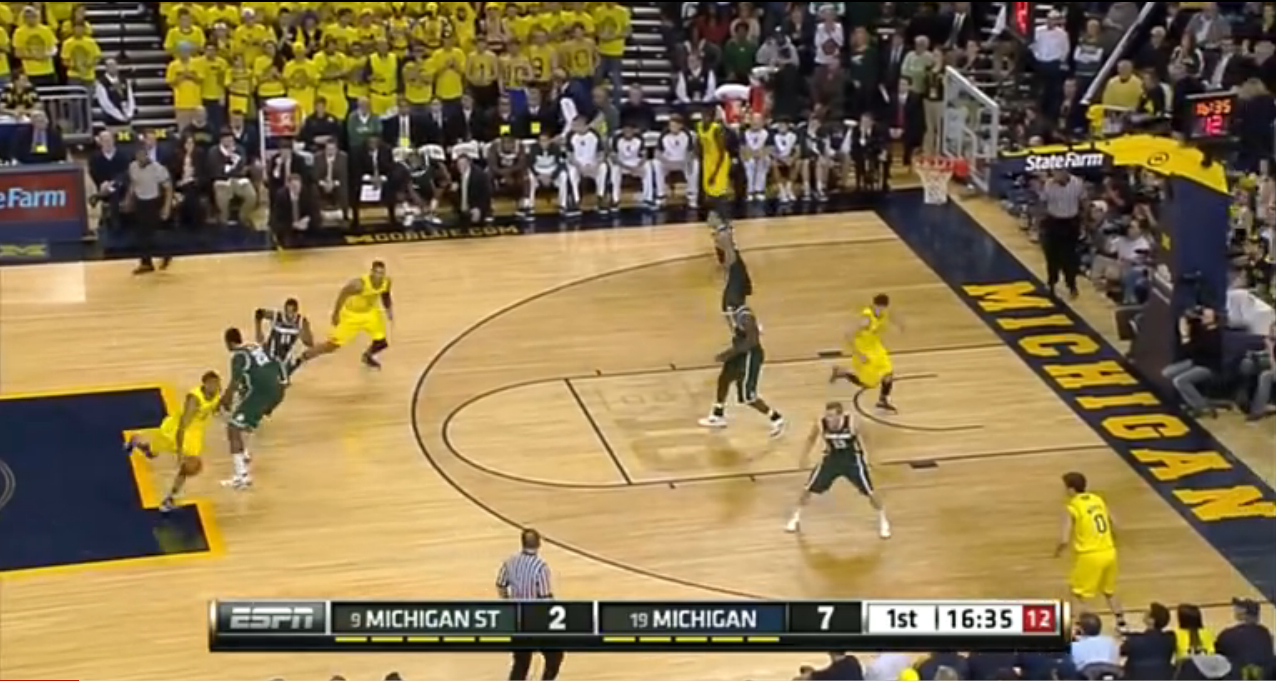 This allows Burke to get the corner and, after a couple of dribbles, a clean look at a three:
Given the style that both the Cardinals and the Spartans play, it's reasonable to expect this to be a low-scoring game that is tight down the stretch. Whoever wins the pick-and-roll battle, especially in late-game situations, will win the game.
Rob Dauster is the editor of the college basketball website Ballin' is a Habit. You can find him on twitter @robdauster.