On nearly any other day, in nearly any other NCAA tournament, the Ohio University Bobcats would be the big story.
A 13 seed knocks off a 4 seed? That's a biggie. When Morehead State stunned Louisville last year, it made the Eagles the toast of Thursday and Friday. A 65-60 win vs. No. 4 Michigan should do the same.
Except Friday turned out to be an NCAA tournament first. Two 15 seeds won. On the same day.
So, Ohio gets the Photo of the Day, as Walter Offutt and Ivo Baltic get to celebrate in front of Michigan's Trey Burke.
Sorry Bobcats. Best I can do on a day like today.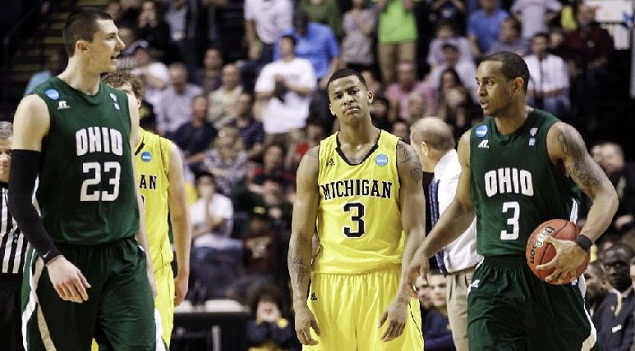 (Photo credit: Mark Humphrey/AP)
You also can follow me on Twitter @MikeMillerNBC.