Conventional wisdom had Colorado needing to shut down Baylor's front court if they were to have any chance of knocking off the Bears and advancing to the Sweet 16.
With the way that Brady Heslip shot the ball in Baylor's 80-63 victory it wouldn't have mattered what the Buffaloes would have been able to do in the paint.
Heslip went into "NBA Jam" mode, knocking down 9 of 12 shots from beyond the arc and finishing with a game-high 27 points. That set a school record for the most made  3-pointers in an NCAA tournament game, with the NCAA record being 11 by Loyola Marymount's Jeff Fryer (vs. Michigan in 1990).
"I thought Colorado really made it tough for our interior to score as efficient as we normally do," said Baylor head coach Scott Drew, who has his 2nd Sweet 16 trip in three years.
"I think we missed some easy buckets.  Because they were helping so much, it allowed Brady to get open on some of the screening action."
This was an incredible performance by Heslip, who has shot the ball well over the last five games. The nephew of former Toronto Raptors head coach Jay Triano entered Saturday's game having made 15 of 31 from deep over the last four games, but he took it to another level tonight.
Two of Heslip's 3-pointers were part of a 14-0 run that blew the game wide open, with an Anthony Jones three giving the Bears a 75-60 lead with 4:26 remaining.
Colorado, who relied on their defense to win the Pac-12 tournament and knock off UNLV on Thursday night, didn't have the firepower necessary to hang with Baylor on this night.
Pierre Jackson added 15 points and ten assists and Quincy Acy grabbed ten rebounds, with the Bears taking advantage of their size in the paint by grabbing 13 offensive rebounds.
But the story of the night is Heslip, a player who couldn't get off the bench at Boston College and transferred to Baylor after that freshman campaign.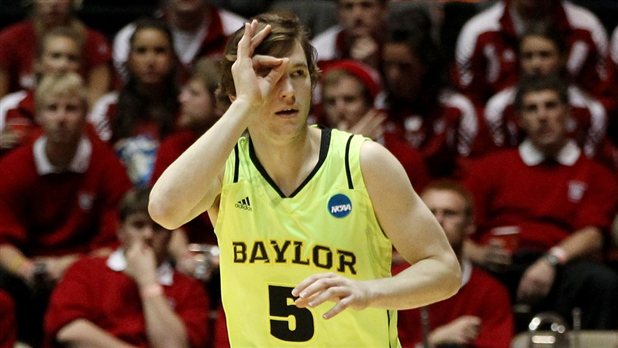 "I know how hard he's worked.  When he came in, we knew how good of a shooter he was," said Acy of Heslip. "Every time I went to the gym at night, I would see him in there sometimes twice a day.  He works for it.  I know whenever he gets hot, he can out-shoot anybody"
And he's taken full advantage of the opportunity, which bodes well for the Bears' Final Four hopes as they head to Atlanta for next week's South Regional.
With neither Lehigh or Xavier possessing the interior talent to contend with Baylor's big men, the Bears' next opponent will need to compensate for that disadvantage somehow.
And given what Heslip did to Colorado, there should be little doubt that the Burlington, Ontario native can make them pay should either team decide to use their guards to help.