When you've got front-row seats for an NCAA tournament game and the president and the British prime minister sit in your row, what do you do?
You share hot dogs and watch hoops, of course.
When three Dayton volleyball players, sophomore Samantha Selsky, junior Rachel Krabacher and sophomore Shayne Brown, found themselves in the same aisle as President Barack Obama and PM David Cameron during Tuesday's First Four game, they were – like most people – at a loss for how to handle it.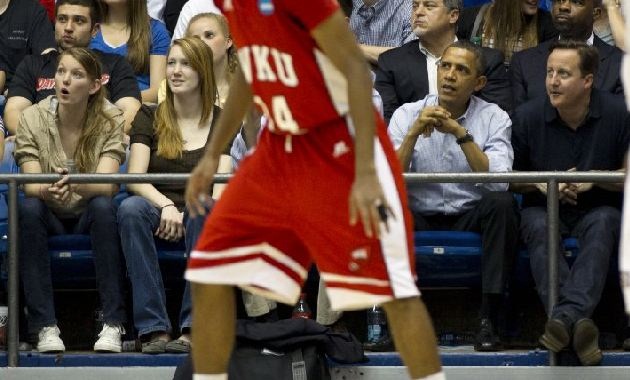 Their phones were blowing up with texts messages, the game wasn't much to look at and they were nervous about everything.
From a great feature by the AP:
"We were kind of like being little girls," Selsky said. "We couldn't believe this was happening. What were we going to say? What do we call him? We were asking the Secret Service what we do. When he comes out here, can we use our phones? How do we refer to him? So they were kind of laughing at us because they knew we were kind of star-struck."

… The president introduced himself and asked their names. They carried on conversation throughout the game, chatting about sports and college and a hot dog sushi featured at a Hawaiian restaurant – a hot dog wrapped in rice and seaweed.

Anything except politics.

During the first half, Obama decided he'd like a hot dog and asked the students if they would like one, too.

"We all kind of looked at each other like, `Are we allowed say yes?"' Krabacher said. "He was like, `You're college students. Who turns down free food?' He called somebody over and said, `I'll take 10 hot dogs.' So we got hot dogs from the president."

They watched to see how he fixed his.

"He uses mustard," Krabacher said.

The three snapped photos later so they wouldn't forget it. It was all a little surreal.
"It's hard to believe it happened," Selsky told the AP. "Looking back on it, I'm trying to remember what was going through my head. It's hard to remember. It seemed so fast – the fastest three hours ever."
You also can follow me on Twitter @MikeMillerNBC.