College basketball's most dominant player is the reason there's an overwhelming favorite to win it all.
The player is Brittney Griner. The team is Baylor.
What? You thought I was talking about Kentucky? The 'Cats are good, but they're not nearly as dominant as the Lady Bears have been this season. They're 34-0, the No 1 overall seed in the tournament and will enter the event with a simple philosophy: Anything less than a title is a failure.
"Our simple goal is to win a national championship," coach Kim Mulkey said.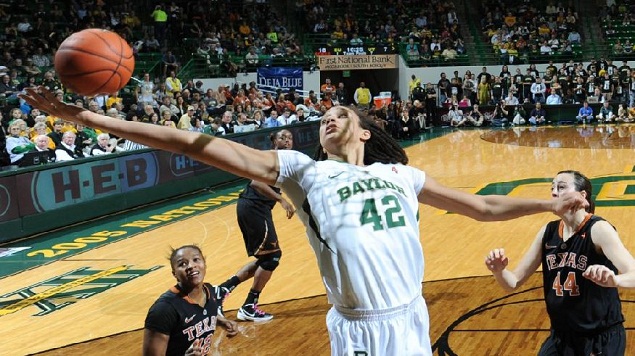 With Griner as the anchor, it should happen.
She's coming off a Big 12 tournament record performance – 45 points, 10 rebounds, seven blocks, four assists –which showcased her incredible physical gifts and her aggressive mentality. The 6-8 center is quick, dexterous and wants to destroy opponents.
She was happy about the points, but told ESPN's Mechelle Voepel that "it would have been sweeter if it was 45 blocks."
She's scary, but not so scary that the rest of the women's field (Stanford, UConn and Notre Dame are the other No. 1 seeds) is trembling.
"Well last year at this time I don't think anyone thought Texas A&M was going to win either," Stanford coach Tara VanDerveer said. "Baylor has had a great year. I think that Brittney Griner is a great player, she's a tremendous talent. We know that every team is beatable. I hope we have a chance to play them. We want to go as far as we can. If that means playing Baylor, we'll be ready."
To which I say, good luck. You'll need it.
You also can follow me on Twitter @MikeMillerNBC.