See the rest of our regional breakdowns here.
Final Four Favorite: No. 1 Kentucky: Kentucky is the best team in the country. That much is not exactly debatable. They are going to be the heavy favorite to win a national title, even with the loss to Vanderbilt in the SEC title game, and that's not going to be wrong. It doesn't hurt that the Wildcats have a very easy bracket. They aren't going to lose in Louisville, where their first two games are played. I know Indiana has already beaten the Wildcats, but Anthony Davis was in foul trouble and Terrence Jones spent the game pouting. Duke or Baylor? Not buying it. I'll get into Wichita State in a bit, but I just don't see a team in this bracket that is capable of beating Kentucky.
And if they lose…?: No. 3 Baylor: I like Baylor more than Duke here. On paper, Baylor is one of the most talented teams in the country. The issue with the Bears is that they haven't been able to play up to that potential this season. Well, on Friday night, they did. And they beat Kansas in the process. What was more impressive than the win, however, was the fact that Baylor didn't fold when the Jayhawks put a run on them. Baylor was up by 13. Kansas went on an 18-3 run. Baylor answered, and ended up winning by nine. Do they have enough confidence to win these games now?
Sign up for our NCAA tournament contest
Sweet 16 sleeper (9 or lower): No. 12 VCU: Who else was I going to pick? The Rams made the run to the Final Four last season out of the 11 seed. Why wouldn't they be able to do it out of the 12 seed this year? VCU started off the season slowly after graduating four of their five starters from last season, but they've been as hot as any team in the country, winning 16 of their last 17 games and cruising to a win in the CAA Tournament. They still press, they still force turnovers and they still hit threes. HAVOC!!!
Final Four sleeper (5 or lower): No. 5 Wichita State: To be honest, I think that Wichita State is one of maybe two teams (Baylor) in this bracket that can knock off Kentucky. They have size, they defend, they have shooter and they have good guard play. They are a very, very good basketball team. The problem? I honestly would not be surprised if they lost in the opening round of the tournament. That's what happens when you get VCU in the first round.
Player to watch (top 8 seeds): Royce White, Iowa State: If haven't seen White play, be sure to tune in for the opening round game between the Cyclones and No. 9 UConn. He might be the most difficult matchup in the country. At 6'9″ and 270 lb, he's actually ISU's point guard. He leads the team in scoring, rebounding, assists, block and steals. You don't come across that too often.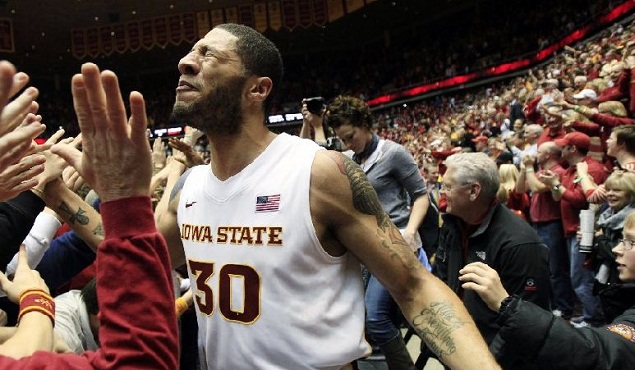 Player to watch (bottom 8 seeds): Nate Wolters, South Dakota State: Wolters was put on a lot of top player lists at the start of the season, and people were critical of the decision. But the fact of the matter is that this kid can play. He's a bigger point guard, about 6'4″, and while he's not overly quick, he's a crafty penetrator. His game is to get into the lane and kick the ball out of SDSU's myriad of shooters.
Also keep an eye on CJ McCollum of Lehigh. He's a kid with a future in the NBA. He ended up at Lehigh because he grew three inches once he committed to Lehigh. He's a big time scorer with range, the kind of player that may be able to carry the Mountainhawks to win over Duke.
Best potential matchup: No. 1 Kentucky vs. No. 2 Duke: I think that Kentucky would win this game fairly easily, but the history behind this matchup is too much. 20 years ago this year, quite possibly the greatest game in the history of college basketball was played. Between Duke and Kentucky. For the right to go to the Final Four. Sportswriters will have a field day if this matchup happens.
So who is getting upset?:
– I can see Duke getting knocked off by Xavier in the third round if the Musketeers and the Blue Devils both advance. Duke struggles to defend on the perimeter, and Xavier has a pair of talented back court players.
– One game to keep an eye on would be UConn and Kentucky in the third round. UConn has the talent to be a Final Four contender and knock off the Wildcats. That UConn has been a rare sight this season.
– Lehigh over Duke in the opening round, especially if Ryan Kelly is still hurt, and South Dakota State over Baylor are two risky upset picks that could pay off.
Rob Dauster is the editor of the college basketball website Ballin' is a Habit. You can find him on twitter @robdauster.