Trevor Mbakwe is one of the best big men in the Big Ten, if not the country. He represented the United States in the World University Games over the summer. That's pretty good.
Unfortunately for the bruising, 6'8″ power forward, he tore his acl back in November, ending his season before it started.
Now, I've never suffered an injury as bad as a torn acl, but I have been laid up for two months with a high-ankle sprain. Sitting around letting that thing heal was not pleasant, so I can't imagine how Mbakwe feels dealing with a busted knee. He's got to be getting restless. Bored, too.
Well, on Friday, Mbakwe let us in on how he keeps busy during the season.
He led with this tease: "I wonder if I should announce starting line ups on twitter again? Hmm what to do."
And sure enough, 30 minutes later, he did just that: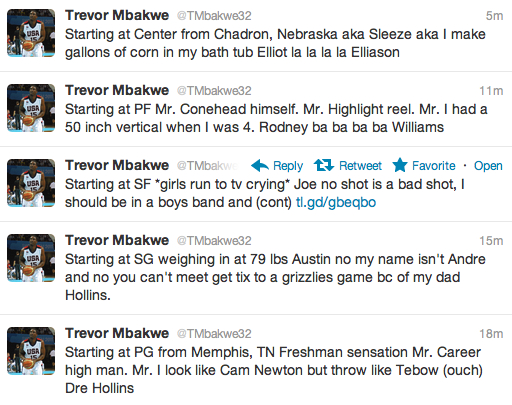 I know I don't have a say in the matter, but if I was Minnesota, I'd allow Mbakwe to get on the mic and introduce the Gophers. Why not? Give the kid something to do.
Rob Dauster is the editor of the college basketball website Ballin' is a Habit. You can find him on twitter @robdauster.