The NCAA tournament bubble isn't necessarily any weaker, but it certainly isn't shrinking.  Games this weekend should help clear up a few spots – although it hasn't happened yet.  Right now, there are 25 teams listed as projected locks, with another seven teams in strong position to claim a bid (Should Be In).  When you add in the 31 automatic qualifers, that leaves us with about 16 spots.  Some of the bubble teams are in stronger position than others.
Bubble Banter highlights the teams we believe are on the NCAA Bubble. If a team isn't listed, they aren't a bubble team at the time of the update. RPI and SOS data is credited to CollegeRPI.com.  RPI data is for games played through Thursday, March 1. Records reflect games through Friday, March 2.
A few quick thoughts about the weekend: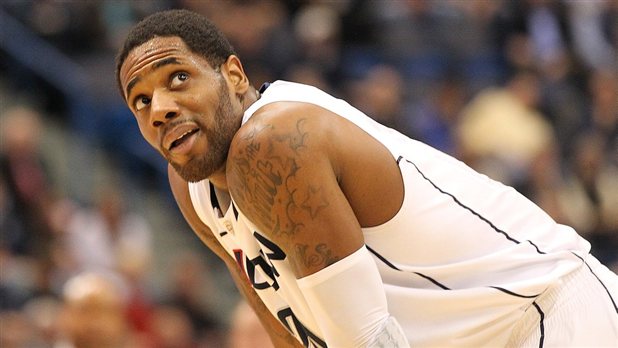 Connecticut and Mississippi State are the two BCS teams currently in our bracket that most need victories this weekend. Connecticut hosts Pittsburgh and Mississippi State hosts Arkansas.
Cincinnati should punch its ticket by winning at Villanova.  A loss would make the Bearcats' Big East tournament opener more important.
Northwestern needs to win its game at Iowa, but that won't be easy. The Hawkeyes have been a tough out at home.
Washington can wrap up a Pac-12 title by winning at UCLA.  That won't guarantee the Huskies a spot, but it would certainly help.
Virginia travels to Maryland with a two-game losing streak.  A loss would drop the Cavaliers to 8-8 in the ACC and make UVA's opening round ACC tournament game much more intense.
Total Spots (68): Number of teams in the Field.
Projected Locks (25): Teams who project to have secured a spot in the NCAA Tournament.
Should Be In (7): These teams are in solid position to receive an at-large bid.
Bubble: (33): Teams projected to be under consideration for at-large selection.
Spots Available (16): Estimated number of openings after Automatic Bids, Locks, and Should Be Ins are considered.
RPI and SOS: RPI and SOS data are updated through games on Thursday, March 1
Teams Leaving the Bubble: Southern Mississippi (Should Be In), Colorado, LSU (Dropping Off)
Teams Joining the Bubble: Virginia, Tennessee
Atlantic 10
Locks: Temple | Should Be In: None | Bubble: St. Louis, Dayton, St. Joe's, Xavier
Dayton (18-11 | 8-7) | RPI: 73 | SOS: 58 | – The Flyers have eight Top 100 RPI wins, including victories over Temple, Alabama, and Xavier. The Flyers have also beaten Ole Miss and Minnesota. But after Wednesday's loss at Richmond, the number of questionable losses is concerning – particularly defeats to both Miami-OH and Rhode Island. Dayton has to beat George Washington before heading to the A10 tournament. Another sub-100 loss could very well end the Flyers' at-large chances.
St. Joe's (19-12 | 9-7) | RPI: 56 | SOS: 44 | – After beating Temple the Hawks fell in double-overtime to St. Bonaventure. It's not a horrible loss, but St. Joe's margin for error is thin because of a 2-5 mark against Top 50 teams, a few questionable losses (American and Charlotte in particular), and an overall growing number of defeats . Beating Creighton continues to help, even though the win was in December. SJU also has a win over Drexel. Next up: the A10 tournament. The Hawks will need a couple of wins at minimum.
St. Louis (22-6 | 11-4) | RPI: 30 | SOS: 97 | – The Billkens put together an impressive second-half run to oust Xavier on Tuesday. An 0-2 mark vs. Top 50 teams isn't something to take lightly, but SLU's wins over St. Joe's, Washington, and Xavier are close to that RPI mark. SLU closes with a trip to Duquesne. Taking care of the Dukes and avoiding a bad loss in the A10 opener should be enough.
Xavier (18-11 | 9-6) | RPI: 55 | SOS: 43 | – Non-conference wins over Vanderbilt, Purdue, and Cincinnati continue to help the Muskies. After leading at halftime, XU fell apart on the road at St. Louis and now face a critical game at home against Charlotte on Saturday. The Musketeers are just 6-10 vs. Top 100 teams and 12-11 vs. the Top 200. A losing mark against the Top 200 has traditionally spelled trouble. Xavier has a history of playing well in the A10 tournament; the Muskies need a similar effort this year.
ACC
Locks: Duke, North Carolina, Florida State | Should Be In: None | Bubble: Miami-FL, NC State, Virginia
Miami-FL (17-11 | 8-7) | RPI: 52 | SOS: 32 | – Miami's loss to NC State Wednesday dropped the Canes to 3-10 vs. Top 100 teams and gave the Wolfpack a season sweep. What Miami has to offer is a huge win at Duke and a home victory over Florida State. Another plus, the Canes don't have a bad loss, their worst was a close game at Maryland. Miami closes with Boston College at home.
NC State (19-11 | 8-7) | RPI: 59 | SOS: 23 | – The Wolfpack are still alive after beating Miami Wednesday, and NC State now owns a season sweep of the Canes. That won't push them into the NCAAs, but it keeps them in the picture. NC State also has a win over Texas, which could still help. An 0-8 mark vs. Top 50 teams, however, is troubling, and a 5-8 mark vs. the Top 100 is okay at best. If the Wolfpack can win at Virginia Tech this weekend, they'll be in the discussion entering the ACC tournament.
Virginia (21-8 | 8-7) | RPI: 49 | SOS: 83 | – Thursday's loss to Florida State knocks the Cavaliers onto the bubble. It wasn't a bad loss (other than losing a lead late), but rather it was a missed opportunity to add a resume-building win. Virginia is only 2-5 vs. Top 50 teams, so the Cavs' resume isn't quite as strong as it appears. Wins over Miami-Fla and NC State help, and the Cavs also beat Drexel and LSU. Virginia will probably be okay if it beats Maryland on Sunday. But a loss could make the ACC opener surpringly important.
BIG EAST
Locks: Syracuse, Georgetown, Marquette | Should Be In: Louisville, Notre Dame | Bubble: Cincinnati, Connecticut, Seton Hall, South Florida, West Virginia
Cincinnati (21-9 | 11-6) | RPI: 68 | SOS: 98 | – The Bearcats posted a huge win over Marquette on Wednesday and may now have done enough to reach the NCAAs. UC just needs to avoid a letdown at Villanova and an opening-round loss at the Big East tournament.
Connecticut (17-12 | 7-10) | RPI: 36 | SOS: 2 | – Coming off a loss to Providence, the Huskies are inching closer to the wrong side of the bubble. Uconn is 5-7 vs. the Top 50 and 7-10 vs. the Top 100 but has been very inconsistent. Key non-conference victories include Florida State and Harvard. Inside the Big East, UConn has beaten Notre Dame, Seton Hall, West Virginia, and South Florida. UConn closes with Pittsburgh at home. They need to beat the Panthers and then try to win a couple of games in New York.
Seton Hall (19-10 | 8-9) | RPI: 47 | SOS: 42 | – The Pirates made their bubble life more difficult by losing a home game to Rutgers last weekend. While SHU is 3-7 vs. the Top 50, they are 8-8 vs. the Top 100. Notable non-conference wins include Dayton, St. Joe's, and VCU – other teams on the bubble. If SHU loses at DePaul, the Pirates' may need a couple of wins in New York to breathe easy. Within the league, SHU has beaten UConn, Georgetown and West Virginia.
South Florida (18-11 | 12-5) | RPI: 35 | SOS: 19 | – Wednesday's victory at Louisville was the Bulls' first marquee-type win and first notable win away from home. USF is just 2-7 vs. the Top 50 (the other win is Seton Hall). Yes, South Florida's Big East win total is impressive, but the majority of those wins have come against the league's weaker teams. USF closes with West Virginia at home. Another good win or two would certainly help solidify the Bulls position.
West Virginia (18-12 | 8-9) | RPI: 53 | SOS: 13 | – The Mountaineers breezed past DePaul on Tuesday, but have still lost have lost 6 of 9 games. Important victories include Georgetown, Cincinnati, and Kansas State – along with Miami(Fla) and Oral Roberts. Several close losses and a Top 10 schedule will help. The Mountaineers are 8-11 vs. Top 100 teams and nine losses have come to teams in the Top 35 of the RPI. WVU closes at surging South Florida. That could end up being an important game for both teams.
BIG 10
Locks: Ohio State, Michigan State, Michigan, Indiana, Wisconsin | Should Be In: Purdue | Bubble: Northwestern
Northwestern (17-12 | 7-10) | RPI: 51 | SOS: 10 | – The Wildcats have to be wondering if they'll ever make the NCAA tournament. Few teams have lost more close games to good teams. Wednesday, Jared Sullinger hit a layup with 3 seconds to go to lift OSU past the Wildcats in Evanston. The problem for NW is that close losses only carry you so far. The Wildcats wind up the Big Ten season at Iowa, which is no easy task. They need that one and probably a couple in the Big Ten tournament to make the Field.
BIG 12
Locks: Baylor, Kansas, Missouri | Should Be In: Kansas State | Bubble: Iowa State, Texas
Iowa State (21-9 | 11-6) | RPI: 32 | SOS: 49 | – Iowa State has a season sweep of Kansas State and home wins over Kansas and Texas. Will that be enough? Outside the Big 12, ISU's best win is probably Iowa. Wednesday's loss at Missouri was expected, but it still leaves the door open for some concern. The Cyclones host Baylor on Saturday. Win and things look good. A loss would add some pressure to ISU's Big 12 opener. A 4-7 mark vs. the Top 100 right now isn't exactly overwhelming.
Texas (19-11 | 9-8) | RPI: 54 | SOS: 31 | – The Longhorns pulled off their second escape act in a week by holding off Oklahoma on Wednesday. That sets up a showdown with Kansas this weekend. Texas hasn't beaten a Top 100 team on the road, so a win doesn't look promising – which means the Longhorns will likely have to win a couple of Big 12 tournament games to feel good about their chances. Texas is 3-8 vs. Top 50 teams – beating Temple, Iowa State, and Kansas State. Bad losses are to Oklahoma State and Oregon State. They are just 12-11 vs. the Top 200.
CONFERENCE USA
Locks: None | Should Be In: Memphis, Southern Mississippi | Bubble: Central Florida
Central Florida (18-9 | 9-6) | RPI: 64 | SOS: 94 | – Memphis ran over the Knights on Tuesday, leaving UCF on life support. They are just 2-5 vs. Top 50 teams and 3-6 vs. the Top 100. The Knights are also just 3-7 on the road. A win over Connecticut isn't helping that much anymore. UCF finishes with UAB and likely needs a run to the C-USA title game to stay alive for at-large consideration.
MISSOURI VALLEY
Locks: Wichita State | Should Be In: Creighton | Bubble: None
Right now the Missouri Valley looks to be a two-bid league with Creighton and Wichita State firmly in the Field of 68. Arch Madness is always unpredictable, so a third bid is certainly possible.
MOUNTAIN WEST
Locks: UNLV, San Diego State, New Mexico | Should Be In: None | Bubble: Colorado State
Colorado State (16-10 | 6-6) | RPI: 20 | SOS: 4 | – Beating UNLV at home on Wednesday gives CSU wins over the top three Mountain West teams (UNLV, SDSU, New Mexico). That's good, because while the Rams have played a good schedule, they didn't post a non-conference NCAA-level win. CSU's best non-conference wins are Colorado and Montana/Denver. An overall 8-8 mark against the Top 100 is okay, but a 2-9 road record is cause for concern. CSU's best road win is UTEP (RPI No. 148). They also have losses at Stanford and Boise St. The Rams finish up with a winnable game at Air Force before heading to the MTW tournament.
PAC 12
Locks: None | Should Be In: None | Bubble: Arizona, California, Oregon, Washington
Arizona (21-9 | 12-5) | RPI: 69 | SOS: 101 | – Arizona has won 7 of 8 games and remains in the hunt despite some very questionable power numbers (RPI and SOS). Other than a victory at California, the Wildcats have no wins over projected at-large teams right now. Are wins over New Mexico State, Colorado and Valparaiso (Top 100) going to push Arizona into the NCAAs? Probably not. Plus, UA was swept by Washington. Arizona closes with Arizona State. That's a must win heading into the Pac-12 tournament.
California (23-7 | 13-4) | RPI: 37 | SOS: 96 | – While Cal is 6-5 vs. Top 100 teams, they are 0-3 in the Top 50. Cal's best non-conference win is Weber State or Denver. Blemishes are losses at Oregon State and Washington State. The Bears close at Stanford this weekend. A loss to the Cardinal would put another blemish on the Bears' resume.
Oregon (21-8 | 12-5) | RPI: 44 | SOS: 77 | – The Ducks have won 5 of 6 games after beating Colorado on Thursday. That's the good news. The issue remains a 1-6 mark vs. Top 50 teams and a paultry 3-7 record against the Top 100. A victory at Nebraska is all the Ducks have outside of conference play. Oregon closes with Utah. A horrible loss to the Utes could knock the Ducks into automatic qualifier status.
Washington (21-8 | 14-3) | RPI: 50 | SOS: 85 | – The Huskies' have won 10 of 12 games and own the outright Pac-12 lead. Washington pounded USC on Thursday and can wrap up a Pac-12 regular season title with a win at UCLA this weekend. UW's best wins are Arizona (twice) and Oregon at home – both fellow bubble teams. The Huskies are 3-8 against the Top 100 and just 1-6 vs the Top 50. Will a Pac-12 crown be enough for an at-large bid? It might depend on how far the Huskies advance in the Pac-12 tournament.
SEC
Locks: Kentucky, Florida, Vanderbilt | Should Be In: None | Bubble: Alabama, Mississippi State, Tennessee
Alabama (20-9 | 9-6) | RPI: 28 | SOS: 16 | – Four straight wins have changed the Tide's outlook considerably. They close out SEC play with a trip to Ole Miss. Early wins over Wichita State, Purdue and VCU help. The only real downer is a two-point defeat at South Carolina. If there's a concern, it's a 2-5 mark vs. Top 50 teams and a 7-8 mark vs. Top 100 teams. Neither record is particularly impressive.
Mississippi State (20-10 | 7-8) | RPI: 61 | SOS: 67 | – The Bulldogs survived in OT at South Carolina, but that still leaves MSU with 5 losses in 6 games and in desperate need of a late run. The Bulldogs host Arkansas in a critical game on Saturday. A win probably keeps MSU on the right side of the bubble. A loss, probably not. MSU is 2-4 vs. Top 50 teams and 7-7 vs. the top 100. Both are average at best. The Bulldogs are helped by a win at Vanderbilt, along with wins over Alabama, West Virginia, and Arizona. Questionable losses are to Georgia and Auburn.
Tennessee (16-13 | 9-6) | RPI: 80 | SOS: 34 | – Given a 9-6 mark in the SEC, we'll add Tennessee to the bubble. But the Vols have some significant work to do with 13 losses, including four to sub-100 RPI teams. UT swept Florida and has a win over Connecticut. Those are the highlights. They are just 12-13 vs. the Top 200. The Vols host Vanderbilt on Saturday. They need to win that game to stay in the conversation.
WEST COAST
Locks: St. Mary's, Gonzaga | Should Be In: None | Bubble: BYU
BYU (23-7 | 12-4) | RPI: 45 | SOS: 103 | – BYU opened WCC tournament play against San Diego, but it didn't help or hurt the Cougars. They are 3-5 against the Top 50 – largely due to late surges that pushed Oregon and Nevada into that category. The issue is that BYU went 1-3 vs. St. Mary's and Gonzaga, beating Gonzaga at home. It could take another win over the Zags to feel safe. To do that, they need to reach the WCC finals.
BEST OF THE REST
Locks: Murray State | Should Be In: None | Bubble: Drexel, Harvard, Iona, Long Beach State, Middle Tennessee State, Nevada, Oral Roberts, VCU
Drexel (25-5 | 16-2) | RPI: 65 | SOS: 235 | – The Dragons have an outright CAA regular-season title. How much that helps remains to be seen. Drexel is 0-1 vs. Top 50 teams and 4-2 against the Top 100. The non-conference wins in that category are Cleveland State and Princeton. Also, 14 of Drexels' wins are against teams ranked 200 or higher in the RPI. Losses to Virginia and St. Joseph's weren't particularly close. Drexel needs to reach the CAA title game. It's hard to believe anything else would be enough.
Harvard (24-4 | 11-2) | RPI: 38 | SOS: 171 | – A victory over Columbia on Friday puts the Crimson in the driver's seat for the Ivy's automatic bid. Harvard's last game is at Cornell. If the Crimson were to lose that one, and a playoff, Harvard would have to hope early wins over Florida State, St. Joseph's, and UCF are enough.
Iona (24-6 | 15-3) | RPI: 39 | SOS: 148 | – Beating Nevada in the BracketBusters helped the Gaels' profile, along with a win over St. Joseph's. Still, Iona is just 1-1 vs. against the Top 50. A 5-3 mark vs. the Top 100 in pretty good but none are against guaranteed NCAA teams. Losses to Siena and Hofstra – both sub 200 teams – are concerning given the lack of high-level wins. If Iona reaches the MAAC title game, they'll be in the at-large discussion. An early tourney loss would make it much more questionable.
Long Beach State (20-7 | 15-0) | RPI: 34 | SOS: 111 | – The 49ers will try to complete a perfect Big West season Saturday at CS-Fullerton. LBSU's top-rated non-conference schedule is well documented, and the 49ers' worst loss is at Montana (RPI No. 83) in November. The issues are an 0-6 mark vs the Top 50 and a 2-7 mark vs. the Top 100. Those sort of stand out in the wrong way. With 12 of LBSU's wins against teams ranked 200-plus in the RPI, they are just 8-7 vs. the Top 200. A BracketBusters loss to Creighton could still be a huge miss.
Middle Tennesse State (24-5 | 14-2) | RPI: 46 | SOS: 173 | – The Blue Raiders' profile took a major hit with the loss at Western Kentucky. While MTSU won the outright Sun Belt title, the Blue Raiders' best non-conference wins are Ole Miss, Belmont, and Akron. Good wins, but not the kind that carry a team into the NCAAs. A loss to anyone other than Denver in the Sun Belt tourney will likely relegate MTSU to the NIT.
Nevada (22-5 | 12-1) | RPI: 48 | SOS: 147 | – Nevada is rooting for Washington to win the Pac-12 as the Wolfpack's victory over the Huskies is their only potential NCAA-level win. Nevada beat New Mexico State Thursday to sweep the Aggies. The Wolfpack also lost a competitive BracketBusters game at Iona. But it's a loss that could still sting. Overall, Nevada is 1-3 vs. Top 50 teams and 4-3 vs. the Top 100. The Wolfpack have 14 wins against teams ranked 200 or higher in the RPI.
Oral Roberts (26-5 | 17-1) | RPI: 40 | SOS: 174 | – ORU beat Xavier, Missouri State, and Akron (BracketBusters) in non-conference play, but XU was without several players. Understandable losses are to Gonzaga, West Virginia, and South Dakota State on the road. When you consider that 14 of ORU's wins are against teams ranked 200 or higher in the RPI, the margin for error remains small. Reaching the Summit title game will be important.
VCU (25-6 | 15-3) | RPI: 58 | SOS: 179 | – The Rams have been helped by some other bubble teams fading away. VCU has also been helped by South Florida's surge. It's the Rams' lone Top 50 win. VCU is 4-4 vs. Top 100 teams but has 13 wins over teams ranked 200 or higher in the RPI. Other notable wins are at Akron (OT) and over Northern Iowa. VCU lost games to Alabama and Seton Hall and it's only matchup with Drexel. The Rams are 11-1 in their past 12 games, but may need a rematch with Drexel to stay on the right side of the bubble.