The Carrier Classic didn't produce breathtaking basketball – North Carolina's 67-55 win vs. Michigan State is best described as "workmanlike" – but the venue did provide some breathtaking sights. (Not to mention some notable onlookers.)
But if the San Diego sunset deserves the credit for those gorgeous scenic shots, next season's event might not match them.
Event organizers announced the city won't be able to host the game in 2012 because a U.S. Navy ship won't be available. No early They hope to return to San Diego in 2013.
They also need to finalize a matchup. UConn is slated to be one team – the Huskies have signed a memorandum of understanding to play – but the other isn't locked down. It was once rumored to be Arizona, but that's not done yet.
Whoever the teams are, I'm just hoping the backdrop matches the USS Carl Vinson. A view like this for a basketball game can't be beat.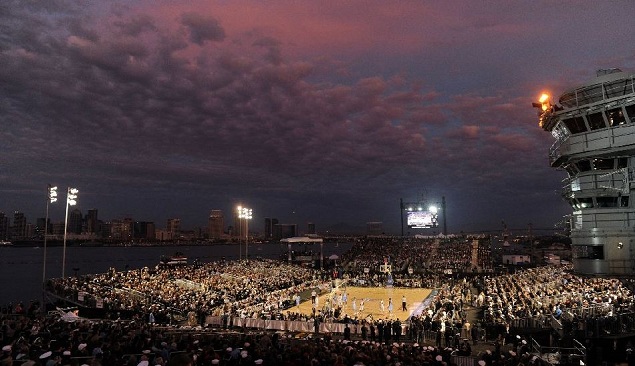 You also can follow me on Twitter @MikeMillerNBC.