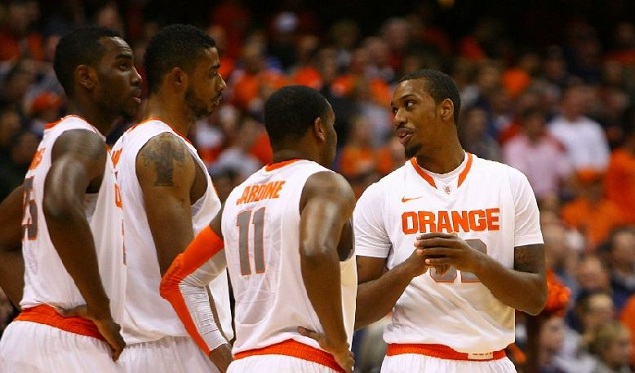 Everything one needs to know about college basketball can be found at CBT. But sometimes, even we need a little help. Hey, there are only so many hours in the day that allow us to read, write and analyze. (Gotta find time to eat, too.)
That's why we never miss the Power Rankings by Luke Winn over at SI.com. There are always at least three statistical nuggets worth chewing on in his rankings.
Take this breakdown of Syracuse's defensive rebounding. We've covered this very topic before, but this stat is telling for just how badly the Orange are at keeping people off the glass:
These are the worst defensive-rebounding teams to reach the Final Four in each year of the efficiency era:

Year   Team              DOR%    Rank
2011   VCU               36.5    321
2010   Duke              32.1    149
2009   North Carolina    31.7    121
2008   Memphis           29.2    36
2007   Georgetown        33.9    191
2006   Florida           33.1    126
2005   North Carolina    31.5    64
2004   Duke              36.8    282
2003   Syracuse          36.6    274

(That 2008 Memphis team tried to defy a different statistical hurdle — by nearly becoming the worst free-throw shooting team to ever win a title. But you know what happened: Derrick Rose missed a free throw.) Only four teams have made the NCAA tournament with a worse DOR% than Syracuse's current 38.3, and none has won a game:

Year   Team (Seed)       DOR%    Rank
2004   L-Lafayette (14)  39.2     316
2006   UAB (9)           40.7     331
2008   Coppin St. (16)   38.6     333
2010   Houston (13)      38.5     338
A savvy college hoops fan knows that Syracuse's defense is still elite because it creates so many steals, blocks so many shots and is tough to score against. Also, 'Cuse is rarely very good at defensive rebounding and that the 2003 team wasn't much better than this year's version. But that group had Carmelo Anthony when it won it all back in 2003 (not to mention Gerry McNamara hitting six 3s in the first half of the title game).
If the Orange don't make the Final Four or win it all, defensive rebounding will almost surely be one of the reasons why. Giving a team second-chance points is never a good idea in the Big Dance.
You also can follow me on Twitter @MikeMillerNBC.