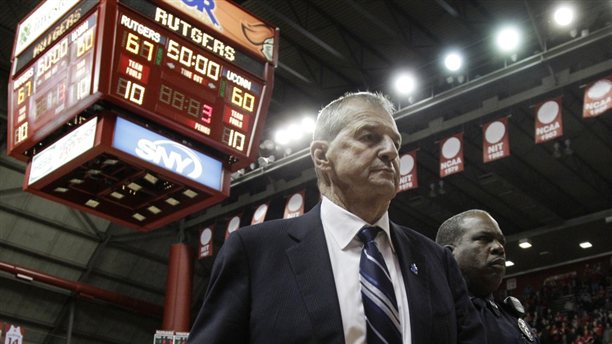 Connecticut coach Jim Calhoun won't be back on the sideline in the next week. But the rest of the season remains a possibility.
Calhoun, 69, will have back surgery Monday for his spinal stenosis, the school announced Wednesday. That rules him out for Saturday's home game against Syracuse and Tuesday's trip to Providence as he prepares and then recovers from surgery.
His return will be evaluated on a daily basis after that.
"I'm glad we have finally determined the best course of treatment to deal with the problem," Calhoun said in a statement. "I'm looking forward to having the procedure done, hopefully recovering as quickly as possible, and putting it all in the past."
The Huskies – coming off perhaps their biggest win of the season – are 17-10 overall and 7-8 in the Big East. They're flirting with the NCAA tournament bubble, but can help themselves with wins at Providence in their regular-season finale vs. Pitt on March. 3.
Calhoun could conceivably be back on the sideline when the Big East Tournament begins on March 6, but given that he's been on medical leave since Feb. 3, the odds of him returning seem slim.
And that extends beyond just this season.
You also can follow me on Twitter @MikeMillerNBC.