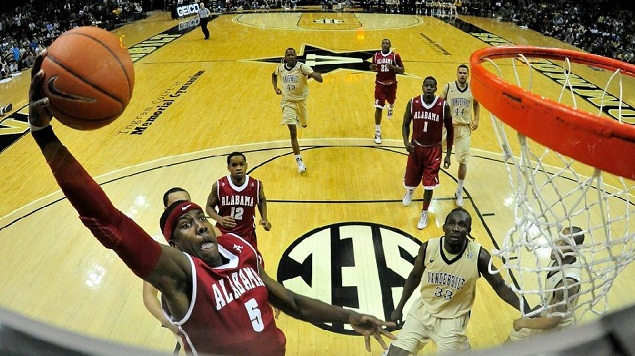 Alabama's NCAA tournament chances just took another hit.
The Tide's indefinite suspension of forward Tony Mitchell is now a season-long suspension, according to a report by CBSSports.com. That leaves them without their second-leading scorer (13.1 ppg) and rebounder (7 rpg) as they try to avoid a sub-.500 SEC finish and what would likely be an omission from the NCAA seeding committee.
Mitchell, 6-6 junior, is one of the SEC's most explosive players and a highlight-reel machine, but hasn't played since being suspended two weeks ago. Without him, Alabama is 2-2.
The good news?
Senior forward JaMychal Green – the team's leading scorer and rebounder – was reinstated to practice. He may soon join teammates Trevor Releford and Andrew Steele, who missed one game due to suspensions.
Those three will be essential for the Tide to avoid losses in their last four games: Thursday at Arkansas; Saturday vs. Miss State; Feb. 29 vs. Auburn and March 3 at Ole Miss. Going 2-2 would be the minimum to avoid serious bubble woes.
You also can follow me on Twitter @MikeMillerNBC.