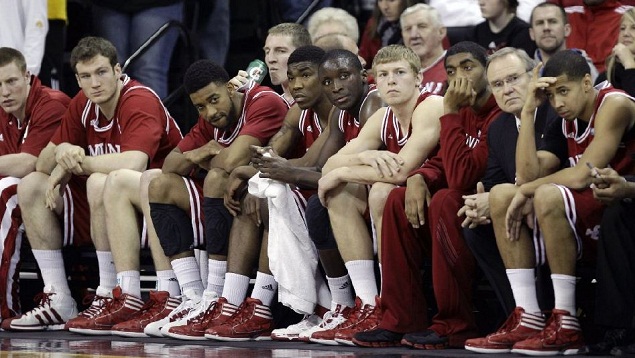 Not sure Indiana saw this one coming.
The No. 18 Hoosiers had won three in a row behind an offensive that was making Missouri look inefficient.
Then they headed to Iowa, where Indiana was a 4.5 point favorite to win. And the Hawkeyes showcased their offensive skills in a 78-66 win. Matt Gatens was superb – 30 points on 10 of 18 shooting – while pretty much every Hoosier had an off day. Even super frosh Cody Zeller was merely good (15 points, 13 rebounds) and not great.
Made for a glum afternoon in Indiana.
"Give credit to Iowa. They came in and played a lot harder than we did. Outrebounded us, outdid us in pretty much everything, so that's all on us," Indiana guard Jordan Hulls said.
If it's any consolation, Iowa (14-13 overall, 5-8 in Big Ten) is a tough out at home, beating Michigan and Minnesota this season in Iowa City. The Hawkeyes are one of the few league teams who want to play fast like the Hoosiers, so perhaps it was merely an effort thing, and not totally related to performance.
And more good news?
Indiana (20-7, 8-7) can tune up Wednesday against NC Central before heading to Minnesota on Saturday, which is the Hoosiers' last road game of the season. That means the last two games are in the familiar confines of Assembly Hall, a place where they've lost just once this season.
Then again, Michigan State and Purdue are slated for those final two games. Better not come out flat again, Hoosiers.
You also can follow me on Twitter @MikeMillerNBC.