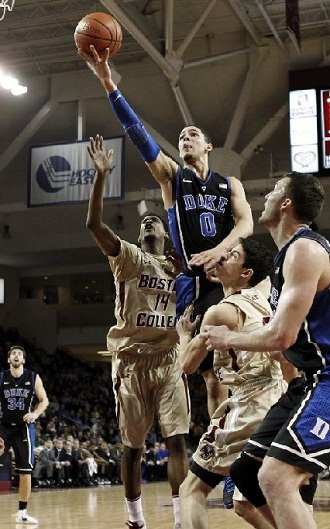 Duke said it was sick of staging late-game rallies. It played like it on Sunday.
Well, after the first few minutes at least.
The No. 5 Blue Devils handed Boston College a 75-50 defeat, showcasing a solid defensive effort and plenty of scoring from its sharpshooters of Austin Rivers, Seth Curry and Andre Dawkins, who combined for 47 points and eight 3-pointers.
It was a far cry from what Duke (23-4, 10-2 in ACC) had been doing in games against NC State and North Carolina recently, where double-digit comebacks were required to get the win.
Not that coach Mike Krzyzewski is pumped. He still see room for improvement.
"I was really pleased we got a big working margin, but I'm still worried," Krzyzewski said. "I want us to look good all the time. We got a little sloppy there for a minute and then our kids picked it up again. It's not point differential or anything. Whoever's playing, I want them to be sharp."
Indeed, Duke's 18 turnovers represented a turnover once every four possessions, higher than normal (it's usually about six). That's certainly a concern as the Devils prep for Florida State this Thursday.
If they're that sloppy vs. the 'Noles, they're in for a long night.
"They're a good group. We're just not some type of juggernaut," Coach K said. "We'll have spurts of really good defense. Our rebounding has gotten better. Until today, we were taking really good care of the ball."
You also can follow me on Twitter @MikeMillerNBC.