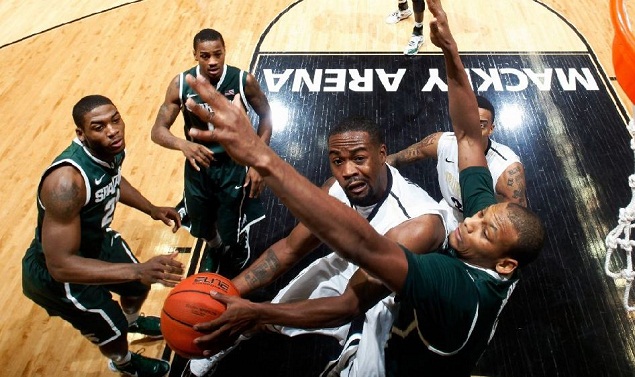 Michigan State made its move for the Big Ten title. Now comes the tough part.
The No. 7 Spartans held off Purdue Sunday for a 76-62 road win, moving them one game ahead of Ohio State and Michigan in the Big Ten standings. All four teams have four games remaining. Here's a peek:
Michigan State: Wednesday at Minnesota; Saturday vs. Nebraska; Feb. 28 at Indiana; March 4 vs. Ohio State
Ohio State: Tuesday vs. Illinois; Saturday vs. Wisconsin; Feb. 29 at Northwestern; March 4 at Michigan State.
Michigan: Tuesday at Northwestern; Saturday vs. Purdue; March 1 at Illinois; March 4 at Penn State.
The Wolverines (20-7, 10-4 in Big Ten) face the toughest slate: Three road games, two of which are at NCAA tournament bubble teams in Northwestern and Illinois. They should and could win all four, but that seems unlikely. Expect at least one more loss.
Ohio State (22-5, 10-4) might face the four best teams among the title contenders, though. Hosting Illinois and Wisconsin makes for a pair of slow-it-down, slug-it-out games, and trekking to Northwestern and Michigan State represents two games that most teams would love to split.
That leaves the Spartans.
At 22-5 and 11-3, they have that one-game lead and get two more home games, including the all-important season finale vs. the Buckeyes. That leaves winning at Minnesota or Indiana to clinch the crown when Ohio State arrives. If there's a season where they pull off the improbable, it's this one. They hadn't won at Wisconsin, Ohio State and Purdue since 1997-98. Tom Izzo's team could pull off four more wins and take their first Big Ten title since 2009.
But it's the Big Ten. Nothing comes easy. Even for those in first.
You also can follow me on Twitter @MikeMillerNBC.