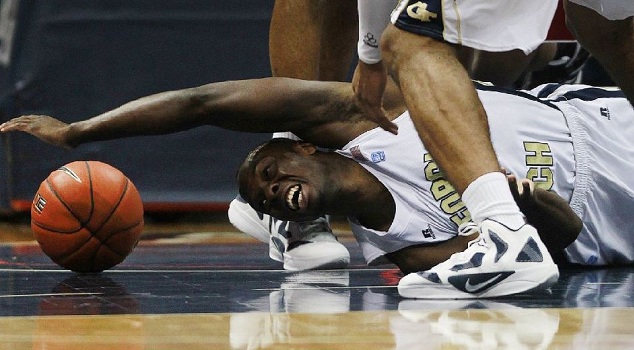 On more than one occasion in my life, I have walked into a movie theatre with preconceived notions about the film I was about to see, negative impressions, perhaps of a clichéd romantic comedy or over-budgeted, testosterone-driven action flick.
The resulting feeling is a preeminent dissatisfaction with the movie, really before there is any justifiable reason for such a sentiment. So there I would sit, wading through the first few minutes, searching for evidence that could confirm my beliefs.
That same feeling arose within me on Thursday night as I tuned in to watch Georgia Tech against Wake Forest, a battle of the two worst teams in the ACC, sporting a combined conference record of 4-17.
As the Wake Forest pep band wheezed some song that I couldn't quite pin a name on and these two bottom-dwelling teams prepared for the tip, I was anticipating the first sloppy turnover, errant pass, or unabashed airball to say to myself, "See? I was right. This is what basketball is like at the bottom of the ACC."
But the Yellow Jackets and the Demon Deacons made me wait—at least for one minute and twenty-six seconds.
Like the first few introductory minutes of any bad movie, I couldn't dislike Georgia Tech's first play. They came out with energy. They moved the ball around. Mfon Udofia buried an open three from the top of the key.
But then, like when the dialogue in a movie takes it's first dive into the unbearable, Georgia Tech did not disappoint.
Udofia, two possessions after hitting that three-pointer, swung the ball around to a teammate, though the "teammate" turned out to be the referee who was standing out of bounds. Turnover.
One possession after that, a block by Daniel Miller was negated when forward Kammeon Hosley double-dribbled in transition. Make that two Tech turnovers.
It seemed like an all-around problem.
As Travis McKie stepped to the line for Wake Forest, the camera angle showed the seats behind him at Lawrence Joel Veterans Memorial Coliseum, which were sparsely populated.
The realization of the inconsequential nature of this game may even have spread to the broadcast crew.
Midway through the first half, the broadcasters named their sponsorship-mandated "O'Charley's Fan of the Game."
Before I reveal the big winner, some quick background info on O'Charley's, whose website boldly proclaims that they "Put the 'Ohs" in 'Good Food'."
It seems to be an establishment concentrated in the South and Midwest, looking like your typical chain restaurant. They've got some deals for you and a date. Probably could get away with a solid $30 meal for two.
Anyway, the O'Charley's Fan of the Game was a three-year-old Wake Forest fan with a tie-dyed shirt on and, despite his inherent cuteness as a kid who looked like me when I was his age, it raised another question.
We couldn't find any emphatic Wake Forest student to be the Fan of the Game? There was no 24-year-old Super Senior with his face painted, holding up an ironic handcrafted sign?
This must be what basketball is like at the bottom of the ACC.
The teams combined to shoot 14-of-55 from the floor in the first half and Wake Forest led by seven, 24-17, at the break.
I began to think back to what a matchup like this would have looked like close to 10 years ago.
In 2003-04, Chris Paul was a freshman at Wake Forest. He averaged nearly 14 points and six assists per game. Jarrett Jack led the Yellow Jackets to the Final Four and lost in the national title game to Connecticut.
Now Chris Paul is in "Lob City" with Blake Griffin and the only lob I saw in this game hit off the rim for a turnover. Jack is in New Orleans, chasing his dream of becoming a rodeo clown (at least according to Will Ferrell).
In all fairness, both Georgia Tech and Wake Forest are rebuilding. Tech, in their first year since Paul Hewitt left for George Mason, has a core of young players and a 2012 recruiting class headed by big man Robert Carter.
Wake Forest has a six-man class coming in 2012, including Top 100 prospect Codi Miller-McIntyre.
But looking that far ahead is like expecting the sequel to be worthwhile, all while you struggle through the movie that plays in front of you.
The second half brought more back-and-forth runs and more effort, which kept me in it until the end. Put this way: I didn't walk out of the theatre, more based on principle than anything else. I figured I'd give it until the end, just to see how it finished out.
With 41 seconds left and Georgia Tech down six, Yellow Jacket guard Jason Morris drove the lane and kicked it out to coach Brian Gregory, who was standing on the sidelines, out of bounds. It was the 14th turnover of the night. Maybe I should have left.
Wake Forest went on to get the win, 59-50, behind 33% shooting from the floor.
GT-Wake II is slated for March 3rd in Georgia. I'll be tuned in for that one, too.
Daniel Martin is a writer and editor at JohnnyJungle.com, covering St. John's. You can find him on Twitter:@DanielJMartin_