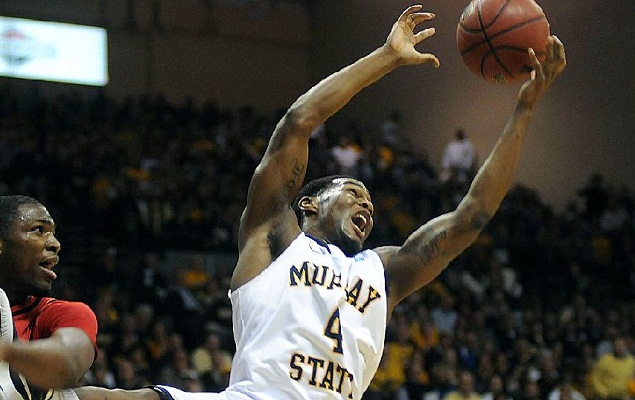 People couldn't get enough of Murray State and its unbeaten start to the season.
The Racers outlasted the likes of Syracuse and Missouri, rose to No. 7 in the rankings and earned a spot in the national spotlight with their 23-0 start.  They even had their own fan video.
And while they're still a strong contender to ruin your bracket in March, they won't be in the spotlight again until the Madness begins.
So what happens when all that attention fades?
That's the subject of Charlie P. Pierce's Grantland story, which picks up on the Friday after when Murray State has to practice with the knowledge that something magical just ended.
"It was like everybody was standing around, trying to see how we'd respond after that first loss," senior guard Donte Poole told Pierce. "All I wanted to do was make sure we got a good lead and didn't put it in the ref's hands at the end of the game.
"We had two good days of practice. We learned what can happen if you have one slipup. I never want to have that feeling again."
But it's this segment that sticks with me:
There are college basketball fans of a certain generation — OK, it's mine — who grew up watching the game when it was an immutable physical law that UCLA simply did not lose. They won the NCAA championship every year. They beat teams long before the ball went up for the first tip. There was the Alcindor Dynasty, and then the Wicks-Rowe Interregnum, and then the Walton Dynasty, when the Bruins won 88 games in a row. I still remember being in the Gym Bar in Milwaukee on a snowy afternoon in 1974, when Notre Dame finally beat them, and feeling that something in the great tectonic plates underlying the sport had shifted. (Maybe it was the schnapps.) Two months later, I watched them blow an 11-point lead in regulation and a seven-point lead in overtime to lose to North Carolina State, UCLA's first tournament loss in eight years. They'd dropped what was precious, and they played like just another really good basketball team that had David Thompson dancing on its head.

In 1976, Indiana won every game, defeating along the way the best team Al McGuire ever had at Marquette and the best Alabama team that ever took the floor. On their way to the title, the Hoosiers defeated nos. 2, 5, 7, and 9 — something that is unlikely ever to happen again, now that the tournament is seeded. Fifteen years later, UNLV almost got there, but the Rebels got fairly well rogered for most of the game against Duke in the Final Four and, at the end, when they had a chance to win, they'd forgotten how. Being undefeated is an illusion, more fragile than most.
I'm 34. I've never even been alive to see a team run the table. ('76 Indiana pre-dates me). I've seen teams come close ('91 UNLV), but that knowledge that a college basketball team just doesn't go unbeaten is all I know.
Maybe that's why I'm always so hyped for the mere possibility of an unbeaten season. St. Joe's in 2004? Can't get enough. Illinois in 2005? Oh so close. Memphis in 2008? Man.
Murray State wasn't going unbeaten. Not with six NCAA tournament games looming. But the chance was enough to make the Racers one of the year's best stories. Hopefully, what happens next is just as good.
You also can follow me on Twitter @MikeMillerNBC.