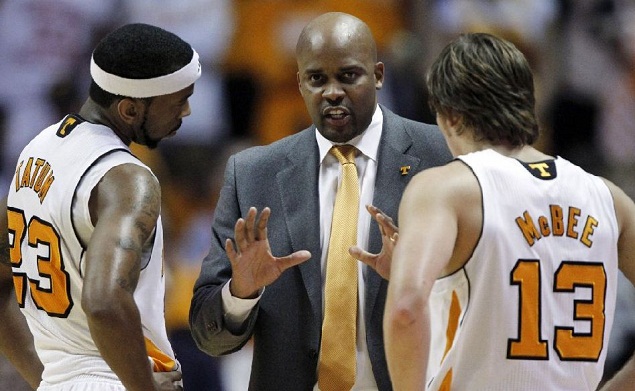 Sometimes things sound crazy but aren't that far-fetched. No, movies about Nazis living on the moon and invading Earth don't count.
But Tennessee as an NCAA tournament team this season? That's possible.
Yes, the Vols are 13-12 and have losses to the likes of Austin Peay, Oakland and Charleston. But they've also beaten UConn and Florida – twice! The rest of the wins are less than impressive, but their remaining games actually give the Vols a shot at finishing with nine SEC wins.
And with a few lucky bounces, Tennessee might just get to 10 conference victories and end the regular-season at 17-13. Coach Cuonzo Martin says that should be enough to earn an at-large bid to the Big Dance.
Only three teams since 1992 who've won that many SEC games haven't been to the NCAAs. That's why Martin says the Vols seem to be heading in the right direction.
"I look back at our RPI, when it was 290 against Austin Peay (on Dec. 1), and now it's like (110)," Martin said. "We're definitely making progress as a team at the right time.

"I think if you win your next five, I don't think there's any question at this level in this league," Martin said. "With the NCAA, you don't have a true gauge of, here's the criteria; in one year, it can change on you.

"If we win 10 league games we'll be in good shape, but that doesn't mean we'll be in for sure. You do your job, put in your work, and when Selection Sunday comes, if you're a part of it, you're a part of it."
To reach 10 wins, Tennessee needs to hold court against Arkansas and Ole Miss, and probably steal wins at South Carolina, LSU. That leaves either winning at Alabama on Saturday or at at home vs. Vandy in the season finale. Neither seem likely. (Not to mention getting another win at the SEC tourney.)
Then there's the Vols' wretched RPI. Even with wins against 'Bama AND Vandy, it'll be awful when Selection Sunday rolls around. There's a reason they're not on the landscape for NCAA tourney inclusion right now.
But the notion that Tennessee – in full rebuilding mode for the post-Bruce Pearl era – could have a shot is somewhat remarkable.
"We definitely plan on going to the (NCAA) tournament," freshman Jarnell Stokes said. "It would be amazing, but we feel we can beat any team we step on the floor with."
You also can follow me on Twitter @MikeMillerNBC.