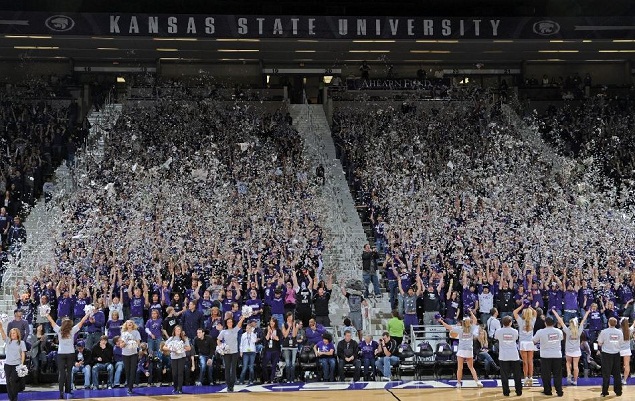 Kansas State's done its best to turn the Sunflower State showdown into a true rivalry. The Wildcats have held court twice in the last four years against Kansas, something few Big 12 teams can boast.
Could tonight be the rare occasion for back-to-back home wins against the Jayhawks?
The chances are better than you'd think.
(All times ET; TV info from HDSportsGuide.com)
Kansas at Kansas State, 9 p.m. (ESPN)
The Wildcats (17-7, 6-6 in Big 12) have dropped three of their last five, including at home to Oklahoma, one of the league's worst teams. Frank Martin's squad once seemed like a good bet to give Kansas, Missouri and Baylor fits, but they've been unable to close during tight games. Three of their conference losses are by three points or less. That would seem to give a substantial edge to Kansas (20-5, 10-2), but until last week's impressive win at Baylor, the Jayhawks hadn't been scary away from home. If Thomas Robinson's mini-struggles continue, this'll be close.
Syracuse at Louisville, 7 p.m. (ESPN)
The other nail-biter of the day between seemingly mis-matched teams. The Orange (25-1, 12-1) are killing the Big East this season, but have lost to the Cardinals (20-5, 8-4) seven straight times. It's on the road, a hostile environment and there's the potential for the White Suit? Danger, 'Cuse. Danger.
Iowa State at Baylor, 7 p.m. (ESPNU)
The Bears (21-4, 8-4) spent last week getting drilled by Kansas and Missouri. This is a prime opportunity to stop the bleeding – I'm talking national perception – with a win against an underrated Iowa State (18-7, 8-4) team. A loss drops the Bears into fourth place in the conference. That should provide plenty of motivation.
EAST
Delaware State at Morgan State, 7:30 p.m.
Bethune Cookman at Howard, 7:30 p.m.
Maryland-Eastern Shore at Coppin State, 9 p.m.
SOUTH
Syracuse at Louisville, 7 p.m.
Belmont at Stetson, 7 p.m.
Jacksonville at East Tennessee State, 7 p.m.
South Carolina State at North Carolina Central, 7 p.m.
Lipscomb at Florida Gulf Coast, 7:05 p.m.
North Florida at South Carolina Upstate, 7 p.m.
McNeese State at Northwestern State, 8 p.m.
Savannah State at North Carolina AT&T, 8 p.m.
Arkansas-Pine Bluff at Alcorn State, 8 p.m.
Mississippi Valley State at Southern, 8:30 p.m.
MIDWEST
Kansas at Kansas State, 9 p.m.
SOUTHWEST
Iowa State at Baylor, 7 p.m.
Grambling at Prairie View, 8:30 p.m.
Jackson State at Texas Southern, 9 p.m.
WEST
Montana State at Utah Valley, 9:05 p.m.
You also can follow me on Twitter @MikeMillerNBC.