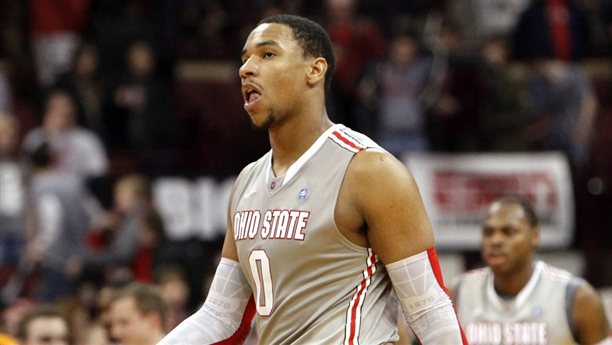 It was beyond a busy day in college hoops with the numerous ranked matchups, Top 10 upsets and rivalry games. Here's what you need to know.
Five up:
– Grudge matches: No. 14 UNLV got its revenge for Jamaal Franklin's buzzer-beating layup back in January with a 65-63 win over No. 13 San Diego State in what was the most exciting game of the day. In the middle of the country, Wichita State sent No. 17 Creighton to its third-straight loss, 89-68, taking a two-game lead in the Missouri Valley standings and getting revenge for the game that the Bluejays won on New Year's Eve. There is little doubt that UNLV and SDSU are the two best teams in the MWC and Wichita State and Creighton are the two best in the MVC. They've both split their season series. Who else wants to see the rubber match in their respective conference tournaments?
– Jeff Withey: The Jayhawk center had 18 points, 20 boards and seven blocks as No. 7 Kansas absolutely rolled through Oklahoma State. The final score of 81-66 didn't do the game justice. At one point in the second half, Kansas led by as much as 29 points. That came just three days after Withey went for 25 points, five boards and three blocks in a win over Baylor. If he can become that kind of presence in the paint it takes an incredibly amount of pressure off of Thomas Robinson and Tyshawn Taylor.
– Michigan State's title chances: You would be a fool to ever discount Tom Izzo in the NCAA Tournament, but we are now in mid-February and it seems like there are very few people that are actually talking about No. 11 Michigan State as a real contender. Well, guess what: they are. They figured out their issues on the road against No. 3 Ohio State with a 58-48 win, putting together the epitome of a Tom Izzo-performance. They hit the glass hard, they defended their tails off and they made a very good basketball team feel like they were out of the game down ten with ten minutes left. This group is going to make noise in March, mark my words.
– Syracuse lacking a go-to guy: Its funny to me when I hear this criticism. Why? Because the No. 2 Orange have, like, three. In Saturday's 85-67 win over UConn, it was Scoop Jardine who made the big shots. He hit two threes in after UConn cut the lead to two points late in the second half, finishing with 21 points on 8-9 shooting with six assists and no turnovers. But against Georgetown on Wednesday, it was Kris Joseph making all of the big shots. Earlier this season, this was becoming Dion Waiters' team. Having more than one "go-to guy" isn't a problem when none of the three have egos.
– Indiana State's shooting percentage: In a 78-68 win over Southern Illinois, the Sycamores went 12-12 from three. Seriously. 12-12 from three. That's an NCAA record.
Five down:
– William Buford and Deshaun Thomas: Jared Sullinger shot 5-15 from the floor and committed 10 turnovers, numbers ugly enough to make you overlook the 17 points and 16 boards he had. But there is an explanation: William Buford and DeShaun Thomas. Those two combined to go 4-24 from the floor. When they aren't hitting their shots, Ohio State's offense completely bogs down. On Saturday, the Buckeyes looked completely out of sync offensively, and they were. It was ugly. And that's what happens when you ask Sullinger to do too much.
– Baylor's title chances: Look, this team isn't going to win it all, and its not because they've lost all four games they've played against Kansas and No. 4 Missouri. Those are the only four games they have lost this season, and struggling against top ten teams is far from unique. The reasonNo. 6  Baylor won't make the Final Four is that they don't have the intestinal fortitude to get a big stop or score a big basket when their opponent is making a run. They don't have a stopper. That's not their mentality. And its going to come back to bite them, eventually.
– Florida: I mean, what is there to say about No. 8 Florida that hasn't already been said? The Gators are erratic, they don't like physicality and they don't always take the best shots. That's why they do things like lose to Tennessee at home. While the final was 75-70, that doesn't do justice to the beatdown that the Gators took. There may be some explanation, however. Patric Young's ankle is still not 100 percent, Mike Rosario wasn't playing in this game and Will Yeguete had a scary incident where he was knocked out cold when he ran into the basket stanchion. So should we blame the 41-22 hole Florida dug itself to the injuries?
– West Virginia's tournament chances: The Mountaineers are digging themselves quite the hole. They lost their third straight game to No. 24 Louisville on Saturday and their fifth out of their last six. This one came at home despite building a 13 point first half lead. These are, simply put, the kind of games you cannot lose if you want a chance at the NCAA Tournament. And for the 'Eers, this loss was the result of a lack of composure. Deniz Kilicli got called for a tech, which helped him foul out of the game, and probably could have been called for another as well. Truck Bryant and his back court mates couldn't handle Louisville's press and it cost them the lead. WVU is in a major hole.
– Terrell Stoglin's tweeting: Stoglin was upset after Maryland's 73-55 loss to No. 10 Duke, and its understandable. He sat for four minutes in the second half after going 4-16 from the floor and 0-6 from three. He was struggling, so he was benched. Then after the game, he ranted on twitter. And this is supposed to be a big deal? Come on, people. He's 20. He just played like garbage against a rival, got benched on national television and lost a basketball game. He's mad. So he takes to twitter, which — for those of us that aren't in the media — use things like twitter and facebook for social reasons. Should Stoglin have tweeted that? Probably not. Is it a problem that he's mad he stunk and got benched? Well, would you rather have him happy about it?
Rob Dauster is the editor of the college basketball website Ballin' is a Habit. You can find him on twitter @ballinisahabit.