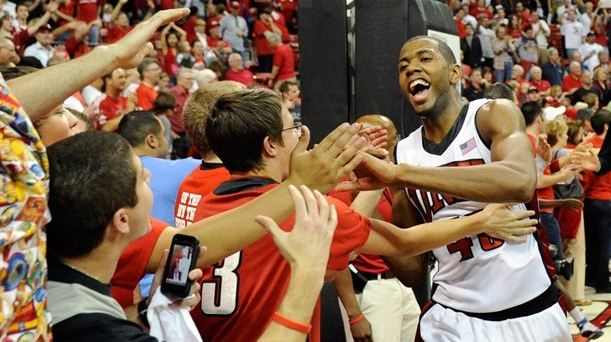 San Diego State's Jamaal Franklin sunk UNLV with a last-second shot on Jan. 14, but, put in a similar situation again, the Rebels wouldn't let history repeat itself.
After losing a 13-point second half lead to trail by one with 42 seconds to play, a transition layup by guard Anthony Marshall and some lockdown defense in the final moments lifted UNLV to a 65-63 Saturday win over San Diego State.
Despite going 1-of-3 from the free throw line in the final 11 seconds of regulation, a key steal near half-court by junior Justin Hawkins sealed the victory for the Runnin' Rebels and pulled them into a three-way tie for first place in the Mountain West, along with New Mexico and the team they beat on Saturday, San Diego State.
"It's two teams that are incredibly gritty. That's a credit to [SDSU] Coach Fisher," said UNLV coach Dave Rice after the game. "We hang our hat on defense and it's always about defense to be successful."
The Rebels had 12 steals and forced 16 turnovers, but none bigger than the one by Hawkins that kept the Aztecs from getting a shot in the final seconds.
This video is no longer available. Click here to watch more NBC Sports videos!
Sophomore Mike Moser led the way for UNLV with 19 points, nine rebounds, six steals, and four blocks, making his statline look more like an AAU game than a high-stakes conference matchup with important seeding implications.
UNLV had previously lost nine out of their last 10 to San Diego State, including that loss on the road at Viejas Arena in January.
Chase Tapley led the way for the Aztecs with 22 points on 9-of-16 shooting. His partner in the backcourt, Jamaal Franklin, added 15.
This win spices up the race in the Mountain West.
NBC's latest NCAA tournament projections from Dave Ommen show UNLV and San Diego State making the Big Dance, with New Mexico as a possible bubble team.
But don't forget Colorado State, whose strength of schedule and win earlier in the season against San Diego State could help them down the stretch, and Wyoming, who sits at 18-6 and will have one more shot against both SDSU and UNLV.
And the tight race has brought a reality to the outlook on the road ahead in the MWC.
"What a terrific win for us," said Rice of the victory on Saturday afternoon. "We've got another tough one on Tuesday [against TCU], but we'll enjoy this one."
Daniel Martin is a writer and editor at JohnnyJungle.com, covering St. John's. You can find him on Twitter:@DanielJMartin_