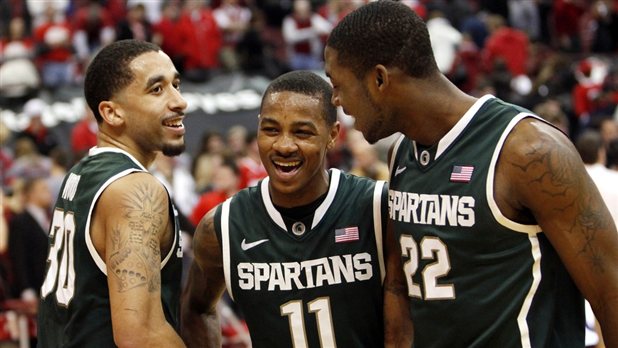 Tom Izzo isn't one for empty praise. Michigan State's coach simply speaks his mind, as befitting the question or his mood.
That's why this nugget following Michigan State's 58-48 win against No. 3 Ohio State – in Columbus, Ohio – is a little surprising.
"I don't feel any different than I felt a month ago, or six months ago: Ohio State's the best team in the league," he said. "But on this given day we were able to get them."
That's an understatement, Tom. Because MSU might just "get" them for the league title.
The No. 11 Spartans (20-5, 9-3 in Big Ten) moved into a tie atop the Big Ten with the Buckeyes and gave them a slight edge because they host OSU in the team's regular-season finale. Also, they ended Ohio State's 39-game home streak and did so in impressive fashion. Ohio State (21-4, 9-3) hit just 26 percent of its shots and harassed star center Jared Sullinger – perhaps the nation's best player – into a triple-double he'd rather forget: 17 points, 16 rebounds and 10 turnovers.
For some perspective: Only eight other D-I players have committed 10 or more turnovers this season. The other eight were guards. Doubly odd? Sullinger had only 20 total turnovers in 11 Big Ten games before Saturday.
Most of that credit goes to Michigan State sophomore center Adreian Payne, who scored a career-high 15 points. If it wasn't Payne, it was beefy center Derrick Nix frustrating Sullinger. And they often had help from a guard doubling down on Sullinger.
"Our whole defense was to force him off the block, just enough, maybe a yard so we could get our wings to help a little more without giving up jump shots," Izzo said. "We followed the game plan by digging down on Sullinger. He's a load. Once a season maybe the gameplan works and this was one of those times."
Sullinger never saw it coming.
"I wasn't expecting the double (team). Michigan State didn't show that on film," Sullinger said. "They had a great game plan."
That game-planning and versatility – among Top 25 teams, only Syracuse relies on its bench more than the Spartans  — is more than enough to cement Michigan State as a title contender. If Kentucky and Syracuse are the top two, the Spartans are in a group with Ohio State, North Carolina, Missouri and Kansas. (In fact, these ratings say that's still underrating the Spartans.)
The defense is better than any group Izzo's had since the early 2000s. The offense is a step behind the 2005 Final Four group. Neither factoid is surprising to MSU fans, who've been noting all along just how well Michigan State's been playing.
But it should serve notice to the rest of the nation that Izzo's team will be yet another load in March and will be in New Orleans is it plays like it did Saturday. A road performance like that against a Top 3 team?
That's the stuff of champions.
You also can follow me on Twitter @MikeMillerNBC.