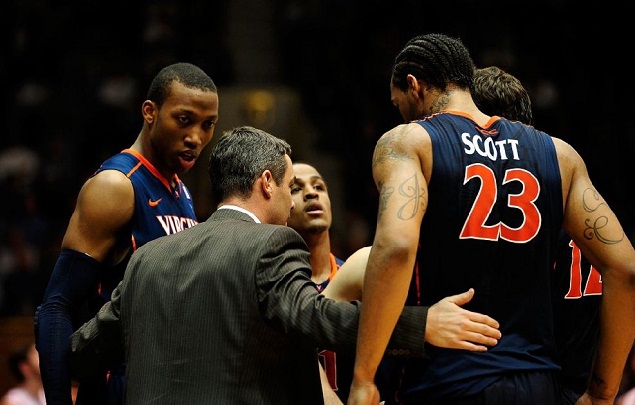 The latest edition of Bubble Banter projects 32 teams as either "locks" or teams that "should be in" with a month of action remaining until Selection Sunday.  With 68 total spots available (including 31 automatic qualifiers), there are roughly 14 spots available and 38 teams on the bubble.  As clarification, several teams listed as bubble teams could win automatic bids; so the number is still somewhat fluid.
This is especially true for teams like Harvard, Oral Roberts, Long Beach State, and Nevada.  Harvard can lock up a bid within a couple of weeks because the Ivy League doesn't have a conference tournament.  ORU, Long Beach State, and Nevada will all be favorites to win their league tournaments.  The real test for the Selection Committee begins when (or if) these teams fall short of being an automatic qualifier.  How do their resumes compare against fellow bubble dwellers – such as Minnesota, Northwestern, Mississippi, Arizona, Seton Hall, Cincinnati, Xavier, Central Florida, and a host of others.  Hopefully, we'll sort a few things out in the next three weeks.
Until then, we'll note these changes from last week: La Salle, Stanford, Oklahoma, and Marshall have been removed from the bubble.  Any or all could potentially return, but for now, their profiles are too far down the at-large board.  Teams joining the bubble include Illinois, Pittsburgh, and Wyoming.  Wyoming moves up to join Colorado State and New Mexico in the Mountain West.  Illinois drops down thanks to an ongoing slide and projected tough finish in the Big Ten.  Pitt joins the ranks largely due to the return of Tray Woodall.
Enjoy a great weekend of hoops.
UPDATED: Friday, February 10 | 11:50 p.m. ET
Total Spots (68): Number of teams in the Field.
Projected Locks (10): Teams who project to have secured a spot in the 2011 NCAA Tournament.
Should Be In (22): These teams are in solid position to receive an at-large bid.
Bubble: (38): Teams projected to be at or near the cutline for being selected as at-large candidates.
Spots available (14): Estimated number of openings after Automatic Bids, Locks, and Should Be Ins are considered.
RPI and SOS: RPI and SOS data are updated through games on Thursday, February 9
Teams Leaving the Bubble: LaSalle, Stanford, Oklahoma, Marshall
Teams Joining the Bubble: Illinois, Wyoming, Pittsburgh
Atlantic 10
Locks: None | Should Be In: Temple | Bubble: Dayton, Massachusetts, St. Louis, Xavier
Dayton (14-9 | 4-5) | RPI: 78 | SOS: 39 | – The Flyers have lost four straight and five of seven games. As a result, Dayton is sub .500 in league play and needs a quick turnaround to stay in the at-large picture. Bad losses to Rhode Island and Miami (OH) are really dragging down an otherwise decent profile. Notable non-conference wins include Alabama, Ole Miss, and Minnesota. Without a couple of wins this week, the Flyers will be in serious trouble. Dayton's next games are at Fordham and home against Charlotte.
Massachusetts (18-6 | 7-3) | RPI: 64 | SOS: 141 | – Unlike La Salle, UMass won its past two games to hold steady. The loss to Rhode Island still puts a major dent in the Minutemen's at-large chances because quality wins are light. It probably takes a least a share of the A10 regular season title to stay in the at-large conversation.
St. Louis (18-5 | 7-3) | RPI: 30 | SOS: 79 | – Beating Dayton and winning at St. Joe's in the past seven days has pushed the Billikens off the First Four slate for now. SLU has non-conference wins over Washington, Oklahoma, and Villanova, but none of those push the needle too far. The Billikens only blemish remains an early road loss at Loyola-Marymount. SLU is probably the league's second best team. Keeping up with Temple will bolster the Billkens' case, and SLU's remaining schedule is favorable.
Xavier (16-8 | 7-3) | RPI: 59 | SOS: 65 | – After losing at Memphis, XU took care of its have-to-win game against Rhode Island. That keeps the Muskies on the right side of the bubble. But XU's margin for error remains slim, as the team has yet to show it has recovered from its post-brawl fog. Saturday's game with Temple is huge, and it's followed by a home date with Dayton. It could well be a decisive week for the Musketeers.
ACC
Locks: Duke, North Carolina | Should Be In: Florida State, Virginia | Bubble: Miami-FL, NC State
Miami-FL (15-7 | 6-3) | RPI: 40 | SOS: 73 | – The victory at Duke elevated the Hurricanes in a hurry – as has a five-game winning streak following Thursday's victory over Virginia Tech. Can Miami keep its momentum? A trip to Florida State is up next, followed by a home game with North Carolina. We'll re-evaulate the 'Canes after that duo. There's still work to do, Miami is just 1-5 vs. Top 50 teams and 4-7 vs. the Top 100. SOS numbers are pretty good.
NC State (18-7 | 7-3) | RPI: 52 | SOS: 33 | – Other than a win over fellow bubble-dweller Texas and a victory at Miami-FL (before its latest surge), the Wolfpack's overall resume remains very average. But it's hard to ignore a 7-3 record in the ACC, even if the conference is down a bit. NC State took care of Wake Forest Thursday and now has a few days off before heading to Duke. A 1-5 record vs. Top 50 teams and 4-5 mark vs the Top 100 are still concerns. The closing stretch is loaded with the ACC's better teams, so the Wolfpack control their own destiny.
BIG EAST
Locks: Syracuse | Should Be In: Georgetown, Louisville, Marquette, West Virginia | Bubble: Cincinnati, Connecticut, Notre Dame, Pittsburgh, Seton Hall
Cincinnati (17-7 | 7-4) | RPI: 93 | SOS: 130 | – Overcoming a non-conference SOS ranked No. 330 will be the Bearcats' ultimate challenge. The Committee has not looked kindly on such scheduling in recent years (see Colorado, Alabama from 2011). A necessary strong finish continued with a victory at St. John's on Wednesday. The road gets tougher with a trip to Marquette on Saturday. Four of UC's final six games are at home. The Bearcats may need five more wins. UC plays Marquette twice and Louisville once in its closing stretch.
Connecticut (15-8 | 5-6) | RPI: 24 | SOS: 3 | – It was an interesting few days for the Huskies, who plowed through Seton Hall at home and lost big at Louisville. Strong power numbers continue to give the Huskies a bit of a safety net, but time is of the essense. Good non-conference wins include Florida State and Harvard; the Huskies also won a home game against Arkansas – but the Razorbacks can't beat anyone on the road. After a trip to Syracuse on Saturday, the Huskies have four of their last six games at home.
Notre Dame (16-8 | 8-3) | RPI: 43 | SOS: 29 | – A strong Irish run continued with back-to-back wins over Marquette and West Virginia. Aesthetics aside, the victory Wednesday at West Virginia was ND's third straight road victory (Seton Hall, UConn were the others). Notre Dame accomplished little in its non-conference schedule, so the race isn't over, but the Irish have put together six Top 50 wins in the past month. That's a strong trend toward NCAA consideration. Overall, the closing stretch remains favorable.
Pittsburgh (15-10 | 4-8) | RPI: 68 | SOS: 31 | – The Panthers make the list primarily because of the return of Tray Woodall.  Pitt is clearly a different team with him back from injury.  Wednesday's loss at South Florida puts a damper on Pitt's resurgence, but let's give the Panthers another week before making a more decisive decision about their future.  Pitt as wins over Georgetown and at West Virgina, but not much else.  They are 2-5 vs. Top 50 teams and 5-8 vs. the Top 100.  Up next is a trip to Seton Hall, followed by a home date with West Virginia.
Seton Hall (16-8 | 5-7) | RPI: 33 | SOS: 17 | – The Pirates got a must-win at Rutgers on Wednesday to break a six-game Big East slide. Next up are two home games: Pitt and St. John's. It's not too late to recover, but SHU needs to swing momentum in the opposite direction. The Pirates' non-conference profile is solid but not spectacular as wins over St. Joe's and Dayton have lost some luster. The Pirates also have a loss to Northwestern. The downside for SHU … of its remaining Big East games, only four (and that includes Pitt) are against potential NCAA teams.
BIG 10
Locks: Ohio State | Should Be In: Indiana, Michigan, Michigan State, Wisconsin | Bubble: Illinois Minnesota, Northwestern, Purdue
Illinois (16-8 | 5-6) | RPI: 45 | SOS: 18 | – If there's good news for Illini fans, it's that victories over Gonzaga, Ohio State, and Michigan State are better than what many other bubble teams have to offer. The real issue is a tough closing stretch that includes four road games in seven chances. Up next is a trip to Michigan. Should the Illini find a victory in Ann Arbor, it'll go a long way toward securing an at-large berth. Even if Illinois were to just win its remaining home games, an 8-10 finish in the Big Ten might be enough given that Illinois will likely have a Top 10 SOS and at least two more Top 50/100 wins. They are 7-7 vs. Top 100 teams right now. A 9-9 finish would probably secure an at-large.
Minnesota (17-8 | 5-7) | RPI: 63 | SOS: 57 | – Since a rally in January, the Gophers have dropped 3 of 5 games and seen their RPI fall into a questionnable area. Dropping Thursday's home game with Wisconsin tightend the screws even more. Next up is a visit from first-place Ohio State. The good news is that Minnesota closes with 4 of 6 games at The Barn – including visits from Indiana and Michigan State. So plenty of opportunities remain. What could ultimately hurt the Gophers is little success outside the league; their best RPI wins are South Dakota State and Bucknell.
Northwestern (15-8 | 5-6) | RPI: 37 | SOS: 12 | – With victories over Seton Hall and LSU outside the conference, Northwestern might actually be in slightly better shape than Minnesota at this point. Winning at Illinois last Sunday was huge, and the Wildcats have also beaten Michigan State. After taking care of Iowa on Thursday, Northwestern faces two road tests: Purdue and Indiana. Overall, the Wildcats have four of seven games on the road to close. Nine Big Ten wins would probably be enough given the conference's overall strength, but it depends on who those wins are against. NW is 3-6 vs. Top 50 teams and 4-8 vs. the Top 100.
Purdue (15-9 | 5-6) | RPI: 61 | SOS: 35 | – The Boilermakers have now lost four of five games – although they looked like an NCAA team at Ohio State, even with a loss. The good news: out-of-conference victories over Temple, Iona, and Miami-FL are helping. The question marks are losses to Butler and at Penn State, and the fact that Purdue is just 9-9 vs. the Top 200. The closing stretch isn't easy, with remaining road trips to Illinois, Michigan, and Indiana. Up next is a critical matchup with Northwestern before the trip to Champaign. What Purdue does lack is a marquee victory – which the other bubble contenders in the Big Ten have. That could spell trouble. We'll find out.
BIG 12
Locks: Baylor, Kansas, Missouri | Should Be In: Kansas State | Bubble: Iowa State, Texas
Iowa State (17-7 | 7-4) | RPI: 44 | SOS: 59 | – The Cyclones' were helped by victories over Kansas and Kansas State at home. They followed it up, however, with a loss at Oklahoma State. So the question remains: Can ISU sustain its overall momentum down the stretch? If it's close, there's not much on ISU's non-conference resume to help; the Cyclones' best out-of-league win is Iowa or Providence. The team's resume is also light on Top 100 wins (2). Up next: ISU hosts Texas AM before a trip to Baylor. The Cyclones need to protect home court against the Aggies. The closing stretch could really help – or hurt. ISU ends the Big 12 season with K-State, Missouri, and Baylor.
Texas (15-9 | 5-6) | RPI: 54 | SOS: 20 | – Texas needed a winning streak, and it's at two games. The Longhorns' SOS will help, and their RPI is looking better. But Texas can't hide its 2-7 record away from home or its 2-8 record vs. Top 100 teams. The only things of note on the Longhorns' resume are wins over Temple and Iowa State – both at home. If there's a plus to UT's nine losses, it's that five are to Top 10 RPI teams. There's still quite a bit of work to do. Up next is Kansas State at home, followed by a trip to Oklahoma.
CONFERENCE USA
Locks: None | Should Be In: So. Mississippi, Memphis | Bubble: Central Florida
Central Florida (16-6 | 7-3) | RPI: 58 | SOS: 108 | – The Knights are staying in the Conference USA race and that's a must. UCF travels to Southern Miss on Saturday, and has a game at Memphis later this month. The Knights may need both of those to have a good chance at an at-large berth. UCF is just 2-3 vs. Top 50 teams and 3-4 vs. the Top 100. The best was a victory over Connecticut in the Bahamas. They did beat Memphis at home.
MISSOURI VALLEY
Locks: Creighton | Should Be In: Wichita State | Bubble: None
Right now the Missouri Valley looks to be a two-bid league with Creighton and Wichita State firmly in the Field of 68. Arch Madness is always unpredictable, but it will take a major run by Missouri State or Northern Iowa to get a third team in the at-large picture.
MOUNTAIN WEST
Locks: UNLV | Should Be In: San Diego State | Bubble: Colorado State, New Mexico, Wyoming
Colorado State (14-7 | 4-3) | RPI: 27 | SOS: 10 | – Thanks to a strong SOS, the computers love Colorado State. But a single home win over San Diego State isn't going to be enough to push CSU into the NCAA tournament. Other notable wins are Colorado and Denver outside the Mountain West. The Rams don't have any bad losses, but only three potential quality wins remain: New Mexico, at San Diego State, and UNLV. Finishing 1-5 against that group won't be enough. Next up: two road trips: TCU and Boise State. CSU could use both.
New Mexico (18-4 | 5-2) | RPI: 42 | SOS: 113 | – If the Lobos can beat San Diego State or UNLV at least once, the rest of UNM's profile might be enough. In addition to beating Colorado State and Wyoming (MTW), the Lobos have wins over St. Louis and Missouri State. What's missing is that marquee victory. A 6-1 mark in true road games is a plus, as is a 9-2 mark in games outside The Pit. There is one really ugly loss to Santa Clara, but that's the only negative. If New Mexico is swept by UNLV and San Diego State, it could prove problematic. Up next is a home date with Wyoming ahead of a trip to aforementioned SDSU.
Wyoming (16-5 | 4-3) | RPI: 67 | SOS: 132 | – Much like Cincinnati, the Cowboys are dragging a huge anchor around in the form of a non-conference SOS ranked at No. 299. Outside the Mountain West, Wyoming's best victory is at Colorado. The Cowboys have good home wins against UNLV and Colorado State, but they are just 3-3 vs. Top 100 teams overall. That means 13 of Wyoming's 16 wins are to teams ranked 100-plus in the RPI. Even more concerning, the Cowboys are just 6-5 vs. the Top 200. Ten wins are against teams ranked 200 or lower. A decisive two weeks is just ahead. Wyoming plays road games at New Mexico, Colorado State, and San Diego State.
PAC-12

Locks: None | Should Be In: None | Bubble: Arizona, California, Colorado, Oregon, Washington
Arizona (17-8 | 8-4) | RPI: 57 | SOS: 62 | – After losing 3 of 5 games, the Wildcats have now won three staight, including a sweep of California and Stanford. Of course, only one of those (Cal) ranks as a Top 50 RPI victory. Overall, UA is 5-7 vs. Top 100 teams, but 1-4 vs. the Top 50. Arizona's best non-conference win is Duquesne, so there's not much to count on outside of league play. Up next is an home date with RPI killer Utah before a trip through the state of Washington. The Huskies won at Arizona in January, so it could be important for the Wildcats to avoid a season sweep.
California (19-6 | 9-3) | RPI: 47 | SOS: 92 | – Cal has one of the better Pac-12 profiles, with a 5-4 mark vs. Top 100 teams. But thanks to nothing outside the league, the Bears have yet to acquire a Top 50 win – and they are the only Pac-12 school currently ranked in that category. If Cal wins or shares a Pac-12 regular-season title, they have a chance to be in the at-large pool. Anything less is highly questionnable. Up next is a trip to UCLA before a home back-to-back with the Oregon schools.
Colorado (14-8 | 8-4) | RPI: 75 | SOS: 72 | – The Buffaloes have to stay with the Pac-12 leaders and probably win a regular-season title to earn an at-large bid. They are currently a game behind the Bears and Huskies. Georgia is Colorado's best non-conference victory and that won't help much. The Buffs are just 3-6 vs. Top 100 teams and are 3-7 away from home. CU has to win its next two road games against bottom-feeders Arizona State and Utah. After that, Stanford and Cal visit Boulder.
Oregon (17-7 | 8-4) | RPI: 69 | SOS: 91 | – A victory at Nebraska is all the Ducks have outside of conference play, and wins over Arizona and Stanford aren't going to be enough by themselves. Same storyline here: Plan to win or share the Pac-12 title to have a realistic shot at an at-large bid. The Ducks are 0-4 vs. Top 50 teams and just 2-6 vs. the Top 100. Washington State visits next, before a decisive three-game road swing through Cal and Stanford.
Washington (16-8 | 9-3) | RPI: 76 | SOS: 76 | – The Huskies' five-game winning streak came to an end Thursday at Oregon. Washington is still without a Top 50 victory, and stand just 2-8 vs. the Top 100. Outside the Pac-12, the Huskies' best win is over UC-Santa Barbara. What Washington has avoided is a bad RPI loss, although one could argue a 19-point home loss to South Dakota State qualifies as bad. Up next is a road tilt at Oregon State ahead of visits from the two Arizona schools. Washington needs to win or share a Pac-12 title to have much chance at an at-large berth.
SEC
Locks: Kentucky | Should Be In: Florida, Vanderbilt, Mississippi State | Bubble: Alabama, Arkansas, Mississippi
Alabama (16-7 | 5-4) | RPI: 29 | SOS: 21 | – Three straight wins have certainly helped the Crimson Tide's profile, two of those came against teams listed here (Arkansas, Ole Miss). Notable wins outside the SEC include Wichita State and Purdue. Key losses are at Dayton and at South Carolina. Unlike last season, Alabama's SOS is a major help. Up next is a visit to LSU before a home date with Florida. 'Bama is just 1-5 vs. Top 50 teams, but does have a solid 7-6 mark vs. the Top 100. Another good week would put the Crimson Tide in a very favorable spot.
Arkansas (16-8 | 4-5) | RPI: 72 | SOS: 75 | – Wins over Michigan and Vanderbilt vaulted the Razorbacks into contention, but the Hogs' inability to win away from Bud Walton arena is really hurting their at-large case. This past week, Arkansas dropped games at LSU and Georgia, neither of which is likely to make the NCAAs. A non-conference SOS ranked No. 212 won't help much, and Arkansas' best non-league win besides Michigan is Charlotte (at home). Arkansas is home this weekend to South Carolina, then it's off to Tennessee.
Mississippi (14-9 | 4-5) | RPI: 53 | SOS: 42 | – Back-to-back losses at Alabama and Mississippi State have dropped Ole Miss to 2-6 vs. Top 50 teams and 3-8 vs. the Top 100. Good home wins include Mississippi State and Arkansas, and the Rebels beat Miami-FL outside the conference, a victory that is looking better. The only real blemish is a loss to Auburn. Two home dates await next: Auburn and Vanderbilt. Ole Miss needs both, as the closing stretch includes 3 of 5 away from home. Key non-conference losses include Dayton and Middle Tennessee State, two teams on the bubble.
WEST COAST
Locks: None | Should Be In: St. Mary's, Gonzaga | Bubble: BYU
BYU (18-6 | 8-3) | RPI: 39 | SOS: 73 | – Following an important home victory over Gonzaga, the Cougars won at Portland. Next up is a game with Pepperdine before a three-game road swing that includes a trip to Spokane for a rematch with the 'Zags. When you consider that BYU lost both games to St. Mary's, splitting with Gonzaga was critical. A sweep would even be better. Notable wins include Nevada, Oregon, and at Virginia Tech, but none figures to push BYU into the Field. Losses to Loyola-Marymount (home) and at Utah State are the rough patches. While BYU is just 1-4 vs. Top 50 teams, the Cougars are 6-4 vs. the Top 100; which is better than some other bubble contenders. BYU has been a good road team (6-2), and three of the Cougars' final five games are away from home. How they close out that stretch will be a major consideration for at-large contention.
BEST OF THE REST
Locks: None | Should Be In: Murray State | Bubble: Cleveland State, Davidson, Harvard, Iona, Long Beach State, Middle Tennessee State, Nevada, Oral Roberts
Cleveland State (19-5 | 10-3) | RPI: 66 | SOS: 180 | – Wednesday's home loss to Valparaiso gave the Crusaders a season sweep of the Vikings, and pushed Valpo into first place in the Horizon League. That is problematic for Cleveland State. Winning a regular-season title is critical for at-large consideration. Five league games remain. CSU has to win at least four of those and beat Drexel in the BracketBusters. Anything less probably eliminates the Vikings from the at-large pool. If they do hang around, CSU has to hope an early win at Vanderbilt and a victory over Akron is good enough to offset losses to Youngstown State and Hofstra. While CSU has an amazing 11-2 record in road games, they are just 4-3 vs. the Top 100.
Davidson (18-5 | 13-1) | RPI: 65 | SOS: 188 | – What Davidson has is a victory at Kansas. The Wildcats also have losses at Charlotte and Samford. The power numbers are also concerning; it's hard to see a Southern Conference team earning an at-large bid with an RPI in the mid 60s. Which means Davidson has to win its BracketBusters game with Wichita State to have a realistic shot for an at-large – assuming they avoid any more bad losses. Also concerning is a 1-3 mark vs. Top 100 teams. By comparison, Cleveland State (above) has four such wins.
Harvard (20-2 | 7-0) | RPI: 38 | SOS: 210 | – Harvard should win the Ivy League and make an at-large bid unnecessary. Without a conference tournament, it might be difficult for the Crimson to earn an at-large bid if they finish behind someone in the conference standings – given that no other Ivy League team currently ranks in the Top 100. Harvard took another step toward securing an NCAA bid by winning at Penn Friday night. A trip to Princeton is next. Harvard does have early wins over Florida State, St. Joe's, and Central Florida.
Iona (19-6 | 11-3) | RPI: 56 | SOS: 169 | – After a strong start, the Gaels' profile is growing somewhat suspect. Even more so after Friday's loss at Loyola-MD. It dropped Iona behind L-MD in the MAAC standings. A league title will be critical for at-large consideration. Are wins over St. Joseph's, Denver, and Maryland really going to push Iona into the NCAAs? Probably not. Especially with losses to Siena and Hofstra also on their resume. The BracketBuster game with Nevada is shaping up to be a must win. But capturing the MAAC title is priority No. 1.
Long Beach State (16-6 | 11-0) | RPI: 36 | SOS: 98 | – When the Selection Committee asks teams to challenge themselves in non-conference play, it speaks volumes that Long Beach has the No. 1 rated non-conference SOS. During that tough stretch, the 49ers won at Pittsburgh and Xavier. The only so-so bad loss is a two-point defeat at Montana at the end of November. LBSU's remaining losses are to Top 50 RPI teams. If Long Beach could find a BracketBusters win at Creighton, the 49ers outlook would look even better. A loss to Creighton make things a little more dicey, but LBSU has dominated the Big West. It could be difficult for the Committee to leave LBSU out if it only loses one (or two) games the rest of the way – especially given their non-conference schedule.
Middle Tennesse State (21-4 | 11-1) | RPI: 41 | SOS: 152 | – The Blue Raiders are in complete control of the Sun Belt and have wins over Ole Miss, Belmont, and Akron outside the league. They also beat UCLA in November. Will that be enough if MTSU fails to win an automatic bid? MTSU's only losses are at Vanderbilt, Belmont (2 OT), at UAB, and at Denver. If the Blue Raiders can make it through the Sun Belt with only one loss, a defeat in the championship game would certainly put them in the mix for an at-large bid.
Nevada (18-4 | 9-1) | RPI: 52 | SOS: 151 | – Nevada will keep rooting for Washington to win the Pac-12 as the Wolfpack's win over the Huskies is their only potential NCAA-level win at this point. A date with Iona in the BracketBusters looms large, too. The WAC isn't overly strong, but it could be hard to discount a team that lost only once in league play. That said, Nevada's home loss to Idaho this past week won't help. Other losses are to UNLV, BYU, and Missouri State. Nevada's margin for error remains thin. They are 3-3 vs. Top 100 teams, but 11 of their 18 wins are against teams ranked 200 or below.
Oral Roberts (22-5 | 14-1) | RPI: 46 | SOS: 155 | – ORU has a win at Xavier along with a victory over Missouri State outside the Summit League. Considering the victory came against a post-brawl Xavier squad without its best players, there is some question as to how much weight that victory will hold. Only the loss to UT-Arlington is questionnable (No. 184). Other losses are to Gonzaga, West Virginia, Oklahoma, and South Dakota State on the road. When you consider that 13 of ORU's 22 wins are against teams ranked 200 or higher in the RPI, the margin for error is pretty small. ORU drew Akron in the BracketBusters game, which may not help much. But a loss would certainly put a major hurt on ORU's at-large chances.