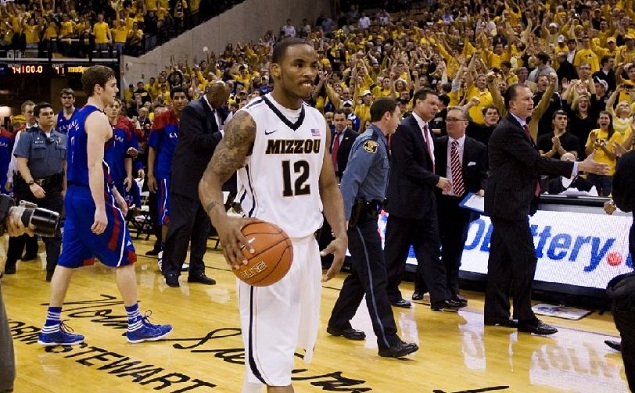 Following Missouri's come from behind victory against Kansas Saturday night, one of the most indelible images was of a pair of Tiger players giving students the universal sign for "Do Not Pass Go".
They weren't telling them to stop celebrating, but rather encourage them not to storm the court.
Because as exhilarating as that may be, it would behoove Mizzou players and fans from getting too excited about defeating Kansas, their hated rival. Losing to a team that appears to believe they were going to win stings a bit more than losing to a team that can't control themselves after securing a big "W".
Even though their head was in the right place, I'm still a bit reluctant to praise Denmon's and English's work in halting the court storm. In the end, the onus falls on the students to have enough education on when and when not to rush.
Just as players must be aware of time and score, undergrads must be cognizant of context.
Now I know there have been plenty of attempts at etching the rules of court storming in stone. There's even a few excellent blogs whose namesake is of the time-honored tradition. But perhaps we can get a bit more scientific with such an important document, provide detail where there once was gray area, and let an unofficial article of bylaws live as long as the Internet.
Here are our defined rules for Storming a College Basketball Court, a special act that needs order to preserve its sanctity.
_____
I. You cannot storm the court if you are Duke, Kansas, Kentucky or North Carolina. These four pillars of college basketball are the four winningest programs in the history Division I, and the only programs with a winning percentage of .700 or higher with at least 1500 Division I victories. This rule will remain firmly in place until a program's all-time winning percentage falls below .650. Congratulations, you have renounced the right to court storm.
II. You can storm the court if you defeat your opponent on a buzzer-beating half-court shot, and the opponent is nationally ranked. Your current standing in the pecking order is irrelevant in this situation.
III. You cannot storm the court if both you and your opponent are not nationally ranked. A provision applies to the Ivy League, which can allow a court storming if the winning team clinches a trip to the NCAA Tournament on their home court, and they have not won the league in five or more years or the game ends on a buzzer beater.
IV. You can storm the court if you defeat your primary rival in any of the following ways:
1.  A buzzer beating shot against your primary rival when said rival is ranked ahead of you. If neither team is ranked, see rule III.
2.  By any margin and your primary rival is:
Ranked #1 in the country.
Ranked 15 or more spots ahead of you, assuming both teams are nationally ranked.
Relinquishes a 15 point lead in the final 15 minutes of play.
Relinquishes a 20 point lead at any point in the game.
V. You cannot storm the court if you are a non-BCS school that defeats a BCS school with a .500 or below winning percentage at any point in the season.
VI. You can storm the court if you are a non-BCS school that is not nationally ranked, and defeat a BCS school that is nationally ranked in the top 15 or a non-BCS school ranked in the top 10.
VII. You cannot storm the court if you began the season ranked in the top 15, fall out of the top 25 and then defeat a ranked team.
VIII. You can storm the court if you defeat an undefeated team by any margin, and that undefeated team has completed at least 50 percent of their schedule and is ranked ahead of you.
IX. You cannot storm the court if you boast an all-time winning percentage of more than .500 against your opponent and have faced that team at least once a season for the past 15 years.
X. You can storm the court if you are drunk, and/or if the co-ed standing next to you in the student section convinces you to storm the court under the assumption that you and said co-ed will sleep in the same bed together following the game. It would only make sense.
Nick Fasulo is the manager of Searching for Billy Edelin. He has never successfully stormed a court. Follow him on Twitter @billyedelinSBN.