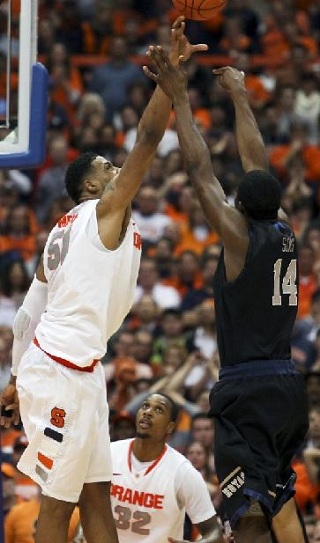 Kentucky's got Anthony Davis, the freshman shot-swatting sensation. With him anchoring the defense, the No. 1 'Cats are truly one of the game's elite teams.
But Syracuse has Fab Melo. And I'm not sure the Orange want  anyone else.
The 7-foot center blocked six shots in Wednesday's 64-61 win against Georgetown, including this crucial block on Henry Sims with 29 seconds left in regulation. Without that, the nation's No. 2 team might not have gotten to overtime and earned its 24th win of the season.
"I never thought he would shoot a jump shot. I was a little bit late," Melo told the Syracuse Post-Standard. "He got his shot off on me, but I tipped it. That's why I got the ball. And it felt great. It felt great that I got that stop. If he made that, we would be in trouble."
But that's what Melo does for Syracuse. He cleans things up on defense when the 2-3 zone gets beat. Only two players block shots at a higher rate (Davis is one of them), so it's no surprise that Syracuse's only loss this season came when Melo didn't play. He logged 39 minutes, grabbed seven rebounds, had 11 points and those six blocks. And he scared the hell out of Georgetown center Henry Sims, who missed 11 of 12 shots.
"The ball just wouldn't go in," Hoyas coach John Thompson said. "He was getting the ball in pretty good position right under the basket. At the end of the day, he got it right there and the ball didn't go in. It happens sometimes. Fab played a role in it, but a lot of them I don't think Fab was anywhere around."
Melo wasn't the only savior for Syracuse. Senior Kris Joseph played every minute, scored a career-high 29 points and was often the only consistent scoring option for the Orange, who shot just 35 percent from the field. Good thing, too.
It seemed Georgetown (18-5) would grab enough rebounds and find enough seems in the 'Cuse defense to win the game. The two traded leads throughout the game, but the Hoyas did it with hustle and a little luck. They seemingly got to every loose ball and had an astounding 11 offensive rebounds in the first half alone.
It wasn't until Syracuse finally extended its defense a little further and pressured the Hoyas' ball-handlers when they finally took control. And they couldn't shake Georgetown even then.
"We know that's a problem," Joseph said. "At the end of the day, we have to go get it. Rebounding and defense are going to win us a championship — we have to do a better job."
There's no shame in not shaking the Hoyas. They're worthy of their No. 12 ranking and are almost certainly the Big East's second-best team. But there's a reason coach Jim Boeheim was so irritated afterward. He expects more from his team.
And if they expect to win it all, he's right.
You also can follow me on Twitter @MikeMillerNBC.