Florida got a good view of what Kentucky can do. Poor Florida.
The No. 8 Gators watched as the No. 1 'Cats shot, swatted, slammed their way to an impressive 78-58 win Tuesday night, cementing the notion that Kentucky is the team to beat in March. When a team hits 60 percent of its 3-pointers, and harasses an opponent into making just 35 percent of its shots, there isn't much to argue about.
"They're very, very good. There's not like necessarily one thing you do against them that is a formula to win," Gators coach Billy Donovan said.
"They're playing at very, very high level. That's not to say they're going to win 'em all. That's not to say they couldn't win 'em all."
Donovan obviously means the rest of Kentucky's games. But given that a Christian Watford buzzer-beater is the only thing that's keeping Kentucky (24-1) from an unbeaten season, he has a point.
Tuesday was UK at its best, too. A slow start was erased when Anthony Davis started blocking shots (he finished with four), Michael Kidd-Gilchrist started hustling (13 points, 13 rebounds), Doron Lamb started hitting 3s (4 of 5 from deep) and Marquis Teague started running the show (10 assists).
It wasn't a flawless performance, but it was an example of what Kentucky can do when it's clicking. Just ask Lamb. Brett Dawson of Rivals did: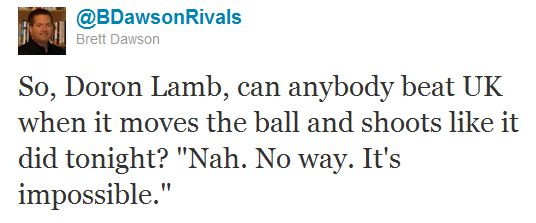 Now the trick is to balance that confidence with continued performance. Every championship team walks onto the floor knowing it'll win, but it's easy to slip into complacency. Kentucky hasn't hit that.
"The one thing I like about their team is I love their disposition on the floor," Donovan said. "There's a certain disposition you have to have and I'm not talking about an arrogance or a cockiness, but there's like a focus level in terms of what really goes into winning at that level. There's a mentality there."
The 'Cats are young – they start three freshmen and two sophomores – but this point isn't lost on them. They still have several tests remaining, starting with Saturday at Vanderbilt and the regular-season finale at Florida, but at this rate, they look as good as they should be.
"We have this little swagger," Davis said. "We just want to go out there and play hard and win. We're very capable of winning a national championship if we keep playing how we're playing."
You also can follow me on Twitter @MikeMillerNBC.