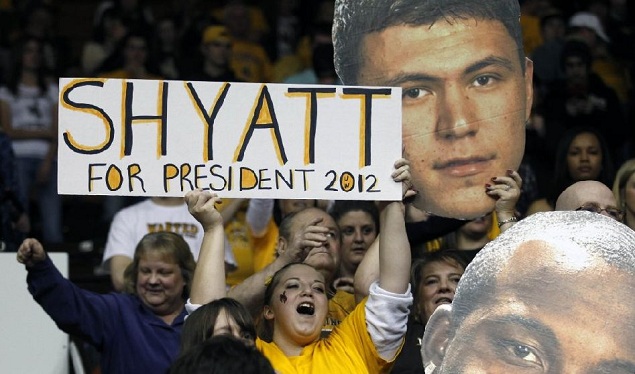 Wyoming fans have seen this before. Larry Shyatt arrives, revamps the Cowboys' style and turns them into a team conference foes fear.
In 1998, it was No. 5 Utah losing in Laramie. Saturday, it was No. 11 UNLV.
The difference? This win might actually help the Pokes get to the NCAA tournament. Shyatt's previous stint in Laramie "only" resulted in an NIT appearance. A few more victories like this and who knows?
"I [told the team], 'None of these guys out here that I'm going to talk to, they have no idea how this book's going to end,'" Shyatt told the Casper Star-Tribune. "I don't know how this book's going to end. No one in this locker room knows.
"It's something great to talk about, hopefully, this spring."
Wyoming's piling up wins (18-5, 4-3 in MWC), but most have come against lackluster schools (though that Colorado victory's looking better and better by the day). UNLV isn't that. The Rebels were 7th in the most recent RPI. With games against New Mexico (44), San Diego State (22), Colorado State (18) and another matchup vs. UNLV, the Pokes have plenty of chances to boost their RPI.
And if they don't, well, maybe the NIT will a decent consolation. After all, it's not like Wyoming's had much to celebrate the last 10 years.
"It means a lot to me to [be able to beat UNLV] with guys like … everybody on this team," UW senior point guard JayDee Luster told the paper. "We've got good people on this team, and good things happen to good people. I really believe that, and it feels good to finally have some success."
You also can follow me on Twitter @MikeMillerNBC.