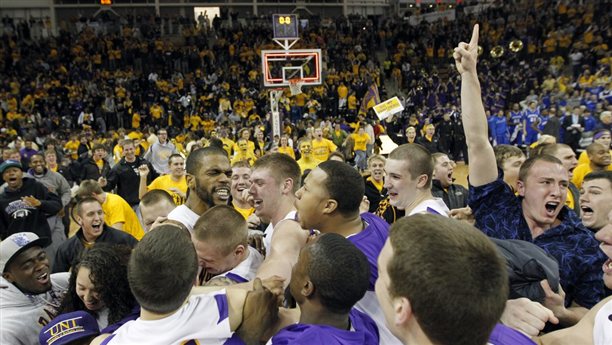 Some league leaders didn't fare so well Saturday.
Three suffered their first losses of the season, while three more fell in crucial road games that either dropped them from the top of the standings or created opening for others. Just another packed weekend day in college basketball. You NFL fans just tuning in are gonna love it. (But more on that later.)
How crucial were the defeats? Let's take stock.
Big 12: Missouri 74, Kansas 71
The day's biggest game also had one if its most dramatic finishes and clutch performances (Marcus Denmon, take a bow) that gave the Big 12 race some added kick. Denmon scored 29 points, including three 3-pointers in the final 2:05 to rally the Tigers (21-2, 8-2) against their longtime rivals. More impressive? He wanted everyone to act like a win over the Jayhawks (18-5, 8-2) was a normal occurrence and didn't warrant a court-rush.
Impact: Significant. Missouri, Kansas and Baylor (21-2, 8-2) are packed atop the Big 12 standings. The Jayhawks and Bears both seem bound for another two losses apiece (nasty road games coming up), while the Tigers get Baylor, K-State and Iowa State at home. Only a road game at Kansas looms as a likely loss. This may be the day where Missouri finally got within sight of a Big 12 title.
Atlantic 10: St. Joe's 70, La Salle 66
Figures a Big 5 game would shake things up a bit. The Explorers (17-7, 6-3) couldn't must a second-half comeback and lost sole possession of the A-10 lead in the process. Temple's victory vs. Rhode Island makes it the league's only two-loss team.
Impact: Crucial. The odds of La Salle running away with the A-10 were zero. But the chances of them staying in the hunt with a win Saturday were pretty good. Now the Explorers face a three-game stretch (at Richmond, vs. St. Louis, at UMasss) that easily could leave them at .500 in conference play. The Owls (17-5, 6-2) aren't going to cruise to the regular-season crown, but they have a slightly easier path and one less loss.
Missouri Valley: Northern Iowa 65, Creighton 62
It seemed logical that the Blue Jays (21-3, 11-2) would lose another Valley game at some point, but most would've bet on Wichita State exacting revenge next weekend. Instead, the Panthers (16-9, 6-7) pulled out a thrilling win thanks to Anthony James' 3-pointer at the buzzer (after Antoine Young's 3 4.6 seconds earlier had tied the game). But hey, this kind of thing happens in the Valley.
[youtube=http://www.youtube.com/watch?v=ZUjRM0qrALg]
Impact: Significant. Next week's Creighton-WSU game takes on added importance now. The league's two best teams (no other school is within four games) matchup in Omaha with the winner likely earning the top seed for Arch Madness? That's some drama, brother. The only thing keeping it from being a high-stress situation is that both teams are likely headed for the NCAA tournament.
Mountain West: Wyoming 68, UNLV 66
Playing at a higher elevation does have its advantages. Unless you're UNLV. The Rebels (21-4, 5-2) had their chances to avoid the upset, but couldn't connect in the final seconds and now find themselves a game behind San Diego State. Wyoming (18-5, 4-3) didn't seem overly worried about UNLV's preferred up-tempo pace. Maybe that's because playing at 7,200 feet doesn't bode well for teams like that.
Impact: Significant. The MWC's gone from two-team league to a deep, trying conference this season. Any edge is crucial, though UNLV does benefit by playing host to SDSU next weekend. Make up a game there and trips to New Mexico and Colorado State become more manageable.
MAAC: Iona 85, Manhattan 73
Technically not an upset (the Gaels were favored by 2.5 points; Kenpom had them losing by 1), this wasn't a huge surprise given the talent gaps between the teams. Iona (19-5, 10-2) features three of the conference's best players in Scott Machado, Michael Glover and Momo Jones. Yes, they'd lost earlier in the season to Manhattan, at home even. But when they opened up a 19-point second-half lead, they weren't about to blow it – like their 18-point lead earlier this season.
Impact: Crucial. Manhattan (17-8, 10-3) was one of two MAAC teams tied with Iona entering Saturday's games. The other is Loyola (Md.), which plays host to the Gaels next Saturday. If the newly mature Iona team shows up – it's all about focus for them – this conference race is over.
Sun Belt: Denver 75, Middle Tennessee 60
Another "non" upset (oddsmakers favored the Pioneers; Kenpom had it as a 1-point Denver loss), it was still Middle Tennessee's first conference loss. The Blue Raiders' only loss since Dec. 10 had been to Vandy (last weekend), but also lessening the surprise was their close victory against North Texas on Thursday. Maybe that's why Denver closed out the final five minutes on a 14-5 run.
Impact: Minimal. The Blue Raiders (21-4, 10-1) are blessed to be in the league's weaker division, avoiding the likes of Denver, North Texas, Arkansas-Little Rock and Louisiana Lafayette twice in a season. They'll stil cruise to the division crown.
WAC: Idaho 72, Nevada 68
Forget the marquee teams. This was the stunner of the day. The Wolf Pack hadn't lost since Nov. 25 (BYU), a stretch of 16 straight wins, including two against Pac-12 schools and their first eight WAC games. Nevada (at home!) was favored by 10.5. Kenpom had its chance of winning at 81 percent. Yet it was the Vandals (12-11, 5-4) who made the late plays and hit the shots for the win.
Impact: Moderate. Nevada (19-4, 8-1) still holds a two-game lead over New Mexico State and has already beaten the Aggies at their place. The Wolf Pack should still win the WAC, but this loss was certainly odd.
You also can follow me on Twitter @MikeMillerNBC.