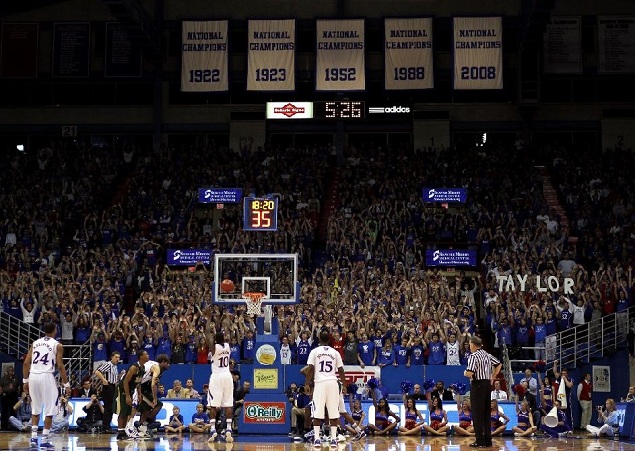 Wait. Allen Fieldhouse isn't the best home-court edge in college basketball? And neither is Cameron Indoor Arena?
And it isn't even close?
What's next? That faster-than-light particles exist outside of comic books and science fiction?
A study done by Ken Pomeroy for ESPN Insider (sorry about the paywall) found that Utah Valley enjoys the best home-couret advantage in college hoops, followed by Alabama, Arkansas, Denver and Virginia Tech. Not sure anyone would've pegged any of those five.
In fact, the top 10 only has one school most would've guessed – Indiana, 8th – while Kansas (70th), Duke (80), Ohio State (116), North Carolina (179) and Kentucky (232) are way down the list.
He's not claiming those teams are the toughest to beat at home. Obviously those hoops powers have an edge because their teams are better. But in relative terms to a team's road performance, this is how it breaks down. (He includes his methodology on the page.)
And when it comes to why those courts have an edge, Pomeroy contends that altitude, travel, unfamiliarity and hostile fans – in that order – are the main factors. (That would explain why Hawaii's in the top 10.) Altitude isn't a surprise. Teams usually have trouble making the transition from lower elevations to the mountain states (Larry Shyatt is smiling), but I didn't know the difference was this pronounced:
By my count, there are 15 Division I programs whose home court is at an elevation above 4,000 feet. As a group those teams appear to benefit from a considerable home-court advantage. Of the 15, 12 have a home court rated in the top 100 by this method, and six are in the top 30. Road teams clearly have trouble adjusting to thin air.
So the question Kansas fans need to ask themselves is this: How to raise Allen Fieldhouse about 4,500 feet?
You also can follow me on Twitter @MikeMillerNBC.