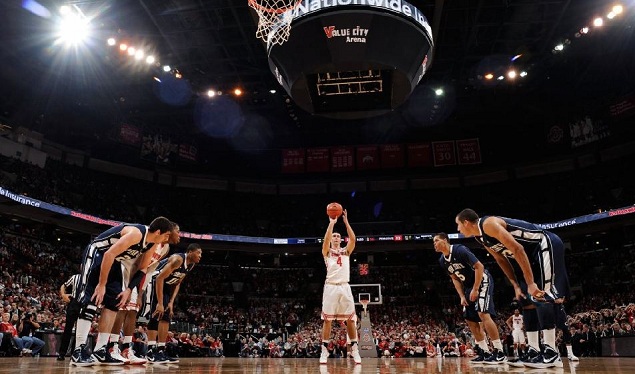 Those Ohio State tickets you just bought might not get you in the door.
The school issues a memo Thursday, telling fans and other ticket buyers to be cautious about where they buy tickets and who supplies them. Turns out someone out there is printing counterfeit tickets and mucking up the home games. (The Buckeyes are at Wisconsin on Saturday, so no issues there. At least with admission.)
Here's the memo, courtesy of Matt Norlander:
"The Ohio State Department of Athletics has experienced a rise in the number of counterfeit tickets showing up for men's basketball over the past several games. The Ohio State Athletics Ticket Office reminds fans to only purchase tickets from authorized sources: The Ohio State Athletics Ticket Office, ohiostatebuckeyes.com or Ticketmaster.

"Fans looking to purchase tickets for sold out games (Michigan State Feb. 11 and Wisconsin Feb. 25 or 26) are urged to search listings on the Buckeyes TicketExchange, the Official Ticket Exchange site of Ohio State Athletics, and the only resale site that guarantees the tickets will be valid. This site is available on the Tickets site (dropdown menu) at OhioStateBuckeyes.com. About 2,000 tickets are available for the Purdue home game Feb. 7 and about 1,200 tickets remain for the Illinois game Feb. 21. Tickets purchased from unauthorized sources could be counterfeit, stolen or otherwise void. These tickets will not allow the holder admission into the event."
Anyone who's been to a sporting event has either scalped tickets or been approached by people looking to buy or sell tickets. It's a great way to secure a seat (sometimes at a discounted price).
But this is the gamble you take. Good luck, ticket buyers.
You also can follow me on Twitter @MikeMillerNBC.