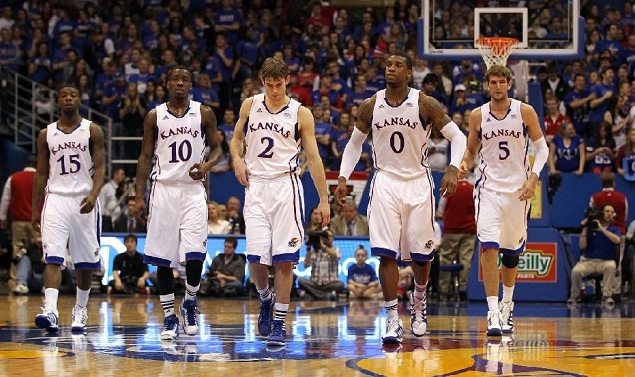 Kansas was in a spot to make a small trip-up into a full-on fall.
Following a road loss to Iowa State and seeing a road matchup with No. 4 Missouri lurking on the horizon, a loss Wednesday night at home to Oklahoma would have paved a more difficult path for the Jayhawks in the tightly-contested top of the Big 12.
Fortunately, Kansas avoided the trap, overcoming a slow first half to dominate in the second, outscoring the Sooners, 50-31, in the final 20 minutes and getting the win, 84-62.
Thomas Robinson continued his Player of the Year-type season, tallying 20 points on 9-of-12 shooting and grabbing 17 rebounds.
Three other players were in double figures, including Tyshawn Taylor's team-high 21.
Like we pointed out a few weeks back, Kansas' formula is as follows: Thomas Robinson + three contributors = a Jayhawk win.
Now, after bypassing Oklahoma, the Jayhawks enter the toughest stretch of their schedule, with No. 4 Missouri on Saturday, followed by a road game with No. 6 Baylor, at home against Oklahoma State, and on the road at the Octagon of Doom at Kansas State.
To win the Big 12, Kansas will have to win at either Missouri or Baylor and, if they can win both, they'll be in solid position to win the conference outright.
They lack depth, especially at the point guard position, but having Robinson as a Player of the Year candidate has compensated for a lack in other areas.
If there is anything the past seven seasons have taught the Big 12, it's that Kansas is the favor, until proven otherwise.
The next few weeks will tell us if that holds true.
Daniel Martin is a writer and editor at JohnnyJungle.com, covering St. John's. You can find him on Twitter:@DanielJMartin_