Over the last couple of seasons, BracketBusters has become less and less relevant. Between the lack of marquee games and the fact that the losers of the matchups tend to be hurt more than the winners are helped, there has been a fairly strong reaction to the event. Some have even dubbed it BracketEliminators.
This season isn't all that different. With the notable exception being that the two marquee games are quite appealing, ESPN once again put together a schedule that doesn't necessarily help all of the teams involved. Those with slim at-large hopes are putting them at risk for a game that won't be the answer to their NCAA Tournament problems.
Putting all that aside and focusing on what will happen on the court, there should be plenty of excitement in February's third weekend. Without further ado, here are the 13 TV games, ranked in order of watchability.
You can find the full schedule of the BracketBuster games here.
Find a way out of the date you scheduled to watch these games unless you've been waiting more than a month to take her/him(?) out or its your girlfriend and you just got back from a three week roadtrip, in which case … utilize that TiVo, yo!
1. Sat. 6:00 pm: St. Mary's at Murray State (ESPN or ESPN2): This was the best possible matchup we could have gotten out of BracketBusters. We all know the story of Murray State — the darling of the Ohio Valley, the Racers are the nation's last remaining undefeated team. While the chances of them entering the postseason without a blemish on their resume decreased dramatically when they drew the Gaels, this game, particularly if they come out victorious, will not only get them to a higher seed line come Selection Sunday, but it should help them hedge on the off-chance that they slip up during conference play's stretch run.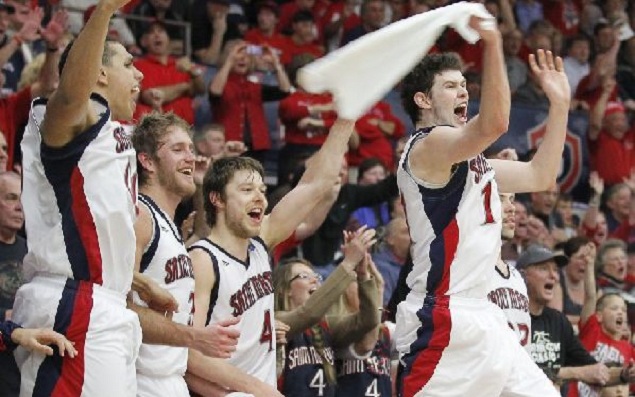 St. Mary's, on the other hand, has proven themselves as road warriors in the past week, winning at Loyola Marymount and BYU while remaining in control of their own destiny in the WCC. The Gaels are a member of a much stronger conference that Murray State, which means that their ability to earn an at-large bid won't be as compromised should Murray State remain undefeated.
All the bubble talk aside, this should be a terrific basketball game. Both Murray State and St. Mary's are lead by star guards. Where Murray State's Isaiah Canaan is more of a pure scorer, St. Mary's Matthew Dellavedova is a playmaker, one of the top assist men in the country. Throw in the fact that Ivan Aska is healthy again to bang with Rob Jones up front, and we will have ourselves quite the battle.
2. Sat. 10:00 pm: Long Beach State at Creighton (ESPN2): Creighton has won ten straight Missouri Valley games and, thanks to a triple-overtime loss by Wichita State, the Bluejays are now in sole possession of first place in the conference. They also have a top 15 ranking, wins at San Diego State and Wichita State and a handful of victories over teams in the bottom half of the power conferences. Its safe to say that, barring a collapse down the stretch, Creighton is going to be headed to the NCAA Tournament this season.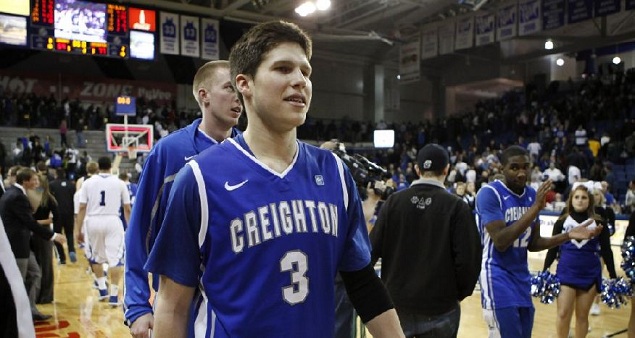 That's great news for Long Beach State, who needs every win that they can get. The 49ers put together one of the toughest non-conference slates in the country, and while they picked up a couple of solid wins — at Pitt, over Xavier on a neutral court — the recent struggles of those two teams have put a damper on how good those wins look. LBSU needs this win if they are going to have any chance of getting an at-large bid.
Creighton has one of the most potent and efficient offenses in the country. They have a number of weapons capable of getting their own shot, they are loaded with capable shooters and they push the ball. That makes for exciting basketball. You know what makes for even more exciting basketball? The fact that LBSU plays the same way. Doug McDermott of Creighton is a national player of the year candidate, but the most exciting player on the floor is going to be Casper Ware of LBSU.
Make sure to record these games and watch them as NCAA Tournament prep work
3. Sat. 4:00 pm: Nevada at Iona (ESPN or ESPN2): Both Nevada and Iona are on the longshot end of the bubble spectrum, but they have a shot. And that, frankly, is why this game is a bit frustrating. Nevada, who is currently undefeated in WAC, does not have a strong enough non-conference schedule to warrant an at-large bid unless they run the table in league play. That fact probably isn't going to change even if they win at Iona, but a loss will be a black mark on their resume. Iona is in a slightly more desperate situation — that's what happens when you blow two 18 point leads in league play — but there story is just about the same as Nevada's: a loss hurts more than a win helps.
The bubble talk, however, is overrated when you consider just how entertaining this matchup should be. Both teams like to get up and down the floor and are led by talented point guards — Scott Machado for Iona and Deonte Burton for Nevada — and a pair of high-major transfers — Mike Glover and Momo Jones for the Gaels and Malik Story and Olek Czyz for the Wolf Pack.
4. Sat. 11:00 am: Drexel at Cleveland State (ESPNU): The odds of either of these teams earning an at-large bid is fairly slim. Both are sitting at or near the top of a competitive mid-major league; the Vikings currently lead the Horizon while Drexel is tied with three other teams at second place in the CAA. Where this game gets interesting is on the defensive end of the floor, where both teams thrive. Cleveland State thrives with a trapping pressure defense where Drexel is more equipped for grind-it-out half court games, winning games based on their ability to force tough shots and clean the defensive glass.
5. Sat. 12:00 pm: Wichita State at Davidson (ESPN or ESPN2): This may have been the most controversial game in the BracketBusters selection process. Wichita State is, arguably, the third best road team in the event. But they ended up with Davidson? With all due respect to the Wildcats, they are coming off of a loss to Samford and have … well … not much more than a win over Kansas on their resume. The problem? There really isn't a much better option. The Shockers weren't going to be sent to conference rival Creighton and if the Shockers were headed to Murray State, we would be having this same conversation about St. Mary's.
A win over Wichita State isn't going to make Davidson a tournament team and a win over Davidson isn't going to be much of a boost to Wichita State. But if WSU loses? That would put them in jeopardy of getting an at-large bid should they stumble again in league play.
These may not be the best teams in the country, but there will be some of the best players in the country on the floor
6. Sat. 2:00 pm: Akron at Oral Roberts (ESPN or ESPN2): Akron is not exactly in a position to earn an at-large bid despite beating Mississippi State earlier this season, but they are currently sitting in first place in the MAC with a 6-1 record. ORU is in a similar position, with a solid RPI and a couple of decent non-conference wins. Unfortunately for the Golden Eagles, Akron doesn't quite have the pop that, say, Wichita State would.
7. Sat. 7:00 pm: UNC Asheville at Ohio (ESPN3): This may be the best individual matchup of the weekend. Ohio's point guard, DJ Cooper, is one of the most electric players in the country, a defensive playmaker that is one of the best creators in the country. But the Bulldogs have a pair of back court studs in JP Primm and Matt Dickey.
8. Sat. 5:00 pm: Old Dominion at Missouri State (ESPNU): Missouri State has kind of fallen off the radar a bit, as they have struggled during Missouri Valley play. But given the fact that they were essentially rebuilding their roster this season, that was not necessarily unexpected. What the Bears did bring back was Kyle Weems, the reigning MVC player of the year, who will have his hands full with Kent Bazemore of ODU. The Monarchs are not exactly playing for an NCAA Tournament bid, but they are currently sitting tied for second in the CAA.
9. Sat. 8:00 pm: UT-Arlington at Weber State (ESPN3): If you have never seen Damian Lillard play, you are doing yourself a disservice. He's one of the most efficient, high-volume scorers in the country. And he'll be going up against a UT-Arlington team that likes to get up and down the floor.
10. Sat. 1:00 pm: Buffalo at South Dakota State (ESPNU): Both of these teams are well off of the radar from a national perspective, but they have two of the most intriguing players in the country in Nate Wolters and Javon McCrea.
11. Sat. 3:00 pm: Drake at New Mexico State (ESPNU): NMSU has fallen back into second place of the WAC after losing to Nevada at home, but Wendell McKines has a legitimate shot to be the league player of the year. Drake's Rayvonte Rice has thrived as a sophomore, going for 23 points, 14 boards, eight assists and four steals in a win over Wichita State.
I'll be watching, as always, but that doesn't mean that you have to as well. Just make sure to check out the box score at 3:00 am while you are crushing that late-night pizza
12. Sat. 7:00 pm: Northern Iowa at VCU (ESPN2)
13. Sat. 9:00 pm: Valparaiso at Loyola Marymount (ESPNU)
Rob Dauster is the editor of the college basketball website Ballin' is a Habit. You can find him on twitter @ballinisahabit.