Once again, Duke's doing its thing in college hoops. The Devils are a Top 10 mainstay, feature an offense that can stroke the 3 and a post players who focus on rebounding and ensuring those perimeter shooters get their shots.
And in case you missed it, they're also atop the ACC standings, tied with Florida State.
So what await coach Mike Krzyzewski's team the rest of the season. I asked Adam Rowe, the founder and editor at Duke Hoop Blog for analysis of the season thus far and insight to what's ahead.
Click here for more Blogger Spotlight
Q: Does this feel like a Top 10 team? The Devils are 18-3, but sure seem to catch a lot of grief, even before the home loss to FSU. (Coulda been worse, though. Coulda been on the road by 33.) Heck, even Coach K wasn't overly pleased after Saturday's win against St. John's. This is just part of Duke basketball, right?
A: Based on their body of work, the 2012 version of the Duke Blue Devils absolutely feels like a Top 10 team. After losing seniors Nolan Smith and Kyle Singler, along with No. 1 overall NBA draft pick Kyrie Irving, this team had serious scoring, assisting, and most importantly leadership voids entering November.
The trips to China and Dubai in August certainly helped mold the team's chemistry and allowed Austin Rivers and Michael Gbinije to assimilate into post-high school basketball more quickly, but this was still a team searching for an identity heading into their Nov. 11 game against Belmont at home. Since that one-point win, the team played a ridiculous non-conference schedule (tops according to kenpom.com, RPI) beating teams currently ranked five, 11, and 21, all at neutral sites. They also got a win over 19th-ranked Virginia in their second ACC game. I don't see any other teams in the polls with that kind of record. Sure, they tripped up against Florida State, but the Devils didn't look bad doing it.
As far as getting grief, we are talking about Duke here. There is no in between with this team. You either think Mike Krzyzewski is the devil incarnate or that Christian Laettner's shot against Kentucky was guided by supernatural beings.
Q: What's behind the defensive issues? Can they be fixed?
A: Duke has never finished below 20th in Ken Pomeroy's adjusted defensive rankings (I'm a big tempo-free guy if you haven't noticed) yet this year they sit at 84. I think there are a number of reasons that can be extrapolated for this team's propensity to give up points, but no magic bullet.
We can go back to the strength of schedule that Duke has played and point to that as a reason. We'll stick with kenpom.com here for a standard, and see that Duke's opponents boast college basketball's third-toughest offenses. This is even including Virginia, who sits at 95. Well, Alabama is the only other team to have faced a Top 5 offensive schedule to be ranked in the KenPom Top 40.
Moving beyond their opponents and concentrating on Duke, there is clearly something missing on the defensive side of the ball. Much has been made of Duke's perimeter defense and it certainly was an issue heading into the season. We are actually taking part in the Project Defensive Scoresheet Project initiated by Luke Winn and David Hess. Hopefully, through analyzing Duke's defense by a number of metrics, we will be able to show a much clearer picture of what/who is causing the drop in Duke's defense. You can see the first installment here, with the Western Michigan game.
Q: Even if the defense does have issues, the offense is as good as any in recent seasons. Andre Dawkins is a stone-cold killer, Austin Rivers has his sick crossover, Seth Curry's due for a huge day and the Plumlees are the kings of second-chance points and alley-oops. But does it seem like Ryan Kelly should get more looks? Or is he getting the right amount of shots for his game? 
A: Ryan tends to play somewhat of a quiet game, so you may not notice the shots that Ryan is able to get. He's tied for third on the team with Mason Plumlee and Andre Dawkins at 149 shots on the season. If you look at these charts from Statsheet.com (deselect the previous two years to see just this year's) you can see that Ryan is getting 21.3 percent of Duke's shots while participating in 21.9 percent of the possessions.
If anything, Duke should look to get Ryan more open behind the 3-point line as he is the most accurate shooter there by a wide margin at 47.2 percent. For one reason or another, he has only taken 53 three-pointers compared to 110 for Andre Dawkins, 87 for Seth Curry, and 73 for Austin Rivers.
Q: Rate Rivers' season. Few freshmen came in with more hype. How's he done?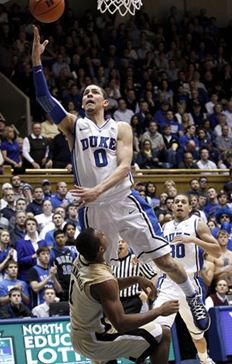 A: Austin started off the year outstanding, and even most of the his harshest critics (I'm looking at you, Sebastian Pruiti) can admit that. While his offensive production has fallen off as defenses have become more keyed on him, he is still a net positive player for Duke. His +/- of +200 points while he's on the court makes him worth 10.5 positive points for his team. (His full game log is here.)
Coach K decided to bench Rivers for the start of the Wake Forest game on Jan. 19 but that game he dropped 20 points on 32 minutes. He has played 38 minutes in the two games afterwards and scored 19 and 10, respectively. Like any freshman, he's going through growing pains but with his immense talent and ability and the foundation of a lifetime around the game of basketball, I expect him to be playing his best basketball in the spring.
Q: Is Tyler Thornton underrated as a point guard? Seems to me that the guys they've tried – Curry, Rivers – and hope blossom as a PG – Quinn Cook – have been inconsistent. Meanwhile, Thornton's kinda like Jon Scheyer, only with a defensive emphasis. Duke doesn't really miss a beat with Thornton in there, but the general consensus is that things could be better.
A: I think it's easy to say that Tyler Thornton is underrated in everything he does as he's not really rated by anyone, ever. He knew his role at Duke was to come in and be a four-year player. The fact that he's contributing offensively as early as he is can be attributed to an extremely high level of character and work ethic. He is generally a steadying hand as the lead guard, doesn't take a whole lot of risks, and can knock down an outside shot every once in a while.
As a point guard, Tyler is not going to lead a fast break or cut through a defense to drive, draw, and dish but he does give the team calm. A lot of people talk about Tyler's defensive prowess, but his strength there lies in his help defense and ability to jump passing lanes. He, like all of Duke guards, have a tendency to get beat by their men on the perimeter.
Q: Well then, I'll be sure to stop talking about Thornton on defense (musta been a default phrase). Is anyone on Duke worth much on defense? Say I need someone to check Harrison Barnes. Who's it gonna be?
A: A lot of people talk about Tyler as a defensive stopper. I'm not exactly sure where that observation came from (although he does have Duke's best stop% at 55.3 percent.) It probably comes from the fact the he is an in-your-face type player and is relentless. As I said earlier, he is a really good off the ball defender, but I wouldn't call him a stopper, per se.
Duke's defense has been an issue all year, but the guards have been shown to get blown by quite regularly. Whether that's a function of an overplay style or lack of lateral quickness or mental lapses is a matter of debate, but it is definitely an issue compared to other years.
Barnes is one of those guys who will give Duke matchup problems as there is nobody on the team with his physical attributes. Josh Hairston did show an ability to stop Draymond Green when Duke played Michigan State, but Barnes has much more ability as a shooter than Green. It will be interesting to see who picks him up. Andre Dawkins played him pretty tight in the ACC Tournament last year. Maybe he can replicate that success.
Q: I was among those who wrote about the declining attendance among the Cameron Crazies. It's not something that's specific to Duke, but – like most everything else related to Duke hoops – you guys probably take more hits on this because of the Crazies' rep and because it's Duke. Is there anything regarding Duke you do think gets a fair shake?
A: There are certain writers that give Duke a fair shake, but for the most part they use Duke to get more page views, which is what we are all in this business for. As I said above, Duke is the most polarizing team in college basketball (maybe college sports). There's a reason the game against Butler was the highest rated of the 20 years prior. I think you, Jeff Eisenberg, Luke Winn and a few others give Duke a fair look but there are certainly some who don't.
Q: Twitter segue: How often do people pick fights with you in that medium? And vice versa?
A: I get trash talked quite a bit, especially after Duke loses. At first I responded, but I know now that people use the cloak of anonymity for role play. I'll either ignore it now or simply block the person. I do talk trash, but only if it's people I interact with on a regular basis.
Q: Everyone loves to hate Duke players. Is there a guy who non-Duke fans love? Grant Hill comes to mind.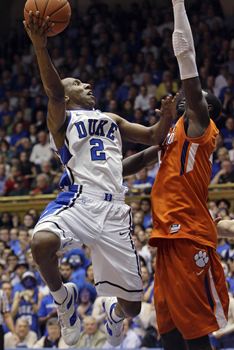 A: Grant Hill is a guy nobody can hate but Nolan Smith is the one that immediately pops into my mind.
Some friends and I ran a marketing campaign to get Nolan the National Player of the Year Award last year, and even UNC fans were commenting about how much they liked him and wanted to see him succeed. I think for Nolan, putting himself out there like he did in the "Lessons From My Father" article really humanized him to a point where people could actually see him as a person and not just as a basketball player. That, and his outgoing personality really endeared him to a lot of Duke fans, but also non-Duke fans as well. I hope that he can continue to stay in the spotlight as he has a lot of good to show the world off the court.
Q: How's the response been to Duke Hoop Blog? Is there a day in the future when that's your only job?
A: I feel like I've been blessed to have a really good response from the site. I started it one night when my wife went out on her bachelorette weekend and I was sitting around the house with nothing to do. It was more of a hobby than anything. I wrote a few articles that got some recognition, started tweeting (there really wasn't a Duke fan presence on Twitter at the time I started but there definitely is now), and now I have four writers who contribute to the site and am getting around 30,000 hits per day. I'm lucky for those guys (follow them on twitter @thedevilwolf, @ClykinsBlog, @R_Horn21, @Bleed_DukeBlue1) because I have a full time job, I'm married, have a social life, and am taking 12 hours of classes to change careers. Without their contributions, this site would not be alive today.
There was a week or two in the offseason when I considered shutting it down just because I knew the time suck would be so large. @thedevilwolf in particular is a huge reason why I kept going.
As far as this being my only job, I don't think that's feasible unless I went to a pay model and that is not something I'm interested in. This is a labor of love for me, and something I do because I am passionate about Duke Athletics. This site is a way I feel like I can give back for all the great memories and emotions that Duke has given me ever since I first stepped foot in Cameron as a young boy.
You can read more of Adam's writing at Duke Hoop Blog and follow him on Twitter @DukeHoopBlog.
You also can follow me on Twitter @MikeMillerNBC.