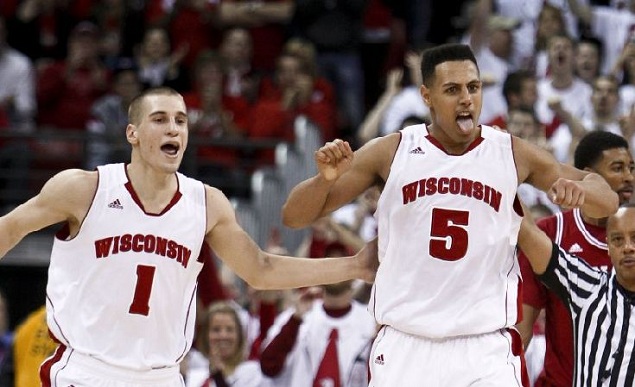 On a night when Republican presidential hopefuls took the stage for a debate in Florida, prior to that state's Jan. 31 primary, the Wisconsin Badgers made a case for another kind of votes, those in the AP Poll, on Thursday night in Madison.
For those who clamored for a rematch of LSU and Alabama in the college football national title game, this could have been the basketball equivalent, as the Badgers turned the ball over just four times and got 13 points from Ben Brust on their way to a 57-50 win at the Kohl Center.
As far as looking presidential, its difficult to say the Badgers wouldn't be competing for the Republican nomination, and not just because they sport the red and white.
It's integrity that voters are looking for, right?
Bo Ryan's team was built on defense, first in the country in points against per game and second in fouls committed per game, coupled with a commitment to limiting turnovers, another category in which they lead the nation.
Against Indiana, Wisconsin gave up just 50 points, committed 10 fouls, and turned the ball over four times.
How's that for integrity?
Jordan Taylor entered Thursday's game having played 62 career Big Ten games and had turned the ball over just 63 times. Against Indiana, he added two more assists and had no turnovers.
For a guy who runs on fiscal responsibility, it doesn't get much truer than that.
Jared Berggren, charged with containing Indiana star freshman Cody Zeller, did his job, limiting Zeller to seven points on 2-of-7 shooting and just three rebounds.
"You've got to accept the challenge," Berggren told the Milwaukee Journal Sentinel before the game. "You've got to bring your 'A' game, especially when you have a big matchup like that and the team is really counting on you to get your job done."
Strong national defense, another cornerstone.
But the question is as much about the short term as it is the long term. Just as the Republican field looks set for a long primary battle, the Big 10 will be the same for Wisconsin.
And we haven't even begun to talk about the general election, or the Field of 68.
The win moves Wisconsin to 6-3 in the Big 10, keeping pace with the Ohio State, Michigan State, and Michigan at the top of the conference, and the Badgers will have to face two of those teams, OSU and Big Blue, in two of the next four games.
The answer for Wisconsin will be consistency, as Rob Dauster pointed out a few weeks back. Their rhythm-crushing pace doesn't work if they can't be effective offensively.
For that, the Badgers look to Brust, who came through tonight, and others, not just Jordan Taylor.
Wisconsin has five days off, before they head to Happy Valley to take on Penn State on January 31st.
Daniel Martin is a writer and editor at JohnnyJungle.com, covering St. John's. You can find him on Twitter:@DanielJMartin_