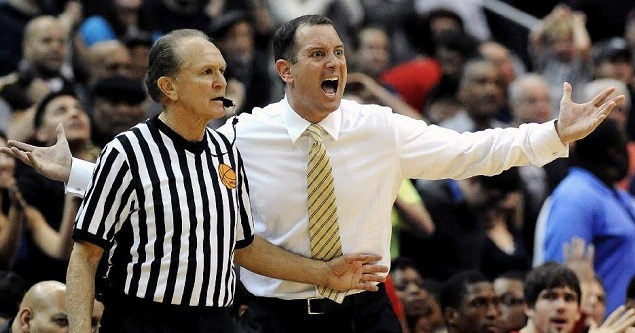 Rutgers' second season under coach Mike Rice has seen the Scarlet Knights post some impressive wins (Florida, UConn) and some puzzling losses (Richmond, LSU, Princeton) in their 11-9 start.
Also a familiar sight? Fouls. Lots of 'em.
But what's galling Rice and some Rutgers onlookers is how few fouls have been called on the Knights' opponents.
A breakdown by Newark Star-Ledger reporter Brendan Prunty highlighted the finish in Rutgers' 52-50 loss to Georgetown on Saturday in which two foul calls in the final 76 seconds – both of which Prunty says could've gone uncalled – that capped an odd game in which the Hoyas were whistled for 15 fewer fouls and shot 29 more free throws. Prunty doubts the officials (Bob Donato, Joe Lindsay and John Gaffney) were gunning for the Knights, but says the foul discrepancy should be addressed by the Big East.
Astute college hoops fans know Rice's team play an aggressive style that prompts more fouls than most teams. In four seasons as a head coach (two at Robert Morris and two at Rutgers), his team has always finished among the top 30 in fouls committed. This season, Rutgers is 12th.
But that's not the issue. From Prunty's story:
The problem isn't the number of fouls, but the foul discrepancy that is so lopsided against Rutgers in Big East play. In seven games, Rutgers has been hit with 54 more fouls than its opponents. Twice in the last week alone, the Scarlet Knights have foul disparities of minus-15. In Rutgers' 13 non-conference games, the Scarlet Knights had 20 more fouls called on them than their opponents. To have 34 more calls go against them in just seven games seems like a disproportionately high number — no matter what style of play a team uses.
There's also more detail in the story about how often those refs call fouls, how often they've worked Rutgers games and how the Hoyas' total compares to their other games.
It sounds as if Rutgers is trying to avoid dwelling on the whole thing. That's probably helpful to their psyches, but if the Big East could make a call on everything and settle it, it'd be an even bigger help.
You also can follow me on Twitter @MikeMillerNBC.