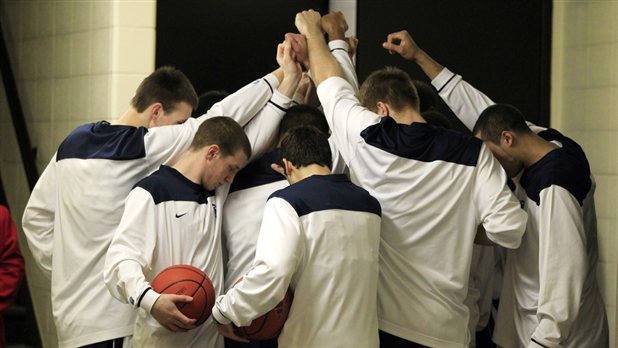 Joe Paterno's death Sunday hit the Penn State athletic department hard. Basketball might not have been the equal of Paterno's football program, but that doesn't mean the men's and women's teams weren't thinking about him during their games.
"Joe Paterno meant so much to this university, you know," guard Tim Frazier said. "We wore ribbons for him today. It's a very tough situation."
I bet. The team learned about the coach's death during the bus ride to play No. 11 Indiana. That's hardly ideal.
Tougher still was playing at Indiana, a team that had lost three straight and wasn't about to drop another Big Ten game to a squad it's already beaten this year. The Hoosiers won 73-54, but weren't oblivious to the situation. They held a moment of silence before the game, to which fans gave polite applause.
The women's team, ranked 22nd, fared better in their home game against Iowa, winning 68-52.
"I know he probably would have been ticked off if we lost," coach Coquese Washington said. "We just wanted to play our best today, give our best effort in honor of a man who always gave his best to Penn State."
Men's coach Patrick Chambers echoed that statement, even if his team couldn't get the win.
"We recognize the contributions that he (Paterno) has made to the university, and you know a lot of people probably don't know what he did for us," Chambers said. "The way people perceive the basketball program, as obviously not the greatest, and what he did behind the scenes to allow us to compete on a high level and give us all the little things that people don't always see and maybe his name wasn't on it, either, the guy has left a legacy that forever will be remembered."
You also can follow me on Twitter @MikeMillerNBC.