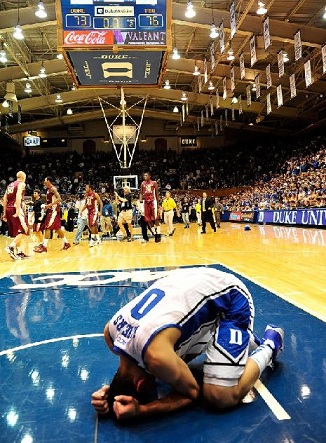 Austin Rivers thought Duke had it won.
The freshman guard – fresh off breaking a recent shooting slump – delivered during a crucial moment for the Devils, slicing into the lane and scoring a layup for his 19th point of the game. It came off a called play for the 6-3 guard, a sign of confidence from coach Mike Krzyzewski, who was pleased at the result – a 73-73 tie with 4.9 seconds left – and how Rivers pulled it off.
"Austin did a good job, did a really good job," Krzyzewski told ACC Now. "That bucket he got right at the end – it's something I don't know if he would have scored three weeks ago because he had to really be determined to get in there and make the decision as to whether to shoot it – which was a good decision – or kick it for a potential 3 and a winning shot.
"That's what we set up. We got something good. We tied it, and they hit a shot at the buzzer."
Right. That shot at the buzzer.
Florida State's Michael Snaer delivered with an ever bigger shot of his own, nailing a 3-pointer from the wing as time expired. It made for quite the last-second sequence.
[youtube=http://www.youtube.com/watch?v=i_RqdbFE6P8&feature=youtu.be]
As one might expect, the whole thing isn't sitting well with Rivers.
"I'm angry," Rivers told the Raleigh New & Observer afterward. "Florida State can say all they want to about being better than Duke, but I don't believe it.
"They're good and they're the oldest team in the conference. Veteran teams are always hard to beat in big games. They stick together, but we're going to get better from this."
If that's true, it'll depend on the defense.
The Devils failed to make several crucial stops during the second half and seemed to have trouble making defensive rotations. It's not really a lack of effort (it never is with Coach K's defense), but more than they're a step behind too often.
If that keeps up, Snaer's game-winner won't be the last one Duke sees.
Related stories:
You also can follow me on Twitter @MikeMillerNBC.