Florida State isn't a basketball school. Probably never will be. But Leonard Hamilton's doing his best to ensure the Seminoles are a respectable hoops program (thanks to defense!).
And luckily for college hoops fans, the blogging at Tomahawk Nation is even better than Hamilton's program.
That's a credit to Michael Rogner, it's basketball writer and analyst. (Hey, not everyone can do both.) He's had a busy week, too. Rogner watched the 'Noles smoke North Carolina last weekend – perhaps the season's most impressive team performance – follow it up with a solid win against Maryland and is now doing previews for yet another big game when FSU travels to Duke.
But lucky for me, he was kind enough to take some time to be the focus on our latest Blogger Spotlight.
Click here for more Blogger Spotlight
Q: Big win probably doesn't do Saturday's 33-point victory over North Carolina justice. Beating the Heels isn't exactly new, but that margin must've been remarkable to see. Beating Auburn by 30, sure. UNC? How?
A: The defense makes these games possible, but the margin here was extreme. Carolina hasn't been held to 0.75 points per possession in two years. And you have to go back to Al Thornton's senior year to find an FSU team that's scored 1.18 per trip against an ACC team. The stars aligned and the shots fell at an unreal rate, they made their FTs, and when UNC gave up in the 2nd half FSUs team responded by playing even harder.
It was a whole lot of fun to watch.
Q: Does this mean Deividas Dulkys is the 'Noles go-to player? Or just the most likely to get hot?
A: I'm not sure about him becoming the go-to player, but a couple of recent changes work in his favor. First, coach Hamilton switched to a 3-guard lineup against Princeton to try and cure some of the offensive woes. Second, with that lineup they've been cutting back attacking the post via pass, and instead have been spreading teams to create pockets in which to drive. This creates a lot of opportunities for jump shooters on kick-outs.
Either way, Dulkys brings it every night. He plays because of defense and intangibles. Vitale kept commenting during Dulkys' 32-point outburst every time he blocked a shot or made some hustle play that it "must be his night." But he does that every night. He gives maximum effort regardless of what's happening with his shot.
Q: Aside from the Princeton loss, this hadn't been a horrible season when you look at that schedule. UConn, Michigan State, Florida and even Harvard are good teams. But did it feel that way, or was there a sense of FSU lacking a certain something (until Saturday, of course).
A: In recapping the 3rd game of the season (a low interest affair against Stetson) I questioned the coaching staff's ability to motivate this team. They went through stretches where they just didn't seem to care. And Hamilton's teams might not always be the most skilled teams, but they always play hard.
Fast forward a month and Hamilton began publicly calling out his senior class, questioning their focus. He didn't name names, but at that point FSU went to a 3-guard lineup and tweaked their rotation. This experiment began with an abysmal start in their 10-point 1st half against Princeton. But the offense began attacking differently after the break, and since then they've played 4 1/2 games of their best basketball. Of course they also played Clemson, where they laid an egg. So the jury is still out on whether or not Hamilton has found that spark.
Q: Compare the defense to previous seasons. How's it rate?
A: John Henson may have been the media's pick for ACC Defensive Player of the Year last season, but the coaches unanimously picked Chris Singleton. The fact that they lost him (and Derwin Kitchen) and haven't missed a beat is a testament to the system.
With a veteran team Hamilton has been mixing defenses more than I ever recall. It starts with Michael Snaer on whoever he wants shut down (typically the opposing point guard) and FSU in a man-to-man. In that man-to-man, FSU has been switching screens as much as they've been hedging them. They've gone to 2-3 and 3-2 zones, sometimes in the middle of a possession that began man to man. They've pressed. In other words, they're really mixing it up.
The end result is that it is once again an elite defense. After leading the nation for two years in defensive efficiency, the Noles are fifth this season. They're not a fun team to play against.
Q: I've always considered teams who thrive on defense simply have coaches who know how to properly motivate players, but Hamilton's style is even beyond that. They don't just use man-to-man, but as you say, switch to various zones and presses. How much time is spent on defense compared to offense during practice? And has Hamilton recruited a specific type of player to make that work?
A: I don't know if the offense/defense imbalance has anything to do with practice time – by all accounts their practices are in line with other college practices. It's more the players. Hamilton recruits smart kids with next level athleticism in order to be able to run his defense. But those kinds of athletes who ALSO have polished offensive skills go to Duke, Kansas, Florida, Syracuse, etc…. Though after ressurecting the program that's beginning to change. Ian Miller, Terry Whisnant and Aaron Thomas come to mind as kids who are breaking that mold.
Q: Both Bernard James and Snaer should receive more acclaim for their defensive abilities nationally. But is one more crucial to FSU's success than the other?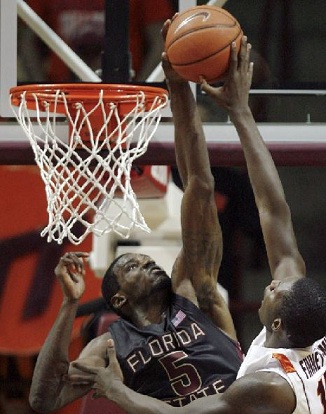 A: I've tracked every possession with James on the floor versus possessions with him on the bench. Unfortunately I haven't finished that analysis with Snaer. So I'm strictly going on the eye test when I say James is more important. The reason is that the dropoff from Snaer to Dulkys isn't that far. Sure, Snaer should be a lock for the ACC All-Defensive Team, but Dulkys is really, really solid.
The dropoff from James to everyone else is huge. His combination of strength, agility and understanding of the principles is remarkable. It really gives the staff a ton of flexibility in their game plans.
Q: Do the fans ever want a little less defense and more offense? (I'm sure winning makes it all easier to take.)
A: Definitely. Right now FSU has the 113th ranked offense (efficiency ratings) and the 5th ranked defense. If those numbers were reversed and FSU had the exact same record I think the support would be a lot higher. This is a football school. Most fans view the basketball team as entertainment which happens to be sandwiched between the bowl game, National Signing Day, and the start of baseball season.
Q: Duke's up next. Is a win against the Devils more gratifying than beating the Tar Heels?
A: Considering the financial and talent advantages those teams have, beating either is always a kick in the pants. And I'm sure more FSU fans would answer this question with Duke. I mean, who doesn't enjoy listening to Duke fans after they lose? But this season it's definitely UNC.
The Tar Heels have 8 consensus top-25 recruits on their roster, which is as many as the rest of the conference combined. The Tar Heels arguably have the deepest assemblage of elite talent in the nation. But that's the beauty of basketball. On any given night teams who are much better on paper go out on the court and get smoked. The most gratifying thing for me will be if the program reaches a level where fans don't rush the court after beating a top-5 UNC or Duke team.
Q: Last year's team reached the Sweet 16. That doable again this season?
A: First they have to make the Dance. But if that happens, sure. They've already proven they can hang with or beat very good teams. It will help if they luck into a favorable bracket like last year. The nicest thing I can say about the committee is that I'm not a big fan, but I won't complain when they pair my team (a 10 seed) with a 7-seed, and it's the 7-seed who is the underdog in Vegas.
Of course this crap handiwork went against FSU in 2009 when they were the underdog as a 5-seed in the 5/12 game. So I'm assuming an out of whack bracket, and just hope it falls in the Noles favor.
Michael Rogner is the basketball writer for Tomahawk Nation, the managing editor of Run the Floor, and can be followed on twitter at @RunTheFloor.
You also can follow me on Twitter @MikeMillerNBC.